The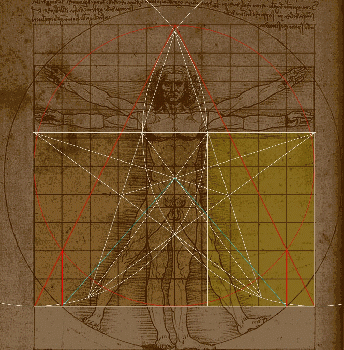 Recreating da Vinci's 'Vitruvian Man' (Canon Man)

(

Image

by

GeometerArtist from flickr

)

Details DMCA

Spiritual Dimension
So far, we have been speaking about issues concerning our day-to-day sense of self in a western context. Yet, there is more to us than that - a part of ourselves we can call the "trans-personal self" or soul. Most existential writings, although profound and valid for the human condition, had an incomplete understanding of human depth. However, my own studies, work, and personal explorations have revealed that the human self - "who we are" - is infinitely deep. Psychology began to explore these dimensions in earnest beginning in the 1960's.
Roberto Assagioli was a student of Freud who broke away from psychoanalysis to create a psychology that he named psychosynthesis, which included psycho-spiritual insights. These included the presence of a "trans-personal" dimension of self, which he linked with a superconscious level of consciousness. I trained and practiced for a number of years with Tom Yeomans - who studied directly under Assagioli.
The soul and the superconscious can be seen as doorway to the Universal Self (or Ground of All Being) - and our deepest identity: a transcendent, yet exquisitely subtle dimension described in terms of infinite existence, creativity, consciousness, compassion, bliss, and selfless love. Many from the 60's generation touched this level of experience through the ingestion of entheons, although there are many other doors, including prayer, meditation, childbirth, trauma, nature and sexuality.
The "soul" can be pictured as our spiritual center and ultimately as a pathway to the Universal or infinite dimension of awareness. From the start, though, it must be acknowledged that this is only one of a multitude of words for an experience of deep connection to Life - to the larger divine order, from which spiritual strength is drawn. The words are not the experience and this experience is described in a variety of ways, both in different cultures and by different individuals.
Psychology is maturing. Slowly, the spiritual dimension is becoming - not only part of the field - but central to its understanding of human nature, as well as its efficacy as a healing, guiding force in individual and social development. In any case, a deeper spiritual center within people is being recognized as real and influential; its relationship to one's personal existence-in terms of both our problems and possibilities-- is being explored. This deeper spiritual center has many names-- "Essence", "Big Mind", "Core Being", "True Nature"-- and each person will have his/her own way of referring to it.
"Soul" is here used to represent that core of consciousness and love in each of us that holds the potential for our full maturity: that which is seeking realization and expression in our everyday life. It does not need to be used in a religious context, though it can be, and often is. Here, it is used in its meaning of human depth, core qualities and values, and life purpose/ direction.
As Yeomans put it, the idea is that we are born as souls as well as personalities. Additionally, we are born into particular families, cultures, and conditions that appear to shape the development of both soul and personality.
In our culture the experience of "soul" is often marginalized and becomes quite hidden and peripheral in our conscious experience. The problem is not that the soul does not exist, but that the connection to the soul is lost, or attenuated, or wounded. When restored - through methods such as psychotherapy which incorporates a spiritual dimension, art, or meditation - soul-force can begin to flow, unimpeded, through our personality into the world.
It appears that the capability of experiencing transcendental states is built into all of us, and that a surprising number of otherwise "normal" people have known such states, but have been reluctant to discuss them in "polite company." Although many yogis and saints have learned to permanently reside in dimensions of love and expanded consciousness, the capacity and desire to achieve such altered states is part and parcel of our humanness.
However, the reality is that the complacency fostered by many of our economic and contemporary institutions often keep this possibility hidden. Those who have totally bought into modern culture are frequently disconnected from the possibility of spiritual experience.
The possible widespread traumas of the coming years may paradoxically, push our psyches beyond their usual boundaries - opening us to deeper dimensions of consciousness. In common parlance it is said that, "there are no atheists in foxholes." For some of us this may include the experience of Ultimate Reality.
Nietzsche said that suffering "forces us"to descend into our nethermost depths...I know that it makes [a person] deeper."
In The Prophet, Kahlil Gibran writes that, "The deeper that sorrow carves into your being, the more joy you can contain."
While we need not seek out suffering, we can be aware that, beneath its negative surface, there can be an opportunity for profound growth and deepening.
Conclusion
We return, finally, to wonder 1) what effect an ecological and societal collapse will have on the human spirit; and 2) how our cultivation of various levels of mental health will impact our ability to cope. Will it crush or elevate our spirit?
It appears that in order to save ourselves and the planet, we must change more than our behaviors; we must transform our consciousness and our culture. As long as our separatist thinking dominates and we don't realize that we're all part of the same existence, there will be no reason for our behaviors to change.
This change can only happen at the most fundamental level: individual by individual. It will either happen voluntarily - or involuntarily - when we find ourselves being swept aside by changes, such as massive disruptions in our food, power, water and communication systems in the years to come. It may require us being brought to our knees.
The human condition includes greed, sexual desire, fear, hatred, ignorance and violence; these are mixed with beauty, love, caring, joy, and play. Despite the multiple layers of encrustation that we have accumulated since childhood, the truth is that we all have tender hearts that are easily wounded.
Denying the pain and sadness in the world arises from the attempt to protect our hearts from suffering; however, if we truly desire the deep satisfaction of service to others in the very midst of disruption, chaos, and a breaking heart, we will need to become aware of - and break through - our denial. We need to become present to our own and others' suffering, and allow our tender hearts to break.
We may discover that compassion arises from our interconnection with all things, and is our deepest nature, and. With ongoing growth, we no longer have compassion - we become compassion - our true nature.
As we grow and our hearts open, we naturally experience the desire to relieve suffering in any way we can. Fortunately, there is an innate rock-like stability in this state of being.
Obviously, suffering manifests in different ways for different people; for the person who is hungry, you can provide food; for person with a food addiction, you might invite them to fast - experimenting with foregoing food for a period of time. In fact, the more we can use some form of meditation to see clearly, the more we can appreciate the levels at which suffering is created and can be best relieved.
Through our inner work, we can deepen our experience of being at one with all- that-is - and gradually, this awareness can permeate our lives.
As Tom Yeomans has written:
"Everyone on earth shares the fate of the earth, and everyone has a contribution to make.
"To do this we need to learn to work deliberately on the process of inner transformation and the development of spiritual strength and vision in each person, young and old.
"We need to learn to support the spiritual maturation of individual, group, and species, so that we can address and deal with the great challenges that face us today.
"We cannot just make outer changes, for without the inner support they will not last, and the habits of consciousness will recreate the old forms.
"Inner and outer change need to go hand in hand, and the question is how can this inner work of transformation of our consciousness as individuals, groups, nations, and species, best be supported? How can we strengthen each other spiritually to take on the task of planetary transformation and see it through?"
Clearly, the more flexible and balanced we are in our capacity to take responsibility, the more competent we will be in facing the very daunting the challenges that apparently lie ahead. Likewise, the more we have worked and come to terms with our own human existential "givens" - the easier it will be to accept help and help others in the midst of the coming initiation into planetary adulthood.
The benefits of "living into" a soul-level of awareness include openness to dimensions that include synchronicity and other para-normal abilities. In terms of having an influence on our own lives and the world, these realms can involve processes such as emergence and non-locality.
With a diminishment of our sense of separateness, there will be a marked decrease in dominance behavior and an increase in the capacity for synergistically working with others We can also experience an openness to Grace, which can be thought of as an infinitely intelligent and beneficent force originating in dimensions we can only refer to as mysterious.
Finally, the more rooted we are in the spiritual (although not necessarily religious) dimensions of human existence, the easier it will be to have a have a deep, and broad perspective regarding our predicament.
Certainly, the existence of these dimensions calls us to work on ourselves and our relationship with others. This will involve deep listening, as we discern how each of us can optimally be of service to the community of life.
Yet, when we think about it - whatever the future holds - what else is there to do?