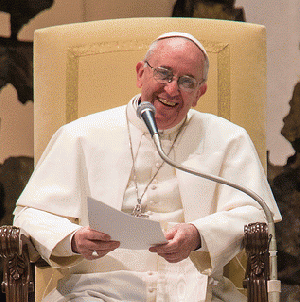 (

Image

by

BostonCatholic

)

Details DMCA

by

BostonCatholic

Already, a lot of people are writing about the wrongs of the new Pope Francis. There are reports he did or didn't do things that could have helped people kidnapped in Argentina.

Some expect the same right wing, Republican supporting, anti-liberation theology, anti socialism stances from this pope as we saw from the two previous popes who appointed just about all the Cardinals who elected Pope Francis.

I'm not very hopeful. But I have some hope. I have hope because of the name he chose and the things he's been saying. I hold my hope with caution and trepidation, but I want to express that hope and put it out in the world because maybe a miracle will happen.

Maybe this pope will say that protecting the environment, dealing with climate change and taking care of the poor, and the hungry, and making sure that justice happens are things that are equally important as not aborting babies or using birth control.

And if he says that and stops telling Catholics to vote for people who enable parasitization and exploitation of the poor, stops Bishops and Cardinals from endorsing people who enable corporations to pollute and worsen climate change-- well, that would be a miracle.

Imagine if the Pope put out a statement telling people they no longer had to vote based on abortion stance.

That could change everything.

They're not scientific, but there are theories out there-- "

The Secret

," by Rhonda Byrne, and

"

morphogenic field theory

" by Rupert Sheldrake both, in their own ways, along with old time positive thinkers, like W. Clement Stone. They all posit that if you put an idea out there and envision it, in detail, it is more likely to happen. Sheldrake's concept proposes that the more people who manifest the idea the more likely it is to happen. I point to these theories because perhaps, if a whole lot of us envision a world where the pope and the Catholic Church go through the change, perhaps if a lot of people write about how it would be the right thing to do, if talking heads on TV say it is the right thing to do, then it will come to be. Yes it would be a miracle. And if it does come to pass, than Pope Francis will indeed deserve to become a saint.