"It makes me so sad. I want to feel like what we have been fighting for over the past hundred years is our dignity and that we as Indigenous people will be accorded full human rights. This is not the case in Morton County. The endless aggression, strip searching and attempts to humiliate our people are a continuation of 160 years of this. Morton County and North Dakota live in a colonial/military/pre- civil rights, old boy, paradigm. This is evidenced throughout North Dakota in the destruction of land and the desecration and oppression of native people and women. I pray for healing for my people and our land." ~~Winona LaDuke

The photo Winona LaDuke references is stunning because of the brutality it conveys. A 19- year-old Arapaho girl is lying in the mud under a prayer tipi. She is not alone. A Morton County, North Dakota deputy is on top of her with one knee pressed against her neck and the other pushed into her lower back. The girl's face is forced into the dirt by the weight of his body. He might outweigh her by a hundred pounds. You cannot see her face, in fact nothing except her flushed nose is visible. An officer from Marathon County, Wisconsin is crouched to the right, watching. Guns, radios, handcuffs, batons and other devices hidden from view in leather pouches hang from the belts of the deputy and the observing officer.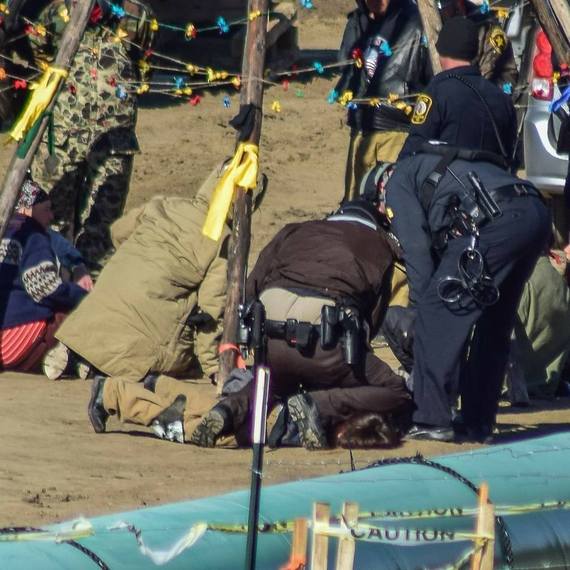 The girl has never been in trouble with the law. She is a deeply thoughtful and spiritual person and wants to tell her story, but must wait. Still, there is something she wants to add to this narrative. One of the officers pulled her beanie off her head and threw it to the ground before they flipped her onto her stomach. She is not certain if the officer wanted to get a rise out of her or wanted to intimidate her, but she calls this a vital and important incident and wants it known. She will not be shamed; she will not be a victim. Her spirit is strong. This is what it means to own your life and to tell your story.
We will intentionally call this water protector who was participating in the Dakota Access Pipeline prayer service at Standing Rock a girl. Identifying her as woman in this context seems inaccurate and misleading. Nearby, a 51-year-old woman had been watching.
Rebecca Kemble, Alderwoman (Alder) from Madison Wisconsin, sees brutality unfold. She was also arrested and slammed into a section of pipeline. Kemble did not realize when she agreed to assist a legal aide attorney and observe police interactions at the ceremony that she would be called upon to be a witness. She would not take the stand in a court of law, that may come later, but on this day she would become a moral witness.
"I saw the Marathon County deputy push her down the hill and slam her body and head into the transport van after this," Kemble said in a message.
(Note: You can view every article as one long page if you sign up as an Advocate Member, or higher).