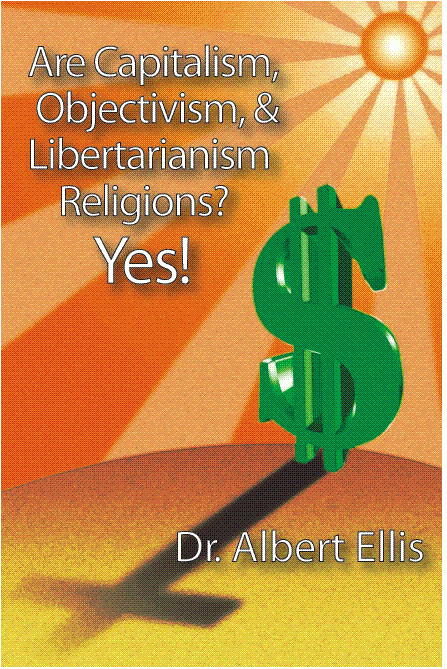 Front Cover

(

Image

by

Jimmy Walter

)

Details DMCA

Normal>

Included in Rand's objectivist views on economics are many contradictions. Although objectivism is presumably a most rational and logical set of principles, in actuality it is not. Some of its inconsistencies in regard to capitalism are these:

1. Ayn Rand insists that since values are established contextually, all people must judge for themselves, in the context of their own knowledge, goals, and interests, (1966b). Since values are determined by the nature of reality, it is reality that serves as their ultimate arbiter: if people's judgment is right, the rewards are theirs. If it is wrong, they are their only victims. This is rather contradictory gobbledygook on a number of counts:

Human values are established contextually: with individuals relating with their environment and reacting to it. The context, therefore, is not merely their "knowledge, goals, and interests," but their knowledge, goals, and interests as partly determined by the culture in which they live, by their biological inheritance, and by various other factors.

It may be reality that serves as men's ultimate arbiter; but reality includes the person. Therefore, again, it is an interaction between individuals and the reality in which they live that serve as their ultimate arbiter. Interactions and transactions seem foreign to Ayn Rand's mode of thinking.

If a person's judgment is right, the rewards are not only his or hers; they are for their community as well. And if it is wrong, the wrongdoer is not necessarily the only victim; many others may also suffer.

Rand seems to hold, at least implicitly, two contradictory creeds: (i) people are the only creators of their own values; (ii) systems, such as capitalism and collectivism, create values, which impose themselves on people. Actually, when one understands the dualistic or pluralistic nature of things, both these propositions may be true. But Rand does not appear to uphold a dualistic view; and yet she and objectivism cannot sustain a monolithic, un-contradictory view either.

2. Nathaniel Branden points out that the essence of the social system Ayn Rand advocates, the system derived from her ethics, is contained in a single principle: "No man--or group of men--may seek to gain values from others by the use of physical force." (1965b). However, as I have shown earlier in this chapter, the capitalist system is precisely that system of economics that does give one person enormous power, both physical and propagandistic, over other people, and that clearly encourages the use of several kinds of force to enable an individual to gain and to keep economic power. Also, she advocates a state, and force by that state to protect patents and copyrights. This is the main difference between her and "libertarians," who are really anarchists with the even more unrealistic wish that there be no government at all. This ignores the fact that there are governments everywhere that would soon impose themselves on them. How Rand or the Libertarians can endorse any large element of capitalism and not encourage the use of physical and other coercive force is quite a question!

3. Ayn Rand keeps contradicting herself as to whether or not free capitalism exists and whether or not un-free capitalism is good. She insists that capitalism, in her sense of the term, is only an ideal that has never existed; but then takes existing capitalism, which she presumably abhors, and insists that it, with all its horrors, is much better than statism or collectivism, and presumably even good in its own right. Thus, Rand noted that the differences between the superior productivity and speed of economic progress in West and East Berlin in the 1960's indubitably showed that collectivist East Berlin was inferior to capitalist West Berlin, (1964). Rand's thinking is poor for these reasons:

a. Both capitalism and socialism are really forms of state capitalism and state socialism, and are hardly entirely different from each other, as Rand implies that they are.

b. Even if socialism in East Berlin in the 1960's did not match the output of contemporary capitalism in West Berlin that would hardly answer the question of any comparisons between capitalism and socialism "once and for all," as Rand states. At most, it would answer the question with those particular people, in that place, and time.

c. Oddly--or not so oddly--enough, since this passage was published by Ayn Rand in 1964, productivity and speed of economic progress made great gains in East Berlin; and, reports tend to show that the building of the brick and mortar and steel wall between the two sections of the city by the East Berliners was one of the main factors in the economic progress of the eastern half of the city. Physical force, in other words, did partly pay off--in spite of Rand's theory that, economically, at least, it never does!

d. Additionally, she ignores the fact that the US and NATO poured huge amounts of capital into Berlin that would not have gone there under traditional capitalism since capitalists abhor making non-government guaranteed investments in war zones. The fact that at the height of the cold war billions were being poured into a city completely surrounded by tanks, rockets, and troops of the communists is proof that massive state intervention and capitalism greatly benefited the city.

4. If the objectivist position in regard to capitalism were half as sound as objectivists think it is, we would presumably tend to have (a) universal capitalism and (b) pure laissez-faire. Nathaniel Branden, for example, notes that the great merit of capitalism was that it uniquely aids human survival and people's need to grow. It leaves people "free to think, to act, to produce, to attempt the untried and the new." It rewards effort and achievement, and penalizes passivity, (1964a). This statement leads one to ask:

a. If capitalism is so uniquely appropriate to the requirements of human survival, why should Ayn Rand and her associates have to keep beating the drum in its favor? Obviously, it should win out completely on its own.

(Note: You can view every article as one long page if you sign up as an Advocate Member, or higher).