Eastern Congo awoke in the early hours between Friday and Saturday there to the eruption of Mount Nyamulagira, located 16 miles from the provincial capitol of Goma. Lava is flowing into the World Heritage Virunga Park, burning the forest, and threatening endangered chimpanzees at the Tongo Chimpanzee Sanctuary. Fortunately the 200 or so mountain gorillas are not near the lava flows at this time.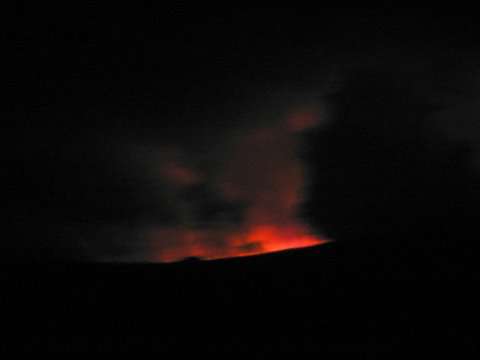 Image from Virunga Park Headquarters Gorilla.cd
We reached Park Director Emmanuel DeMerode by mobile phone this morning, Saturday. DeMerode told us his main concern at this time was danger to human settlements.
Unfortunately having the forest burn is just part of nature. It is devastating, but our main concern is human settlements that may be in the path of the lava flow. There were initially three flows, but they have merged and the remaining flow is moving south-southwest toward the town of Sake. If this continues for 17 days, Sake will be destroyed. The possibility is remote, but it must be monitored carefully.
DeMerode directed us to the park website for photos taken early this morning. There is a seven-hour time difference between New York and Goma. Rangers have been deployed to monitor the lava flow and United Nations helicopters are assisting.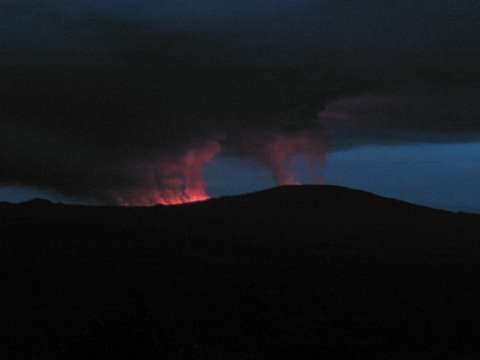 Nyamulagira, with an elevation of 10,033 feet is one of the most active volcanoes in Africa.
Residents of Goma are also feeling the effects. We received this email from a resident there.
Another point is that we start the year 2010 with the Volcano eruption. Since last night at 3.00 pm the NYAMULAGIRA volcano has been spitting lavas. Fortunately, unlike the Nyiragongo that sends its lavas on Goma town, the Nyamulagira is sending its in the Virunga Park. This will surely have a negative impact on some rare species in that part of the park. But people in Goma have been warned about the danger of dust resulting from this. We are still following the situation.



####

More @click here