Shobha Shukla, CNS (Citizen News Service)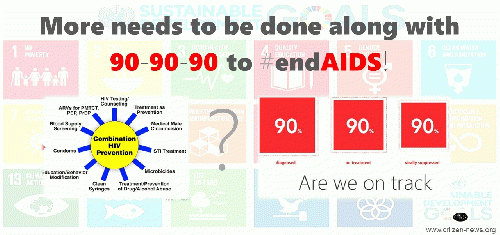 Why are new HIV infection rate not declining fast enough?
(
Image
by
CNS (Citizen News Service citizen-news.org)
)
Details
DMCA
"The global health system is only as strong as its weakest parts" had said UNDP's Mandeep Dhaliwal in her article around last year's World AIDS Day. The context has only deepened over the year, not only for ending AIDS but also for health security in general. With Universal Health Coverage Day (UHC Day) on 12th December this year, time is running out to catch up on lost opportunities to advance towards UHC.
Unprecedented progress has happened in fight against AIDS globally, but formidable challenges remain. Are we making enough progress on HIV prevention, treatment and care, in communities and places where HIV incidence is likely to be higher?
Reality checks we cannot afford to miss!
Every new case of HIV transmission to an adult or a child is an opportunity to do a reality check on how it could have been averted. Every case of, late or missed HIV diagnosis; delay in putting people living with HIV on treatment; stigma and discrimination blocking access to care; or people living with HIV not being virally supressed; are among reality checks we cannot fail to miss, if we are to end AIDS. Most importantly, game changing insights of finding solutions that will work in local contexts of communities and regions, come from people who are most affected. Are AIDS policy makers listening to these voices with dignity and respect?
Amruta Soni, MBA, is a transgender person living with HIV since 2012, and is associated with the India HIV/AIDS Alliance. She said in World AIDS Day 2018 Webinar (www.bit.ly/aidswebinar) hosted by CNS (Citizen News Service) that working hours during which antiretroviral therapy (ART) is provided, often pose a challenge for those transgender people who go out for entire day to earn their daily wage. By the time transgender people come back after earning their daily bread, ART centres are closed.
Amruta also recommends a single window access for range of HIV and health services transgender people require. Amruta rightly points out that unless ART and HIV service providers understand the unique needs of transgender community, how will we advance progress on 90-90-90 targets? She recommends that an affected community person should be sitting in the ART centres to connect with the community and facilitate a two-way dialogue to improve interaction between community and HIV service providers. We need to engage community in finding solutions for improving programme outcomes, rightly said Amruta Soni.
Disease prevention cannot take a backseat!
AIDS Society of India (ASI) called upon the governments to not let disease prevention take a backseat while we scale up diagnostics, treatment and care services. A recent news in Hindustan Times reported that 92% of new HIV infections who were on antiretroviral therapy (ART) in Mumbai, India, contracted the virus due to unsafe sex.
(Note: You can view every article as one long page if you sign up as an Advocate Member, or higher).