In his Climate Progress blog, from which I usually gain valuable insight, Joe Romm just succumbed to liberal "Charlie Brown Syndrome." In the headline to his most recent article, he speaks of Obama "going climate hawk," thereby making the demonstrably false assumption that most of what Obama says has the remotest connection to desirable policy action. Just as Charlie Brown believed--despite innumerable past examples to the contrary--that this time Lucy would really let him kick that football.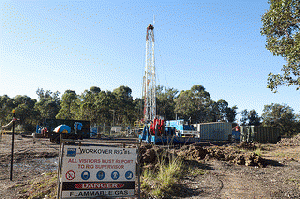 Camden CSG drill rig, June 2011 (JB) 02

(

Image

by

lockthegate

)

Details DMCA


Camden CSG drill rig, June 2011 (JB) 02 by lockthegate


Camden CSG drill rig, June 2011 (JB) 02 by lockthegate


Even if Romm was merely intending to report the substance of Obama's words, his article is sadly wanting. Granted, "going climate hawk" might be a viable description of the statements of principle or ideals in Obama's speech, but Obama's usually saying the right, principled thing is a well-documented matter of public record. Notably, it's also a well-documented feature of the speech of psychopaths. But when it comes to the programmatic side of things--what he actually intends to do-- Obama has mastered a sketchiness on which your garden-variety psychopath would do well to take elaborate notes. And what's probably even more effective, he has a unique, brazen ability--and brazenness is certainly an integral part of the psychopath's repertoire--to cite actual policies that CONTRADICT his stated ideals as if they were those ideals' perfect logical embodiment.

Nowhere in Obama's speech is this ability to enshrine noble ideals in contradictory or dubious policies than in his vaporings over "clean natural gas"--what the less euphemistically minded among us generally label "fracking." And this is precisely where supposed "climate-hawk" Obama unveils the hidden talons of an environmentally lethal bird of prey.

Now, we could get into quibbles about whether the name "fracking" is a proper one for the entire process of unconventional gas drilling involving long horizontals, or just for the brief part of the process where controlled explosions are used to cause actual rock fracturing. The gas industry loves to exploit such lawyers' quibbles to claim that fracking doesn't contaminate water. But it's simply a normal feature of human speech to let the central or most essential part of a process or entity stand for the whole process or entity--as, for example (in more religious times) saying a village contained so many "souls," or when we nowadays speak of a "head count." "Fracking" is simply far shorter than saying "unconventional gas drilling" or even longer, more technically detailed descriptions of the process.

Besides, "fracking" has a type of human precision that's very important here, being a very ugly name for a very ugly process. And the word has the additional value of its Battlestar Galactica TV-show usage, where it subs for a notorious f-word denoting sexual intercourse. This too is appropriate, for wherever fracking takes place--even if only through industrial blight and lost property values--many innocent bystanders inevitably get lovelessly screwed. So for purposes of brevity and emotional precision, I'll unapologetically use "fracking" to signify the whole process. I'll simply call a frack a frack.

Now, I think there's something fascinatingly suggestive about bringing up the emotional significance of a word like "fracking"--and the topic of psychopaths--in connection with Obama. For it's characteristic of psychopaths to be unable to feel human emotion in any but the most superficial way, and hence be unable to truly empathize with people and in any significant sense feel their pain. This in fact makes them the perfect human predators, for they feel no shame or remorse about thoughts and actions that would make the rest of us painfully wince. Now, besides Obama's continual shameless public lying, his blithe acceptance of such harmful pain-causing activities as drone strikes and widespread fracking has me seriously wondering whether "psychopath" is the category under which we should file Obama.

See, we already know that a certain affective cool--indeed a certain robotic, technocratic emotionlessness--is associated with Obama. This would be utterly consistent with a real indifference to the harm caused by his policies. Now, anyone with any real experience of fracking (I personally once lived in the "sacrifice zone" of rural northeastern Pennsylvania) intimately knows the destruction of rural charm and the unconsenting--indeed, unconsulted--inconvenience and loss of property values fracking brings to a region. Sure, many rural landowners in desperate financial straits readily sign leases (and many later regret it), but embracing widespread use of the process means automatically trampling--without compensation--the rights of many people who treasure the beauty and quiet of rural landscapes and the democratic right of citizens to have a say in what happens to their communities. It goes without saying that no emotionally challenged technocrat would get this.

If I brought up the neglect of quality of life and individual rights INEVITABLY involved in fracking, that's largely because it's a seldom-mentioned part of the story. But also because a deep, instinctive love for our natural treasures and individual rights--the two clearly go together, as beautifully reflected in writers like Wendell Berry and Edward Abbey--is sorely, idiotically lacking in today's America. Indeed it's a lack of love for mere nature and the mere human being--a type of collective psychopathy--that has us headed far down the road to fascism. If people won't protect their intimate surroundings and won't protect their individual rights, I'm not sure what they'll protect. Certainly nothing of any great value.

Technocrats are not really intelligent, at least not deeply, humanly so; at best they're idiot-savants. Or psychopaths--people genetically deprived of grasping meaningful human experience. One of humanity's great geniuses, Blaise Pascal--who could certainly "do the math" far better than most technocrats--made a distinction between the "spirit of finesse" and the "spirit of geometry." And Pascal, despite being a preeminent mathematician, came down--especially where politics was concerned--on the side of "finesse," the human instinct and intuition for what's valid and valuable. Pascal would NEVER leave politics in the hands of emotionally deprived psychopaths and idiot-savants.

So when we debate an issue like fracking, the science data is really a fail-safe mechanism--a court to be resorted to because healthy human instinct and intuition (the "spirit of finesse") has failed. And even merely scientifically, there is VAST empirical evidence (which Obama and his minions seek to conceal) that fracking contaminates water AND--through large, generally unmeasured methane leaks--accelerates civilization-destroying climate change. If proper human instincts were in charge--as opposed to the emotionally challenged impulses of technocrats and psychopaths--fracking would be in severe disrepute, perhaps even banned. But speaking even in terms of pure science, the scientific burden of proof should be on those--impassive birds of prey like Obama--who risk destroying civilization.

To join those who stand up for real human values--the spirit of finesse--in politics, consider joining the discussion at the following two Facebook pages: www.facebook.com/TrueBlueDemocratsAProgressiveRevolt and http://www.facebook.com/WhoseVoiceOurVoice?fref =ts.