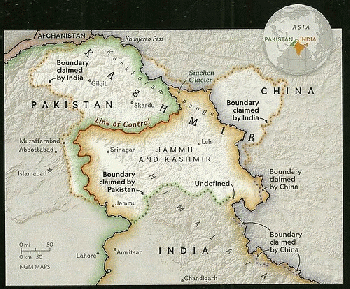 Map
(
Image
by
nathanh100
)
Details
DMCA
India and China will hold eighth round of military-level talks next week to resolve the ongoing standoff along the border in eastern Ladakh amid reports that China has occupied more territory in the disputed area.
India and China are locked in an over five-month-long bitter border standoff in eastern Ladakh that has significantly strained their ties. Though both sides held a series of diplomatic and military talks to resolve the row, no breakthrough has been achieved to end the standoff.
Nearly 50,000 Indian Army troops are currently deployed in a high state of combat readiness in various mountainous locations in eastern Ladakh in sub-zero conditions.
Chinese troops have further transgressed into Indian territory and occupied positions in the north bank of Pangong Tso (lake), former BJP Member of Parliament Thupstan Chhewang, who represented Ladakh, has said.
Chhewang said he had received information from locals living in forward areas along the Line of Actual Control (LAC) in Ladakh that Indian soldiers were living in tents and it was not adequate for them in sub-zero conditions.
Chhewang told The Hindu, "The border situation is critical. The Chinese troops have not only further transgressed into our areas but they have also occupied prominent positions in Finger 2 and 3 areas of Pangong Tso, even Hot Springs area they have not fully vacated... this is what we have come to know from locals."
As reported earlier by The Hindu, China has ingressed about 8 km in the Finger area and India not been able to patrol beyond Finger 4 since April last week, when China amassed troops in several pockets along the LAC.
Earlier, Indian troops could patrol up to Finger 8. The other areas where a worrying build-up has been seen are the Depsang plains, Galwan, Gogra-Hot Springs and the south bank of Pangong Tso in Chushul where Indian troops are in a dominating position.
China is expanding its key airbase in Eastern sector
It's not just Ladakh but the eastern sector opposite India's Arunachal Pradesh is also witnessing Chinese military build-up of late, Euresia Times has reported.
Opensource satellite image shows military-type structures with apron and runway work at strategic Chamdo Bangda Airport in Tibet. The high-altitude civilian airport is currently out of bounds for foreign tourists.
If the latest satellite image released by opensource intelligence is to be believed, China is undertaking expansion work of the strategic Chamdo Bangda Airport in Tibet Autonomous Region, barely 160 km from the Arunachal border, Eurasia Times said.
The Eurasia quoted Sinologist Kalpit A Mankikar as saying, "Since August-September, reports have emerged of China's PLA deploying troops at least four locations -Asaphila, Tuting axis, Chang Tze and Fishtail-2 sectors across the border in Arunachal Pradesh."
With the Chinese troops stationed barely 20 km from Indian territory, they may carry out more incursions, capturing some heights, he warns. "It may open a new pressure point for India, which is already busy with tackling a build-up of Chinese troops along its border in Ladakh," Mankikar, who holds an MSc in China Studies from London School of Economics, adds.
Indian agencies are keeping a close watch on the activities of the People's Liberation Army's Air Force (PLAAF) spread all along the LAC, opposite Ladakh in the north to Arunachal Pradesh in the Northeast.
(Note: You can view every article as one long page if you sign up as an Advocate Member, or higher).