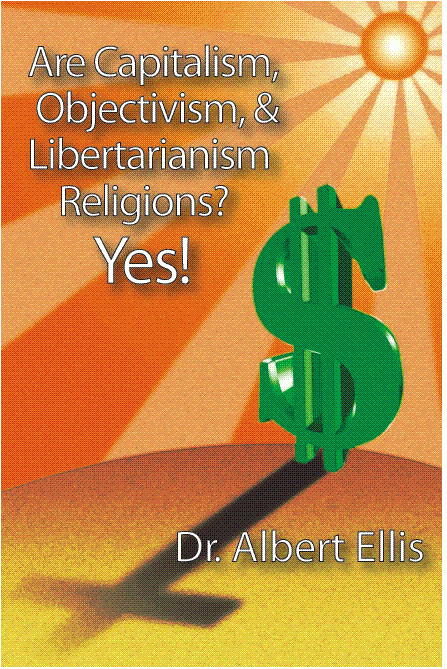 Front Cover
(
Image
by
Jimmy Walter
)
Details
DMCA
4. Rand's followers say, "The fundamental issue...is not what kind of economic controls a government enforces, nor on whose behalf; the real issue is a controlled economy versus an uncontrolled economy. This issue is slavery versus freedom," (Branden, 1965b). Several errors are stated and implied in this position.
a. Obviously, a controlled economy--such as we largely have in the United States today, and exists in most parts of the world--hardly means complete slavery. It has its disadvantages, but it also frees those who live under it, from great price fluctuations, uninsured unemployment, facing poverty in old age, harm from unlicensed medications, and so forth. Freedom, as Rand defines it, narrowly means freedom from physical coercion; but it includes all kinds of other forms of coercion that may well be pernicious.
b. It is highly doubtful today whether the issue any longer is a controlled versus an uncontrolled economy. Uncontrolled economies never seem to have existed anywhere; and in isolated cases, we have already shown they seem to be much less practicable today than they ever were in the past. Whether Rand and Branden like it or not, the fundamental issue throughout history, and today, seems to be what kind of economic controls a modern government enforces and on whose behalf.
c. The implication of Rand's "free" capitalism is that government controls exist entirely in themselves, because the state, government, legislature, or some other body insists on these controls. Actually, even monarch-led governments, these days, are almost always voted in and kept in office by people--by the citizens who live under the government's regulations. And it is usually these people who are demanding the government's economic controls. Moreover (as I noted above) the people who today tend to ask for most of the government controls are businesspersons themselves--who, "oddly enough," seem to find such controls to their advantage. Yet it is common to see these same individuals vehemently and dogmatically advocate Rand's philosophy when it comes to workers. These are also the same people who advocate the end to inheritance taxes, government bailouts of large corporations, and demonize welfare.
In any complex, sophisticated society, there are controls--whether they are instituted by the will of the majority or by a powerful minority. The question, then, is not whether we have a controlled or an uncontrolled economy, but who has the control of the economic system: the government, those duly elected by the majority of the people who are pawns in the economy, or businesspersons who fare well during good and bad times? Rand's choice is, without doubt, the businesspersons, acting purely in their own interests.
d. For reasons such as these, Rand's position on a controlled economy is highly unrealistic, accords with no known reality or observed behavior of humans, and is futuristic only in an unrealistic way.
5. Ayn Rand holds that there are three schools of thought on the nature of good: (a) the intrinsic theory, which contends that the good is inherent in certain things or actions as such, regardless of their context and consequences; (b) the subjectivist theory, which holds that the good bears no relationship to the facts of reality, that it is a product of people's consciousness, created by their feelings, desires, or whims; and (c) her objective theory, which holds that the good is neither an attribute of things in themselves nor of people's emotional states, but an evaluation of the facts of reality by their consciousness, according to a rational standard of value.
But, there are rational problems with this. "Rationality" entails comparing facts and processes so one can extrapolate them to achieve a desired result. In this argument, however, the words "good" and "value" are circular: "Good" means something you "value". Who would not value the "good? The origin of "good" revolves around something that fits well or that is on target. As a result, one of its other definitions is "likely to live or last," the same as "ethical" and "moral." With humans and most creatures, if one is happy, one is more likely to survive. Therefore, Maslov's "hierarchy of needs" is a much more functional definition of the "good." Therefore, a rational process will value those things that promote sufficient prosperity for a reasonably secure life and happiness in the long run.
Rand claims that of all the social systems in history, capitalism alone is based on her objective theory of values--that only her theory of values morally bans rule by force, (1966b). Her objectivist allegation is unrealistic for these reasons:
a. Capitalism is the only system implicitly based on an objective theory of values according to Ayn Rand and her followers. Many devout believers in capitalism also believe in the intrinsic or subjectivist theory of values; and many believers in the "objective" theory of values (including many philosophers in the collectivist countries,) are quite anti-capitalistic.
b. Like collectivism, forced rule is opposed by the great majority of social and political thinkers--and a good many of those who oppose it hold what Ayn Rand calls the intrinsic or the subjectivist view of the good.
Again, a number of those who uphold rule by physical force definitely uphold, as well, an objective theory of value--including, for example, Lenin and Trotsky. Such believers in physical force merely happen to believe that an evaluation of the facts by human consciousness according to a "rational" standard of value does lead to the conclusion that, at least temporarily, forceful political rule is a good thing. The fact that both Rand and I might disagree with their evaluation does not gainsay the fact that they believe in her version of reality and rationality.
Moreover, Rand's version of capitalism does depend on a state and force to settle contractual disputes and to protect property rights, copyrights, and patents. Rand admits outright that the state must exist and that force must be used to protect the state, unlike her even more unrealistic libertarian (anarchy) counterparts.
c. Rand and her acolytes imply that there is only one possible evaluation of the facts of reality by human consciousness, and that there is only one rational standard of value by which this singularly correct evaluation can be made. They also vehemently (or should I say rigidly?) avow that this single "rational" evaluation of the facts can only conceivably lead to one conclusion: That capitalism is the only good economic system that can ever be invented by man. These monolithic, unequivocally held beliefs in this respect are hardly in accord with reality; and they do not appear to be "rational." Rather, they are religious absolutes or assertions of "truths" without sound empirical or practical foundation. Moreover, since capitalism allegedly maximizes money and goods, objectivists imply that money and goods are the only rational values of life.
d. The objective theory of values that Rand finds so implicit in capitalism exists in Rand's head and not uniquely in capitalism itself. None of the large or even medium-sized capitalist corporations behave the way Rand suggests they do. Decision is reached mainly after committee discussion, and the decision that is reached is usually not unanimous. Furthermore, outside consultants are often called in to give their opinions. Elements of collectivism, collaboration, and cooperativeness are rife in virtually capitalist enterprises, and elements of "rugged individualism" are relatively rare. A corporation is an economic dictatorship which regularly intrudes into its employee's private lives with homework, travel, social and political prohibitions, social and political commitments, dress codes, and other requirements. We see corporations imposing their political views through ownership, propaganda, and censorship of the news in an effort to make everyone believe and behave alike.