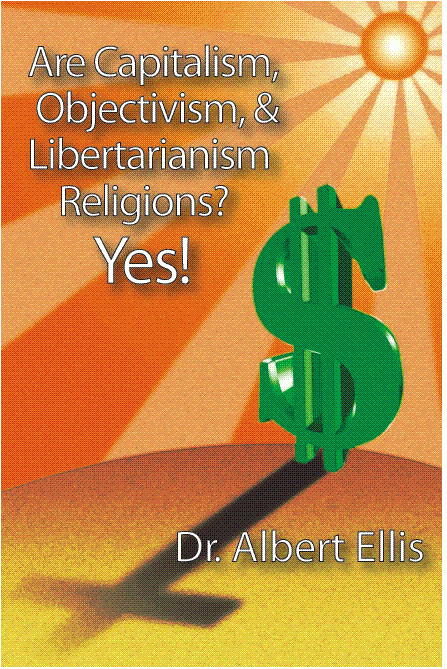 Front Cover
(
Image
by
Jimmy Walter
)
Details
DMCA
Chapter 3, Part 4
The Capitalists-Libertarian-Objectivist View of Economics*
Unrealism. Ayn Rand ceaselessly talks about the necessity of accepting reality--because A is A and existence exists, we'd better face these facts and live according to empirically observable happenings. In regard to life in general (as we shall show later in this book) and to capitalism in particular, Rand's objectivism is just about as unrealistic and anti-empirical as it can be. It remains in a world of deep denial about its "rational" fictions, and it invents innumerable fantasies about capitalism, refusing to admit that it is fantasizing. For example:
1. Ayn Rand states, "without property rights, no other rights are possible," (1964.) This is hogwash, and has been contradicted in many past and present societies. It has been virtually impossible for many enslaved peoples, for serfs, for prisoners, and for citizens of collectivist nations to own property; and yet it is ridiculous to claim that such individuals have no rights whatever. Property-deprived persons in most countries are legally protected from theft of their personal possessions, from rape, from assault, from libel, from murder, etc.
In some collectivist jurisdictions, in fact (such as the former Soviet Union), citizens have certain rights--such as the right to free health services and free education--that they do not have in jurisdictions where they are allowed to hold any amount of property they can lay their hands on. So Ayn Rand's view that without property rights no other rights are possible is clearly contradictory to reality, and is a product of her own wishful thinking. Because she would like to see capitalism as all-good, and non-capitalism as all-evil, she "proves" that this is so. Only by giving a special definition to "property" which makes all rights property rights does Rand's statement make (purely tautological) sense!
2. "When I say "capitalism,' Rand writes, "I mean a full, pure, uncontrolled unregulated laissez-faire capitalism," (1964). She means capitalism with a separation of state and economics, like the separation of church and state. But, although it may be possible to separate the state and church, it is highly unlikely that the state and economics can be equally separated. The state is part of the economic system; and in this day and age, it inevitably will be something of a producer, a seller, a consumer, a financer, etc.
Even under Rand's proposed system, the state must provide for national defense. However, under such a system, of course, the state does not produce armaments; it buys them from the capitalists. So, even here, a certain amount of interaction between the public and private sector is necessary. And since the state is a huge, monopolistic institution (and not merely a community of free traders) some of its interactions with capitalists will be effectively coercive. For example, it will force them to manufacture armaments in a certain manner and sometimes under secretive conditions.
It is therefore quite unrealistic for Ayn Rand not to recognize the inevitable voluntary and coercive tie-ups between the state and economics. And it is probably even more unrealistic for her to cop out by claiming that capitalism is the system of the future--"if mankind is to have a future," (1964). If objectivism is to have a future, it had better face facts!
3. "Capitalism," states Rand's credo, "demands the best of every man--his rationality--and rewards him accordingly," (1962). Why? Because it leaves people free to choose the work they like, to trade their product for the products of others, and to go as far on the road to achievement as their ability and ambition will carry them. Their success depends on what Rand calls "the objective of their work" and on the rationality of those who recognize that value. When people are free to trade, the best product and the best judgment wins. They also raise the standard of living, and of thought, ever higher for all those who take part in productive activity (Rand, 1961b).
What a pious hope! First of all, if men truly used reason and reality as their only arbiter, they could easily devise many different kinds of economic systems, which would work well. Perhaps capitalism would then be the best system they could invent and work with; but, quite possibly, it would not be.
More to the point: People do not use reason and reality as their only arbiter; and it is probable that, at least for the next millennium, they won't. Considering how they really behave and are likely to behave in the near future, capitalism, as we know it and as it is every likely to be, deviates enormously from the ideal of leaving all people free to choose the work they like, to specialize in it, to trade their product for the products of others, and to go as far on the road to achievement as their ability and ambition will carry them. Most people, including some of the most "successful", under capitalism end up in work that they hardly like, not trained for what they enjoy, and sometimes blocked from achieving what they desire to achieve, in spite of their ability and ambition.
However, in the early stages of capitalist enterprise, when the economic caste system is still loosely set, it may be possible for many, if not all, able and ambitious individuals to achieve what they would like. But after just a few generations, when enough competent and energetic people have amassed their fortunes, built their economic empires, and willed their gains to their heirs [1] , enormous restrictions are placed on the capitalistic activities or would-be activities of able and ambitious individuals.
Of course, the same applies to collectivism. The famous motto: "From each according to his ability, to each according to his needs," might work when an entire society lives on the borderline of survival, since the individuals accept that the survival of others in that society directly affects their own survival. However, once there is enough for the necessities, most will feel taken advantage of by those who do not work as hard or as much. In their pure forms, which are extremist, both systems demand an extreme, a society of super-humans, for their systems to work.
Moreover, a large organization is far different from a startup. As innovative, startups grow into high volume producers, the requirements to run them change. At best, the "organization man" then tends to replace the true entrepreneur; and at worst, the real individualist tends to become a business "drop-out" and may end up as an alcoholic, a drug addict, a jailbird, a hippie, or a general misfit as we see in so many of the heirs of the rich and the wealthier middle class.
The capitalist system, in its youth, is one thing; in its middle age, it is a contraption of a different color! As it "grows," individualism seems to wane; and what Rand and her associates deem its impurities and its perversions are, at least in part, inevitabilities of its aging process. "Organization men' are "smart" gamblers in that they limit their investments, risks; to areas that they believe have a very high chance to be profitable. The innovator or entrepreneur is the real risk taker, often betting all he or she has on a risky venture. However, the innovator has small up-front cash requirement since he does not pay for his own time or rent for his garage. A large corporation has to pay for all of this plus high salaries. The "organization woman' realizes that it is a better bet to buy innovation than to do it. It is far wiser to pay the proven, successful, small startup a fantastic profit in the entrepreneur's eyes, far less that the total research and development costs of a large corporation. Furthermore, all the entrepreneurs that lose money represent failed innovations for which the corporation for does not have to pay; Rather, it is absorbed by the entrepreneurs who lose everything. Entrepreneurship is a lottery where one person makes a million dollars while another fourteen million lose one dollar.
(Note: You can view every article as one long page if you sign up as an Advocate Member, or higher).