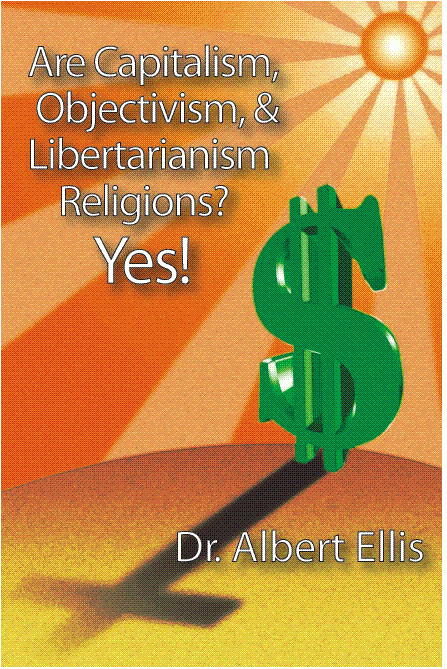 Front Cover

(

Image

by

Jimmy Walter

)

Details DMCA

oNormal>2. Objectivism confuses capitalism with freedom and implies that complete capitalism would mean complete human freedom. Thus, Rand states that if you uphold freedom, you must uphold individual rights. If you uphold individual rights, you must uphold a person's right to her/his own life, to his/her own liberty, to the pursuit of his/her own happiness. (1966b). This means you must uphold a political system that thoroughly guarantees and protects these rights-- the politico-economic system of capitalism. Rand's allegation is invalid for several reasons:

a. Humans are never really totally free. They have only a limited right to their own lives, their own liberty, and their own pursuit of happiness. They are restricted by their biological heredity, which sets distinct limits on them.

Secondly, they almost always live in a social group and have to suffer some restrictions in order to get by in that group.

Third, under any economic system they still have to eat; and they must frequently surrender a considerable amount of their freedom in order to eat regularly. Capitalism forces them to work in order to eat; and only under some kind of social welfare system where all people were guaranteed a minimum income, whether or not they worked, would they have maximum freedom. Rand defines force in purely physical terms and, by definition, says that a person is free when he is not subjected to physical force. But this definition ignores the powerful forces that any conceivable kind of capitalism will exert against what we ordinarily call human freedom.

b. Capitalism by no means protects an individual's "rights" to life, liberty, and the pursuit of happiness. Not even ideal capitalism, such as Rand demands but has little possibility of ever existing, does this: For under pure laissez-faire capitalism people can be left to starve to death (because their particular skills are not wanted), can be deprived of liberty (by being forced to engage in some kind of work they do not enjoy), and can be restrained from achieving their own happiness, by not being able to accumulate enough capital to make sufficient money. Under qualified capitalism, which exists in "capitalist" countries, millions of people have been and still are continually deprived of their "rights" to life, liberty, and the pursuit of happiness. It is quite possible that Rand's ideal capitalism may provide individuals with more freedom than do alternative economic systems. But under its purest form it would offer very little protection from the capitalists who would limit their choices and make their rights irrelevant under the monopolies that would form - monopolies that Rand advocates.

Under "pure" capitalism, society would be left at the mercy of people who are concerned with making a maximum amount of money from the use of land, labor, capital, and by entrepreneurship. Since it appears [1] to be in the capitalist's best interest to keep the costs of production as low as possible, a successful capitalist might easily drive wages below the subsistence level, if the supply of labor was greater than the demand. Also under ideal capitalism, if machines can do a job at a lower cost than people, "pure" capitalism would use people without concern for their welfare.

For example, in the last century, millions of farm laborers were replaced by automatic cotton picking and sorting machines. The farm owners who introduced these machines were not concerned with the welfare of their displaced laborers.

Another example is the New England textile industry. Quite often, the textiles were the only game in town. After World War II, many mill owners decided to close their mills and move to the South, where labor costs were cheaper. The result was a rate of unemployment as high as twenty-five per cent in the North. If the government hadn't provided welfare services and some job retraining, what would have stopped the unemployed people from starving? The Northern mill owners did not take care of them!

This job destruction is worse today with "high tech' jobs as well as more factory jobs going overseas to India, Pakistan, Thailand, and other Asian, African, and South American countries. Pure capitalism justifies its callousness with the absurd assumption that there is effortless, easy mobility of labor, resources, and capital, from one place to another. Capitalists contend that displaced workers, resources, and capital will rapidly move to where the work is, implying that the total costs will be less and the total benefits will be greater for the economy as a whole. The reality is that the community, the majority of workers, and the supporting local businesses will incur a great loss, greater in total than the individual capitalist gains. The whole point of a company moving is to drive down wages by moving to an area with more desperate, lower paid workers and less health and environmental regulations. This destroys the environment, the everyday lives and the relationships of a community. In addition, it destroys all the secondary, tertiary, etc. facilities and businesses that need and support that business, its workers, and its customers. Of equal importance is the effective loss, through under utilization of the government infrastructure, such as roads, utilities, school systems, and government administration. It imposes the delay and burden of building or improving the same infrastructure and supporting companies for the new communities. The capitalist is, in fact, imposing a huge tax and financial burden on both communities so he or she can make a few more dollars.

c. Although collectivist economies have partly protected the individual's pursuit of life, liberty, and happiness, they have done so to a minimal degree in many instances. Moreover, just as capitalism --as Rand shows--can encourage considerably more life, liberty, and the pursuit of happiness, so have some collectivist economies. A collectivist system that included real safeguards for human life, liberty, and happiness could definitely be worked out, and is collectivism's stated goal and active pursuit, unlike capitalism which seeks to minimize others income while maximizing the capitalists' wealth. Since neither ideal capitalism nor ideal collectivism exist, we can only evaluate the actual mixed systems in existence and throughout history, in order to discover which components work best together. To think that political despotism must accompany collectivism is nonsense; since (as Rand points out) we have a reasonably collectivist and state controlled economy in the United States at present, and still have a large measure of political freedom.

[1] Since one capitalist's worker is another's customer, by driving down wages, capitalists drive down the purchasing power of their customers--therefore making less total profit, though the few make more.