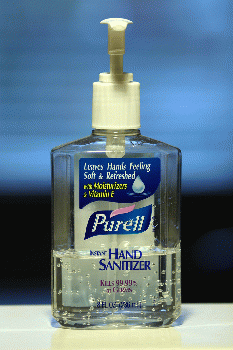 You're gonna need some of this.
(
Image
by
Mr.TinDC from flickr
)
Details
DMCA
If you've paid any attention to Uber and Lyft over the years, you know there's one word they really, really, really don't like:
Responsibility.
And nothing has made this clearer than the Coronavirus pandemic.
In the current pandemic, Uber and Lyft drivers are frontline workers (and if you are a passenger, you are also on the frontline). Yet Uber and Lyft, after making promises to make PPE and necessary supplies available to drivers, dragged their heels on delivering these supplies--and Lyft, in lieu of providing PPE to drivers, instead tried to profit from the pandemic by opening an online store where drivers were expected to buy supplies from Lyft! To add insult to injury, the companies then offered "sick leave" to drivers who had been infected with covid, but made it almost impossible for drivers to qualify. Both corporations eventually improved their response to the pandemic, but only after protests by drivers and the public.
(Though as I discussed in Part 1 of this series, California's Prop 22 is designed to permanently shield Uber and Lyft from any future regulation whatsoever, thus making them increasingly safe from the effects of such outrage).
Today, part of any Uber or Lyft driver's job involves cleaning and sanitizing the commonly touched parts of the vehicle at the start of the shift, and ideally between rides. However, one of the key aims of Prop 22 is to limit the paid time of Uber and Lyft drivers to "engaged time"---a definition that excludes all of the time drivers spend seeking out and waiting for fares, as well as time spent cleaning their vehicles.
This is a problem for several reasons, the first of which is the way it affects drivers' healthcare under Prop 22. Prop 22 does include a provision that Uber and Lyft help drivers pay for healthcare, although as the San Francisco Examiner's Nuala Bishari writes, it is "a watered-down version of what the state would require, and it's full of holes."
According to Prop 22, for any driver who spends 25 or more hours per week in "engaged time" on a company's platform, that company will pay a subsidy to help drivers pay for healthcare. Drivers who are "engaged" for 15 to 25 hours a week will receive half of the subsidy. Now at first glance, this seems to make sense, because many drivers work for multiple companies during a given day or week.
However, that limitation to "engaged time" means that a substantial amount---up to half or more---of the time drivers actually spend in their vehicles working for the app will not be counted toward their "working" time. Ten hours of driving time might only amount to five hours of "engaged" time. Not to mention that, any time a driver spends "not engaged" is time that is wasted as far as qualifying for healthcare support is concerned. A driver who is having trouble making that 15 or 25 hour "engaged time" cut-off would be pressured to skip wiping down or disinfecting surfaces, if too much time spent doing so would jeopardize their own access to healthcare.
And this really just echoes Uber and Lyft's earlier actions during the pandemic, which pushed drivers into dealing with unsafe behavior by passengers, and even into continuing to drive after catching the virus.
This is precisely how Prop 22 endangers everyone's health: that of drivers, that of passengers, and that of everyone who comes into contact with either. And all so Uber and Lyft can save money.
But for drivers, there are further hurdles that Prop 22 will throw in their way. They won't receive Prop 22's healthcare supplement just for driving; no, they have to qualify for the subsidy by demonstrating, first, that they are enrolled in a qualifying healthcare plan. BUT their ability to actually receive the benefit will be calculated quarterly---based on the last three months' performance. So, from the text of Prop 22, it appears drivers will have to, first, sign up for healthcare, then wait three months to see if they will get the subsidy from their employers; all the time, making sure they make that 15 or 25-hour cut off, every week.
It all conforms to the mission statement of Uber and Lyft: screw over drivers in every way possible.
(Note: You can view every article as one long page if you sign up as an Advocate Member, or higher).