From Our Future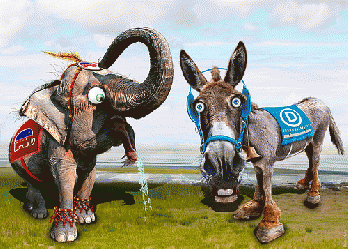 Both parties are hobbled by infighting and incompetence. Only one keeps winning elections.
(
Image
by
DonkeyHotey
)
Details
DMCA
The meetings of the Democratic National Committee (DNC) and Conservative Political Action Committee (CPAC) were a study in contrasts. Both told stories to unite their faithful. At CPAC, activists fell in line, while at the DNC, the fight for leadership revealed battling narratives and deep divisions within the party.
DNC: What Happened?
Tom Perez, the DNC's new chair, and his former rival, Minnesota Congressman Keith Ellison, both cast the outcome of their battle in terms of unity. "We don't have the luxury to walk out of this room divided," Ellison said after his loss to Perez in the second round of voting. He immediately threw his support to the former Labor Secretary and urged his supporters to do the same. Perez, in turn, swiftly named Ellison his second in command.
But the race was ugly, and got that way fast. Shortly after declaring his candidacy in December, Ellison faced unfounded accusations by deep-pocketed DNC backers that he was anti-Semitic, a former member of the Nation of Islam, and a supporter of Louis Farrakhan. These charges were proven untrue, but they did manage to subtly remind party delegates that Ellison is black and Muslim.
It's ironic: Some of the same Democrats who fought Bernie Sanders' presidential bid by claiming that progressive economics devalue identity politics were all too willing to use Ellison's identity against him.
The Democratic Party establishment clearly wanted to stop him. According to the New York Times, Obama loyalists "uneasy with the progressive Mr. Ellison" began to press Perez to enter the race only after Ellison became the leading candidate, and Obama himself offered a thinly-veiled endorsement of Perez in the final days of his administration.
Perez got another boost when South Carolina's Jaime Harrison dropped out of the race and endorsed him. Harrison, the chair of the South Carolina Democratic Party, is a former lobbyist with the high-powered Podesta Group, whose clients include everyone from WalMart to Lockheed Martin and the government of Egypt.
In contrast to Ellison, Harrison has been an outspoken supporter of the DNC's decision to keep accepting lobbyist money, which was banned by President Obama but reinstated last year by former DNC chair Debbie Wasserman Schultz.
"We in the Democratic Party have to stop the castigation of various people for the jobs they have," he told Vox's Jeff Stein.
While Perez has a decent progressive record, especially in the mainstream Democratic context, his politics differ from Ellison's in other important ways. He supported the Trans-Pacific Partnership (TPP), a pro-corporate trade deal that wounded Democrats in industrial swing states, and he could have been tougher on big banks for their role in the 2008 financial crisis, both as Labor Secretary and in his previous role as Assistant Attorney General.
In His Image
Over at CPAC, President Trump was going about the task of reshaping the conservative movement in his own image. If the response of the crowd was any indication, he may succeed.
"The core conviction of our movement that we are a nation that... will put its own citizens first," Trump told the enthusiastic CPAC crowd. "The GOP will be, from now on, the party also of the American worker...
I'm not representing the globe," Trump said. "I'm representing your country."
(Note: You can view every article as one long page if you sign up as an Advocate Member, or higher).