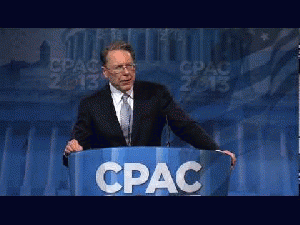 NRA CEO & EVP Wayne LaPierre at CPAC 2013 Wayne LaPierre, addresses the crowd at the 2013 Conservative Political Action Conference (CPAC) by YouTube


There has been a good deal of discussion about the choice of speakers at the 2013 CPAC conference. And in particular, why possibly the best-liked Republican in America, Governor Chris Christie, was not invited.
Think about it: Sarah Palin, Donald Trump, Rick Perry, and Rick Santorum. Everyone a polarizing figure. But everyone loved by the Tea Party. And we can't forget Mitt Romney and Paul Ryan who proved that the Republican party is disintegrating faster than the icebergs they refuse to acknowledge.
But the highlight is this bit of wisdom: "We don't need any new ideas," said Senator Marco Rubio of Florida. "The idea is called America, and it still works."
This reminds me of this excerpt from, Thomas Mann and Norman Ornstein, who have spent over 40 years in Washington and are considered the nation's most prominent analysts of Senate behavior, "In our past writings, we have criticized both parties when we believed it was warranted. Today, however, we have no choice but to acknowledge that the core of the problem lies with the Republican Party. The GOP has become an insurgent outlier in American politics. It is ideologically extreme; scornful of compromise; unmoved by conventional understanding of facts, evidence and science; and dismissive of the legitimacy of its political opposition. When one party moves this far from the mainstream, it makes it nearly impossible for the political system to deal constructively with the country's challenges."
And this excerpt regarding the defeat of the well-respected Richard Lugar by a Tea Party favorite, from Dick Polman, Philadelphia Inquirer National Political Columnist, "As the storm clouds darkened over Lugar, they warned that "divided government has produced something closer to complete gridlock than we have ever seen in our time in Washington."
And this from AlterNet by Martin Longman on May 12, 2012, "Today's GOP: Worst Political Party Since the Civil War. The last time things got this bad was about 150 years ago -- and we needed a Civil War to resolve it."
But why would the Grand Old Party be so maladaptive at this point in time? Once again I look to Leon Festinger, an American social psychologist, who might have offered us a clue via his theory of Cognitive Dissonance. This theory, proposed that when beliefs intrinsic to one's own behaviors or those of valued models remain undisturbed and then are challenged, the result can be irrational and maladaptive behaviors.
If the rest of us learned nothing else in the last election we saw the impact of changing demographics. The Republican party saw it as well but are doubling down on their core ideologies as evidenced by the happenings at CPAC 2013. To the rest of us, CPAC looks like a celebration orgy.
So my premise is the presidential election defeat disturbed the conservative moral model in trumps! And re-emphasizing the ideology that cost them the election is irrational and maladaptive behavior. But what is this conservative moral model?
Mr. Romney's commentary on the "47 percent" reveals just a bit of it. This from George Lakoff, American cognitive linguist "And what of people who are not prosperous? They don't have discipline, and without discipline they cannot be moral, so they deserve their poverty. The good people are hence the prosperous people. Helping others takes away their discipline, and hence makes them both unable to prosper on their own and function morally."
Hopefully, as the sun sets on this moral model, we will find a new and more humane understanding of the human condition that is not so judgmental and exclusive; one that resurrects the American dream of equal opportunities for all. One that allows that failure to reach the top 1 percent in financial terms is not a character flaw. How's that for some new ideas Mr. Rubio?
Robert DeFilippis
(Note: You can view every article as one long page if you sign up as an Advocate Member, or higher).