This weekend I attended an extraordinary event at an amazing new place, Oggi Chicago, which just opened October 22, 2017.
Oggi is a blend of art studio, art gallery, art incubator and community arts and gathering place, founded by Margo Rush, who's been a leader on the Chicago art scene since the 1980s.
Friday night's event was billed as Oggi Chicago Holiday Delight. Margo Rush and Anna Soltys organized an evening of music and art. Four solo musicians performed: Ami Saraiya, Anna Soltys, Kevin Smith, Hope Arthur. Each of them were extraordinary.
Anna Soltys, Ami Saraiya, Margo Rush, Hope Arthur and Kevin Smith at the end of the night at Oggi Chicago
(
Image
by Rob Kall)
Details
DMCA
Here are some youtube videos offering a sampling of Ami's Anna's, Hope's and Kevin's music.
Oggi is also currently showing the works of four artists: Gerardo Villareal, Scott Smith, Hector Duarte and Michael F Gallagher. Here's the composite image of their art, from the poster announcing the opening.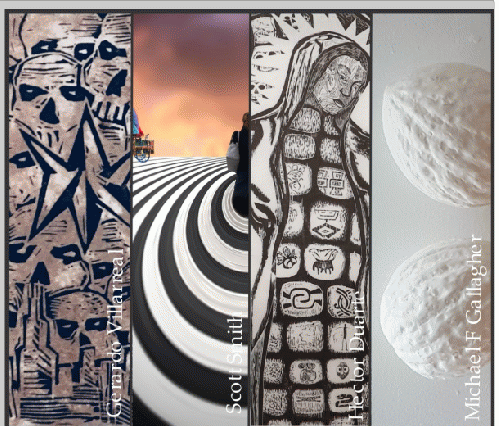 Oggi Chicago Illustration from Opening Night Announcement Poster
(
Image
by Oggi Chicago)
Details
DMCA
Margo Rush spoke to the audience, inviting them to become a part of the Oggi community, saying, "We're trying to create magic here. So we invite you to join our adventure... to do it here. Come to us with art, photography, poetry, readings, music, event and workshop ideas." Rush also encourages anyone else, locally, nationally or internationally to contact her to explore ideas and proposals.
Oggi Chicago is in "Little Italy," also known as "The Heart of Chicago." Oggi means "today" in Italian.
2451 S. Oakley, Chicago, IL 60608 (312-880-7874)
margo@OggiChicago.com