From The Hill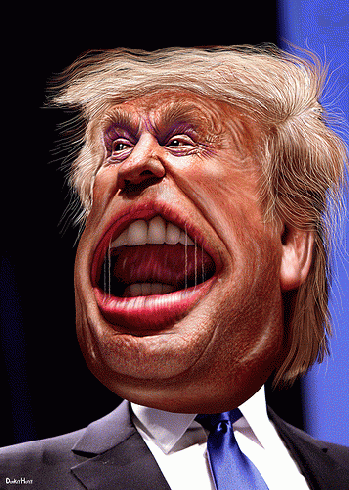 Donald Trump - Caricature
(
Image
by
DonkeyHotey
)
Details
DMCA
To save his presidency from ending in epic disaster, save the nation from a constitutional crisis, and defend America from warfare against democracy waged by Russia, President Trump needs to tell the nation the whole truth about everything he knows regarding the Putingate scandal.
House Speaker Paul Ryan (R-Wis.) and Senate Majority Leader Mitch McConnell (R-Ky.) should meet alone with the president, close the door, and speak the truth about what Trump must do to purge his presidency of the poison that is caused by this sordid affair.
Americans learned recently that three close associates of the president attended a meeting with a Russian operative in June 2016 that essentially represented a conspiracy of collusion behind the Russian plan to destroy Hillary Clinton and elect Donald Trump.
This astounding and unprecedented revelation proves beyond any doubt that the Americans who attended this meeting intended and desired to work with Russian operatives we now know were violating American law, in furtherance of the plan to elect Russia's favored candidate as our president.
Today the Republican Party is on trial, conservatism is in crisis, and the Trump presidency is in peril.
Will Republicans in Congress who spent four years misusing taxpayer money to finance subpoena-powered inquisitions against Clinton have the clarity and courage stand up for America against foreign attempts to corrupt our politics and undermine our democracy?
Will conservatives who invoke the name of Ronald Reagan speak out with the forcefulness and honor that Reagan would show against these attacks on democracy if he were here today?
Some Republicans and conservatives have met the challenge. The passion of patriotism shown by Sen. John McCain (R-Ariz.) is a model for Americanism at its finest. Conservative columnists such as Michael Gerson and George Will have written with clarity as voices of conscience.
Official Washington swirls today with rumors of chaos in a White House under siege and discord from Republicans on Capitol Hill. Various Trump defenders pursue the ludicrous strategy of blaming Clinton for colluding with Russia and the self-destructive tactic of launching escalated attacks against the free press.
Memo to Trump supporters: The strategy of the best defense is a good offense might work in political campaigns, but is destined for disaster when the FBI is investigating Russian crimes against America and special counsel Robert Mueller is considering whether to file criminal charges against Trump associates who may have conspired with them.
As I have written before, somewhere in America today there are tapes and transcripts of evidence obtained by the Feds through judicially approved warrants that probably include conversations between Russians and individuals close to Trump.
Trump stands today at the Rubicon, facing two options. He could desperately take the low road and move to fire the special counsel, grant preemptive pardons to those in jeopardy of prosecution and escalate his attacks against the free press. This would cause the mother of all firestorms of public outrage and a collapse of support from Trump's GOP allies in Congress.
Plan B is for Trump to confess -- not to confess to a crime, but to confess to the truth.
Trump should say, unconditionally and unequivocally, that American intelligence services are absolutely right and Russia has been attacking American and Western democracy. He should say that while America needs improved relations with Russia, economic sanctions must continue and be strengthened until Russian aggression ends.
(Note: You can view every article as one long page if you sign up as an Advocate Member, or higher).