From The Hill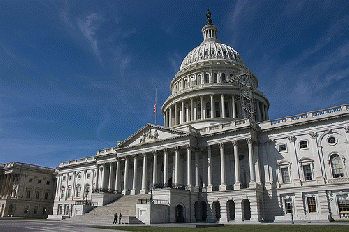 US Capitol
(
Image
by
Reizigerin
)
Details
DMCA
With investigations of scandal engulfing the Trump presidency, Republicans bitterly divided against each other, and the prospect of an anti-Trump wave election coming into view, the stage is set for a historic victory for Democrats in the 2018 midterm elections.
Today, we consider the battle for control of the House. Soon we will consider the Senate elections, including the chance for Rep. Beto O'Rourke (D-Texas) to pull off a shocker and unseat Sen. Ted Cruz (R-Texas).
For reasons detailed below, House Democrats now have an even money or better chance of regaining control of the House.
First, the first midterm election of a new president often brings disastrous results for that president's party. President Trump has reached epic levels of unpopularity, which suggests that the magnitude of midterm losses for Republicans could well be in the higher range of midterm defeats.
Second, high negative ratings for the Republican Congress parallel the disastrous negative ratings of the Republican president. As of Wednesday morning the summary of polling from RealClearPolitics shows Democrats with a lead of 8.6 percent over Republicans, a substantial lead that augurs well for Democrats.
Third, intense antipathy against Trump suggests above average voter turnout for Democrats, while the escalating civil war between GOP factions destroys Republican unity and threatens Republican turnout.
With President Trump often criticizing Republican leaders in Congress, Republican members of the House and Senate increasingly criticizing Trump, and power players such as Steve Bannon and Breitbart virtually declaring war against House Speaker Paul Ryan (R-Wis.) and Senate Majority Leader Mitch McConnell (R-Ky.) the dangers to Republicans in 2018 are multiplied.
If Trump and/or Bannon continue attacking Republicans in Congress there will be some voters in the Trump base who will stay home on Election Day or vote against Republican incumbents that Trump or Bannon attack.
There is also a strong probability that moderate Republican, independent and swing voters will recoil against all Republicans and vote Democratic.
The extraordinary political uniqueness of the Trump phenomenon will create an extraordinarily unique turnout pattern that will likely advantage Democrats over Republicans. Democratic voters are motivated. Republican voters are divided.
Fourth, the GOP attempt to govern America like a one-party Republican state has failed dismally. There was not one significant legislative victory for the Trump or Republican agenda for the first seven to eight months of the Trump presidency and current GOP Congress. Republicans lost everything on matters of legislative achievement, which alienates the GOP base from GOP leaders and appalls virtually all other voters.
It is no coincidence that the ill-fated attempt to repeal and replace ObamaCare became one of the most unpopular and politically disastrous fiascos in modern political history. Nor is it a coincidence that the only legislative victory for Trump came when he negotiated with Democratic leaders for an agreement that was intensely opposed by Republican leaders.
Fifth, there is now a surge of extremely strong recruited or self-generating Democratic candidates, especially young and dynamic Democratic veterans, who were inspired to run by the urgency of taking America back from Trump and Republicans.
Sixth, in a development that creates potentially extreme danger for the GOP, there are signs of a surge of retirements by Republicans in Congress who see a coming political disaster or find continued membership in the GOP House to be a highly unappealing prospect.
(Note: You can view every article as one long page if you sign up as an Advocate Member, or higher).