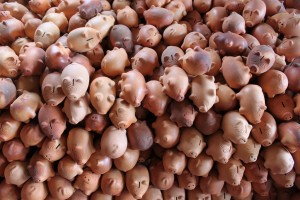 mall piggy banks, lots of 'em by
Musiu Puti, Flickr Creative Commons
The Dodd-Frank Act empowered the Fed to break up banks that are too big to regulate. Bank of America fits the bill
In Bank of America's 2010 annual report, CEO Brian T. Moynihan proudly states, "We serve one in two households in the U.S."[1] For Public Citizen, that fact doesn't inspire confidence. It incites fear. According to the consumer rights advocacy group, Bank of America is "massive, complex and unstable--too big to manage and too big to regulate. If Bank of America goes down, a sizable chunk of our economy will go down with it."[2]
Last month, the group sent a letter to Federal Reserve chairman Ben Bernanke and Treasury Secretary Timothy Geithner urging them to break up Bank of America, saying that the bank "poses a 'grave threat' to the stability of the United States financial system."[3] The group, which is based in Washington, DC, has also launched a grassroots campaign that includes a
public petition
urging Americans to register their support of this action.
SCARY: BofA IS BIGGER THAN LEHMAN WAS
With USD 2.26 trillion in assets as of 2010, it is the nation's second largest bank after JPMorgan Chase & Co. That sum is staggering: slightly more than the GDP of Great Britain and about a seventh of the GDP of the United States.[4][5] One can only imagine the global repercussions if Britain's economy were to collapse.
On February 6, Public Citizen, which is based in Washington, DC, posted a
video
on YouTube promoting their "Break Up Bank of America" campaign. The video showed a clip of President Obama saying, "Never again will the American taxpayer be held hostage by a bank that is 'too big to fail,'" along with text flashing on the screen saying, "Bank of America is 3.5x bigger than Lehman Brothers was when it went under."[6] At the end of trading on September 15, 2008, the day that Lehman filed for Chapter 11 bankruptcy protection, the Dow Jones index closed down 504.48 points, its biggest single-day point drop the first trading day after the September 11 terrorist attacks.[7]
DO THE MATH: THE TIME TO ACT IS NOW
In their letter, Public Citizen pointed out that under section 121 of the Dodd-Frank Wall Street Reform and Consumer Protection Act, the Board of Governors of the Federal Reserve System has the authority to break up "too big to fail" banks into institutions that are "smaller, less interconnected, less complex, more manageable and, as a result, less systemically dangerous."[8]
Section 121 empowers the Fed to require any bank holding company with at least USD 50 billion in asset that it determines posses a "grave threat" to "sell or otherwise transfer assets or off-balance-sheet items to unaffiliated entities." The Fed also has the power to limit the bank's ability to merge with or acquire another company, restrict its financial product offerings and terminate any of its activities.[9] "The time to use section 121 is well in advance of a crisis," Public Citizen states in their letter. "In the case of Bank of America, that means now."
"E pluribus unum," the phrase on the seal of the United States, is Latin for "Out of many, one." When the phrase was adopted by Congress in 1782, it expressed the unification of the many colonies into a single nation. Today, the reverse could be used to describe the desire to eliminate threats like Bank of America: "Out of one, many."
NOTES
image: small piggy banks, lots of 'em (credit: Musiu Puti, Creative Commons)