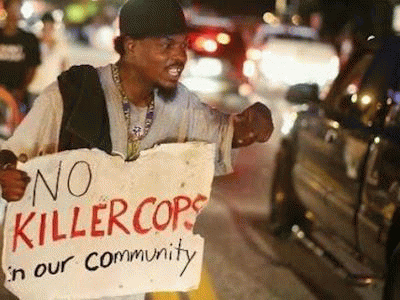 No Killer Cops in our Community
(
Image
by
Black Agenda Report
)
Details
DMCA
Former Louisiana death row inmate Glenn Ford died earlier this month at age 65, less than 16 months after his release from prison and the vacating of his sentence for a crime he did not commit: the murder of a white person. Ford had spent nearly 30 years in solitary confinement. The case against him was very weak, and the prosecutor who persuaded an all-white jury to convict him finally asked for forgiveness and admitted that Ford was an innocent man whose rights had been ruthlessly violated by the state. Shortly after walking out of Angola State Prison, Ford was diagnosed with terminal lung cancer, to which he succumbed, on June 29.
Herman Wallace spent 40 years in solitary confinement as part of the Angola Three -- Black Panther inmates convicted of murder in the death of a white guard in 1972. A federal judge overturned his conviction and set Wallace free on Tuesday, October 1, 2013. He died from liver cancer two days later at a hospital in New Orleans.
Albert Woodfox, the last of the Angola Three still locked down in prison, has been in solitary confinement for 43 years. His convictions have been overturned twice on grounds of racism in the jury selection process. A federal judge tried to set 68 year-old Woodfox free last month, but Louisiana's attorney general persuaded a federal appeals panel to block the release. The state insists it wants to try Woodfox again, even though the wife of the slain white guard says she no longer believes the Angola Three killed her husband.
Fifty-five year-old Dempsey Hawkins has been imprisoned for 38 years in the death of his white ex-girlfriend, in Sullivan County, New York. She was 14 and he was 16. Dempsey was sentenced to 22 years to life, and has already served what he believes to be the longest sentence for second-degree murder of any current inmate in the state system -- 13 years longer than the average. Dempsey is a model candidate for release, but parole authorities cannot forgive or forget the fact that he killed a young white girl.
"Defendants convicted in the murder of whites are far more likely to be sentenced to death than those who kill Black or brown people."
Although most whites (and every politician) will insist that all people's lives matter, the U.S. criminal justice system assigns added value to white lives, exacting the most extreme punishments on Blacks accused of murdering whites. Studies consistently show that defendants convicted in the murder of whites are far more likely to be sentenced to death than those who kill Black or brown people. In California, defendants convicted of killing non-Latino whites "are over three times more likely to be sentenced to die as those who kill Blacks," according to a statewide study. In Alabama, although 65 percent of murders involve Black victims, 80 percent of the death sentences involve white victims.
Ever since Emancipation, Black life has been cheap in the United States. Criminals of all backgrounds are acutely aware of this racist value system, and choose their victims accordingly. The logic of white supremacy and Black worthlessness leads not only to mass Black incarceration, but to insanely high Black murder rates, as well. The solution is not to treat accused killers of Black victims in the same way that Louisiana and New York have treated the Angola Three, Glenn Ford and Dempsey Hawkins. The cure for the social pathologies of white supremacy is Black Self-determination and Black people's power.
The lesson of history is that the U.S. State is incapable of providing justice to Black people. The historical record is unremittingly bleak in this regard, and has gotten much worse in the 45 years since the civil rights and Black liberation movements of the Sixties. The white polity's response to Black demands for a more just society was to create a mass incarceration regime so pervasive that one out of every eight prison inmates in the world is an African American.
"In Alabama, although 65 percent of murders involve Black victims, 80 percent of the death sentences involve white victims."
If incarceration is understood as a means of expelling individuals from society, then mass Black incarceration should be understood as the U.S. ruling structure's attempt to expel a whole people from the society.
The rulers have always enjoyed broad white popular support for the Black expulsion project, which is why mass Black incarceration so quickly became universal in the United States. The mass incarceration machinery has since become indispensable to enforcement of neoliberal austerity and retrenchment.
Over the past several years, it has finally dawned on large sections of the targeted population that Black people need to find ways to protect themselves from the police agencies of the Mass Black Incarceration State. Instead of begging the Armed Occupier to ease up on the lash, it's time to begin carving out the political -- and, ultimately, physical -- space in which to police and mete out justice for ourselves. Time for self-determinationist solutions, most of which will initially be deemed illegal, since the U.S. system is full of "checks" and "balances" to keep the people in check and the rich men's books balanced.
Even reformist notions of civilian "oversight" of police float at the edges of what is legally doable in the United States. In Newark, New Jersey, the very un-typical Mayor Ras Baraka, son of the late poet-activist Amiri Baraka, has proposed a Newark Police Department Civilian Complaint Review Board, armed with subpoenas and the power to demand punishments of cops based on certain guidelines. Community groups that have been active on criminal justice issues, including the grassroots People's Organization for Progress (POP) and the ACLU, will be represented on the 11- person board.
"The project must be pursued so that the people can learn, in the real world, the limits of reform."
However, cities are creatures of state government, which in New Jersey has not hesitated to strip municipalities of control over schools and other vital functions. Although the local ACLU predicts that Mayor Baraka's police review board will become "one of the strongest and most comprehensive in the country," the board is actually an extension of the mayor's office, while the State of New Jersey reserves the right to intrude on the mayor's prerogatives almost at will. POP chairman Larry Hamm has no illusions that such a board can tame the police, but says the project must be pursued so that the people can learn, in the real world, the limits of reform. Meanwhile, POP's primary domain is the streets. The organization is gearing up for a Millions March Against Police Brutality, Racial Injustice, and Economic Inequality, on July 25.
(Note: You can view every article as one long page if you sign up as an Advocate Member, or higher).