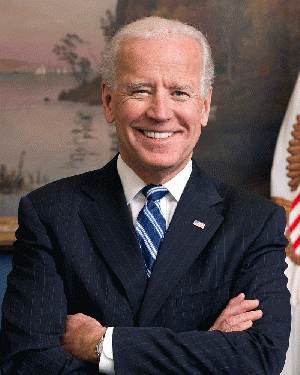 Official portrait of Vice President Joe Biden
(
Image
by
(From Wikimedia) The White House from Washington, DC
, Author:
The White House
from Washington, DC)
Details
Source
DMCA
It appears, from all the signs, that Vice President Joe Biden is on the brink of announcing his candidacy for the Democratic nomination for President of the United States in 2016. Over the weekend, the head of the firefighters' union reported a call from the Vice President exploring the question of his union supporting a Biden presidential run. Since then, more and more hints have been dropped to the same effect, including the current Vice President's sudden discovery that he actually had urged President Barack Obama to carry out the successful Bin Laden raid by Seal Team Six -- this, after public reports at that time that Biden had opposed the raid in Pakistan as being too dangerous and risky. Meanwhile, the rather maudlin tale that Beau Biden, the vice president's late son, had urged his father to run for president on his deathbed, continues to circulate in the media. All the tea leaves say Biden will run!
The fact of the matter, however, is that Vice President Joe Biden stands little chance of becoming the next President of the United States, while he stands a good chance of damaging, or even spoiling, the campaigns of Democrats Hillary Clinton and Bernie Sanders. Were that to occur, there is even the nightmare scenario of a Donald Trump-Ben Carson ticket winning the presidency. While neither Trump nor Carson alone has what it takes to win the majority vote of the general electorate, as opposed to that of the right-wing extremists, the rumored Trump-Carson ticket might well appear to offer enough to enough voters to get elected.
After all, variations on this scenario have happened before, when rogue candidates such as the third party runs of John Anderson and Ralph Nader have affected the outcomes of major national elections. In this case, what we have is not a third party, but a major third Democratic candidate, if Joe Biden joins Hillary Clinton and Bernie Sanders in the Democratic presidential race. From past experience, Joe Biden has a tendency to run his mouth in many unwise, and sometimes even untrue, directions. Presidential debates featuring the present Vice President will likely help to damage the other two major Democratic candidates chances to win. Meanwhile, the extensive speculative media coverage regarding a Biden candidacy has already become a major distraction.
As to why Vice President Biden is not a viable presidential candidate in his own right, consider how little he has really done in his six years as vice president. Perhaps President Barack Obama has failed to give his vice president much in the way of significant duties -- but regardless, the fact is that Joe Biden is an old and rather tired warhorse. He deserves praise for his past service to the nation, but he does not deserve the presidency, nor is he likely to ever achieve it. And the Democrats do not deserve Biden as the Spoiler, either.