(Article changed on January 17, 2013 at 22:05)
(Article changed on January 17, 2013 at 21:54)
Vice President Biden and President Obama have given Big Media corporations that profit by glamorizing gun violence and inciting gun massacres a free pass. There is next to nothing about violent media content in the president's 23 executive actions on gun violence announced on Wednesday, January 16.

Obama's directive to the Centers for Disease Control to conduct research into the causes and prevention of gun violence does include, "investigating the relationship between video games, media images and violence," according to an article in AdWeek.com. That few Big Media outlets noted the media violence element of the President's directive to the CDC is evidence of Big Media gatekeepers' efforts to marginalize or exclude media violence as a topic in the larger debate about gun violence. None of the Big Media news outlets reporting on the President's executive actions on gun violence have noted that the existing research on media violence is persuasive beyond any reasonable doubt. Rather, the AdWeek report notes that, "The Entertainment Software Association, representing the video game industry, issued a positive, though skeptical statement. 'Scientific research and international and domestic crime data all point toward the same conclusion: entertainment does not cause violent behavior in the world.'" In any case, the Congress, which has previously blocked such funding, would first have to appropriate funds for any new CDC research on gun violence. The takeaway: Political campaigns take place largely in Big Media venues, and no American politician or party has the shown both the courage and the ability to effectively confront the Big Media mob. The Obama administration seems to have taken its marching orders from the entertainment industry. So, the carnage will continue.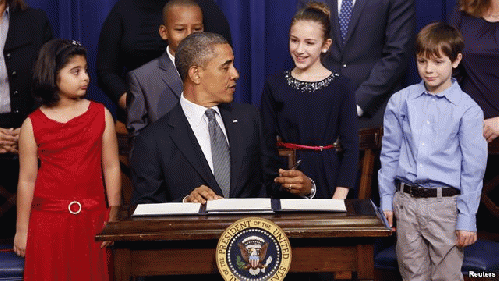 President Obama Announces Executive Orders to Limit Gun Violence

(

Image

by

Voice of America

)

Details DMCA




New polling indicates

that majorities now favor reasonable restrictions on firearms and media violence. Polling numbers representing growing public sentiment against media and gun violence will only grow as the carnage continues. And make no mistake: the carnage will continue. The

social science research on violent media product

is

conclusive

,

persuasive beyond any reasonable doubt

, and the

patterns

represented by gun violence in the USA are by now tragically well developed and firmly established. Gun violence and gun massacres in America's schools, places of worship, shopping malls, movie theaters, and work places will continue until Americans - in their disgust and righteous indignation - send the Hollywood mob, the National Rifle Association, and their corrupt stooges in Washington strong, unequivocal messages they cannot ignore,

"The United States has the highest rates of firearm-related deaths among industrialized countries, including homicide, suicide and unintentional deaths; young people are often the victims. Gun violence accounts for over 3,000 deaths and over 15,000 injuries each year among children and adolescents. The rate of firearm-related homicides for U.S. children younger than 15 years of age is nearly 16 times greater than the rates in 25 other industrialized countries combined,"

says

the American Academy of Child and Adolescent Psychiatry.

What is surprising is that gun violence is increasing - and gun massacres in particular are becoming more numerous and more frequent - even as the percentage of Americans owning guns is slowly decreasing. This strongly suggests that the problem is one of changing societal and cultural attitudes about violence in general and gun violence in particular. Who and what informs Americans' attitudes about guns and violence? The entertainment industry. Violence - gun violence in particular - is at the center of American popular culture because violence - gun violence in particular - is at the center of the entertainment industry's most lucrative product lines and revenue streams.

One of the most popular television series in recent history, the Fox Television Network series

24

, persistently attempted to legitimize, normalize, and popularize torture as public policy in the public consciousness of Americans. Hollywood signaled its enthusiastic approval of that effort by showering

24

with dozens of major industry awards and award nominations, including the industry's most prestigious award, the Emmy. The series and its creators won the Emmy for outstanding writing, outstanding casting, outstanding drama, outstanding lead actor, outstanding directing, and outstanding supporting actress. The series also won many Emmy technical awards.

The program routinely included scenes of torture, both physical and psychological, and some characters were only seen on-screen when they were torturing someone. The protagonist Jack Bauer also tortured suspects both physically and emotionally. In the first five of its eight seasons there were 67 scenes of torture - more than any other show on television. Melissa Caldwell, Senior Director of Programs for the Parents Television Council, called 24, "the worst offender on television: the most frequent, most graphic, and the leader in the trend of showing the protagonists using torture."


24

was so popular and so effective at promoting and normalizing torture that the Pentagon responded by attempting to persuade

24

's producers to cease and desist. U.S. Army Brigadier General Patrick Finnegan, dean of the US Military Academy at West Point, accompanied by three experienced military and FBI interrogators, met with the producers of

24

to criticize the show for misrepresenting the effectiveness of torture as an interrogation technique, saying it encouraged soldiers to see torture as a useful and justified tactic in the War on Terror, and damaged the international image of the United States. General Finnegan believed the show had an adverse effect on the training of American soldiers because it advocated unethical and illegal behavior. Suicide rates among service personnel have been

increasing for years

and in 2012 the number of

military suicides

surpassed combat deaths.

Recently, Hollywood launched a major motion picture effort aimed at legitimizing torture in the public consciousness. Zero Dark Thirty is a spy drama/action thriller directed and co-produced by Kathryn Bigelow. Mark Boal wrote the screenplay for the movie publicized as "the story of history's greatest manhunt for the world's most dangerous man." The film had its premiere in Los Angeles, California on December 18, 2012 and wider release on January 11.

Zero Dark Thirty

has received much critical acclaim for acting performances, its script, and directing. It was nominated for five Academy Awards including Best Picture, Best Actress, and Best Original Screenplay, and it earned four Golden Globe Award nominations including Best Picture - Drama, Best Director, and Best Actress - Drama, for Jessica Chastain, which she won. The film has been widely criticized for promoting torture and misrepresenting the role of torture in the CIA's search for Osama bin Laden. Some conservatives have claimed that

Zero Dark Thirty

creators gained improper access to classified materials through the Obama administration, which they have said perceived political advantage in, and benefited from, a major motion picture that lionizes those involved in the effort to locate and kill Osama bin Laden.

It must be noted that

24

was

lauded by conservatives

. During George W. Bush's second term, the politically conservative US think tank The Heritage Foundation held an unusual panel event to discuss "

24

and America's Image in Fighting Terrorism". The event, conceived by Supreme Court Justice Clarence Thomas's wife, Ginni, was moderated by talk radio host Rush Limbaugh. In addition to

24

executive producers Robert Cochrane, Joel Surnow, and Howard Gordon, and several

24

cast members, the panel included Homeland Security Secretary Michael Chertoff and leading security experts James Jay Carafano and David Heyman. During the event, Limbaugh, a big fan of the show, commented that, "Everybody I've met in the government that I tell I watch this show, they are huge fans." He specifically identified former Vice President Dick Cheney, former Secretary of Defense Donald Rumsfeld, and Republican political strategist Mary Matalin as enthusiastic fans. The event audience also included Justice Thomas and radio talk show host Laura Ingraham.

Electronic Arts, the world's third largest video game corporation by revenue after Nintendo and Activision Blizzard, promoted

Zero Dark Thirty

in its violent video game

Medal of Honor: Warfighter

, by offering downloadable maps of locations depicted in the film. Such tie-ins and connections are common practice

across product lines in the entertainment industry

, which effectively

prohibits any substantive public discussion

of the horrific effects of media violence in Big Media venues.

First-person-shooter (FPS) video games are among the worst offenders in the business of causing school massacres. The Sandy Hook shooter, Adam Lanza, was habituated to violent FPS video games. Heath High School shooter Michael Carneal was addicted to FPS video games. Columbine killers Eric Harris and Dylan Klebold reacted angrily when their parents attempted to restrict their use of violent video games. These games teach gamers to acquire targets quickly, aim accurately, and fire effectively while desensitizing them to mayhem and murder. The US military and many law enforcement organizations use very similar products as marksmanship training aids. The huge corporations that produce and market these games and other violent media product to children, adolescents, young men, and men who are not so young, make billions of dollars while their products incite violence, mayhem and murder - death and destruction - across America and the world.

The Sandy Hook Elementary School massacre victims are not honored by either the cowardice of our political class or the rapacity of the entertainment industry, which, to the extent that it systematically glamorizes and incites violence for profit, is a criminal conspiracy, a serious threat to public health and safety, and perhaps the gravest of threats challenging our most important and most cherished institution, the home and family, man's greatest human achievement.

Heaven help us.