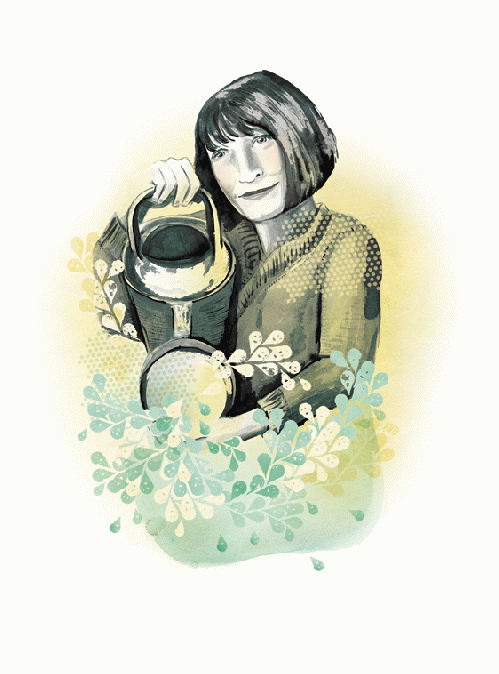 Wenonah Hauter

(

Image

by

Wenonah Hauter

)

Details DMCA


Wenonah Hauter by Wenonah Hauter
http://www.foodandwaterwatch.org/




Gregory Baetson discussed his field of study, Epistemology, as the revelation of the pattern that connects. In our world, though, we are highly reductionistic and instead focus on parts without seeing the whole. What this has prevented is our acknowledging the patterns of the parts of the whole. Thus we are not allowed to grasp the holographic nature the world, where the part mirrors the whole and is the whole. The amazing scientific riddle is that each splinter of a hologram contains the whole and is contained by the whole. Even how our corporate farms and foodopolies mirror how we treat our children in school and how we treat each other in our place of business.

In the tip of your finger is the infinite expanse of the universe...if you're willing to set aside your conditioning and go there. Yet, we are systemically programmed to think in terms of reductionism, where we don't understand or recognize how the pieces of the puzzle pull together. We cannot continue to function this way. It is killing us and our planet.

As an example of our potential death, according to a story on the website of the Today Show, there are several doomsday vaults that hold seeds in case of a major disaster that would wipe out much of the food in our world such as war, a new plague, mass poisoning of the environment, economic and power grid collapse, or climate changes. (link below under References)

These facilities hold seeds that will still be viable 20,000 years from now. One of the theories behind the building of these doomsday vaults is that commercial farming has reduced the overall crop diversity in the world. This means specific diseases could potentially wipe out a large chunk of agricultural production and, hence, the human "overpopulation". In that instance, the Doomsday Vault holds seeds to older strains that could be reintroduced, or that might be more resistant to pests, disease and drought.

In other words, the Doomsday Vaults are built realizing that our commercial farming places the food system at-risk. Now there are many explanations to this. One is being that the vaults are there simply as protection of seeds given that the human experiment of messing with the atmosphere, as well as corporate farming, turns out to be a "whoops-a-daisy" type of experience. A second theory is that seed vaults are there so the rich can ultimately survive as their sinister practices of corporate food production and destruction of the environment unfold to lessen the population. Indeed, there are some who think the upper-ruling classes desire to reduce the population. Of course, if that's the case, whom would they have power over? From whose labor and pittance would their "wealth" continue to grow?

What the corporate seed hoarders fail to acknowledge in their either/or paradigm is that seeds are an integral part of their bioregion, designed by biological nature in response and service to their indigenous ecosystem. As climate, soil, microscopic soil-life, companion plants, water availability and a thousand other parts of an living ecosystem evolve and respond to trauma, so also evolves the seed, an integral and holographic "egg" of the whole ecosystem. The seeds that they are reverse-mining, stowing away in locked vaults, are likely not to thrive under radically altered conditions. "You can't fool Mother Nature!" Life, dummies, is a linked, continuous process, self-sustaining through the intercourse and bonding of Love, not through isolation chambers.

These doomsday vault scenarios may or may not be. The important question is that if the builders of these doomsday vaults are foreseeing a potential disaster, then why do they continue doing what they are doing? What about the rebuilding of healthy food systems with foods raised in sustainable fashion? Similarly, what if we developed healthy families, educational and business models that are designed to help people specifically, and humanity in general, to evolve.

The foundation of our survival is food. It is our most immediate bond to the Earth that has given us life and wisdom. Our food system has been seriously corporatized, placing our health and the planet's health in jeopardy. Confronting our current mainstream food system, Wenonah Hauter wrote the book Foodopoly: The Battle Over the Future of Food and Farming in America. Wenonah is the executive director of Food and Water Watch out of Washington D.C. The purpose of her organization is be a watchdog focusing on corporations and government accountability for food, water, and resources.

The reason Wenonah used the term Foodopoly was because of the small number of companies controlling the food system. As she states at the beginning of Part 2 of her book:

One of the Reagan administration's lasting legacies is the dismantling of the regulatory system for ensuring fair and competitive markets. Since that time the failure to stop massive consolidation has allowed a handful of companies to control the entire food chain-from seeds, fertilizer and implements to processing, distribution and retail grocery chains. The largest twenty food companies exert tremendous control over food and farming, as both buyers of ingredients and sellers of product. In every subsector-from dairy products and beef to potato chips, soup and canned vegetables-a small number of companies completely dominates the marketplace. The retail sector is even more amalgamated, with Walmart and three other large retail chains controlling 70 to 80 percent of the market in many regions of the country. Reversing this corporate tyranny and concentration is critical for creating a fair and sustainable food system.

Foodopoly has been made possible by " The evisceration of antitrust law, usually overlooked in critiques about the nation's food system, is at the core of it's dysfunction. Shaped like an hourglass, a small cabal of food corporations and retail chains stand between eaters and food producers. "

This monopoly (like any cancer) is completely unnatural. If you can find a well functioning forest (good luck), you will find that with every step you take, you will find a wild array of diversity. Diversity is how the universe and the planet works. The founders of the United States knew this as reflected in the motto, "E Pluibus Unim" or in the Many One. Corporations, through their belief that "the world is mine to mine", violate this basic foundational core of what the founders foresaw.

What we actually see playing out in the world is a great Monopoly Game. Winner takes all...all lands, all properties, all food production...everything. And everything is done to maximize profit. Is this healthy? Doesn't it sound akin to the pathology of our most treatment resistant modern diseases?




(Note: You can view every article as one long page if you sign up as an Advocate Member, or higher).