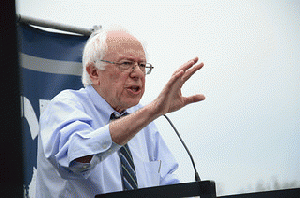 Bernie Taps into a Something Deep in America

The news people have noticed that Bernie Sanders is attracting crowds bigger and more enthusiastic than they'd have predicted. What's happening here, they've wondered?

My hypothesis is that Bernie Sanders is tapping into something deep and strong in the American electorate: a desire to fight back against the Big Money power that's been stealing wealth and power from the American people.



Bernie Sanders is speaking truth about several profound issues about which growing numbers of Americans are unhappily aware.

That the middle class is being hollowed out, while the rich get richer, is something they experience in their daily lives.

This is what Bernie Sanders has called the great moral, economic, and political issue of our times.



That money has become too powerful in our politics is something that, according to a poll just out from the New York Times and CBS, some 84% of the American people recognize.

Bernie Sanders has declared his intention to deal with the corruption of our democracy by money, including overturning the Supremes' disgraceful Citizens United decision.

That climate change constitutes a crisis we are morally obliged to deal with responsibly is something that growing numbers of people -- including a small majority of Republicans (according to a recent national poll) -- acknowledge.

Bernie Sanders is speaking plainly about this, too.

And on all these issues, Bernie Sanders is credible, having been consistent over the years on these positions. And he is articulate and he is passionate.

With these pieces all in alignment, it seems entirely reasonable to believe that the response to Bernie Sanders -- seen in these big crowds in Vermont, Iowa, and Minnesota -- represents the beginnings of what could become a "movement."

There is a hunger in America that could express itself through the candidacy of this straight-talking Senator.

The Challenge to Hillary Clinton

Maybe this "movement" will become so powerful as to overcome Hillary Clinton's great advantages, and secure the Democratic nomination. But I would not bet on it.



(Note: You can view every article as one long page if you sign up as an Advocate Member, or higher).