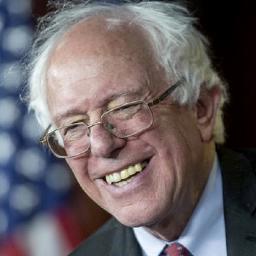 Bernie Sanders
(
Image
by
twitter.com
)
Details
DMCA
VERMONT SENATOR BERNIE Sanders yesterday denounced in harsh terms the impeachment of Brazil's democratically elected president. As the Brazilian Senate heads toward a final vote later this month, Sanders described his position, set forth in a statement posted on his Senate site, as "calling on the United States to take a definitive stand against efforts to remove Brazilian President Dilma Rousseff from office." He added: "To many Brazilians and observers the controversial impeachment process more closely resembles a coup d'etat."
(
Image
by
Bernie Sanders
)
Details
DMCA
Sanders also condemned the unelected center-right coalition under Michel Temer that has seized power during Rousseff's suspension and is now trying to install themselves through 2018. "After suspending Brazil's first female president on dubious grounds, without a mandate to govern," he said, "the new interim government abolished the ministry of women, racial equality and human rights" and "replaced a diverse and representative administration with a cabinet made up entirely of white men." They are now attempting to implement radical policies that could never be democratically ratified: "impose austerity, increase privatization and install a far right-wing social agenda."
Sanders' statement comes as Brazil's elites -- virtually unified in favor of Dilma's impeachment -- have taken extraordinary (and almost comically futile) measures during the Olympics to hide from the domestic public, and the world, how deeply unpopular Temer is. Brazil's largest newspaper, Folha de Sao Paulo, last month was caught manufacturing polling data when it claimed that 50% of Brazilians want him to stay (in fact, their own poll showed a large majority (62%) want Temer out and new elections held and the paper's Ombudsman harshly criticized them). Brazilian media spent months hyping the prospect of Temer's election in 2018 without mentioning the rather significant fact that he's been banned by a court for running for eight years because he violated election law (they were forced to mention that last week when the Sao Paulo prosecutor called attention to this fact in the wake of a new media movement to have Temer run).