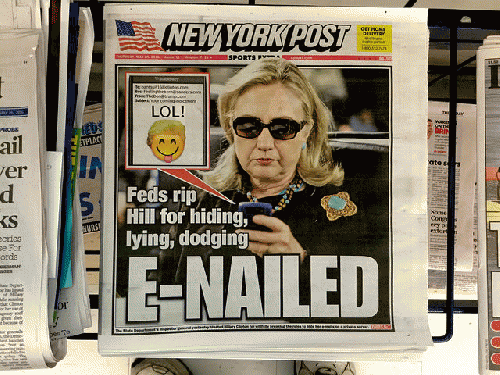 Praying for Hillary to be indicted
(
Image
by
JeepersMedia
)
Details
DMCA
I'm praying for Hilary to be indicted. I think most, or at least a big percentage of Berners are also praying for the same-- for the system to work, for justice to happen-- justice. That means that the people who are tasked with investigating Hillary's multitude of possible criminal acts must do their job, posthaste, finishing a thorough, comprehensive investigation before the Philly convention. Then, Bernie Sanders, the most honest, consistent, pro-middle class, transparent progressive, un-influenced candidate in scores of years will become the Democratic presumptive candidate.

There are a number of reasons Hillary Clinton could be prosecuted.
Email and Server Crimes
-She sent and received classified emails. She denies doing this but some of the emails that have been released are redacted. They are redacted because there is classified content in them. Hillary says they were classified after the fact. But it was HER job to classify what she sent. AND, there are classified messages that she received. Ray McGovern described this in detail here in this series of articles:
Is Hillary Clinton Above the Law? Secretary of State Clinton was harsh on subordinates who were careless with classified information, but those rules apparently weren't for her, a troubling double standard,


Hillary Clinton's Damning Emails Before the Democrats lock in their choice for President, they might want to know if Hillary Clinton broke the law with her unsecure emails and may be indicted


A Need to Clear Up Clinton Questions As the Democrats glumly line up for Hillary Clinton's belated coronation, the risk remains of potential criminal charges over her Libyan testimony or her careless emails


Intel Vets Urge Fast Report on Clinton's Emails A group of U.S. intelligence veterans is calling on President Obama to expedite the FBI review of former Secretary of State Clinton's alleged email security violations so the public can assess this issue in a timely fashion.


Clinton's Imperious Brush-off of Email Rules The State Department's Inspector General issued a blunt report criticizing Hillary Clinton's imperious refusal to follow email rules as Secretary of State, adding to Clinton's credibility problem


Will Hillary Clinton Get Favored Treatment? Hillary Clinton's private emails jeopardized the safety of undercover CIA officers, suggesting criminal charges
-She built and used a private server for her emails. She claims that many others did this, but that is a flat outright lie. Others may have used unauthorized email accounts. But that's profoundly different that her use of her own private server. No-one else has done that.
-She did these things without authorization, violating the Federal Records Act law. She claims that lots of people knew. I don't believe her. Many people may have known that she was using an unauthorized email address, but hardly anyone knew about the private server.
-She deleted 30,000 emails. This is a crime. She does not have the right to tell the American people that they were all private. This was an outrageous illegal act.
Clinton Foundation Crimes
The question is, will Obama stop investigations from going forward? Will Obama appointees and friends of the Clinton in the State Department delay long enough to allow Hillary to secure the nomination?
Many believe Obama will rescue Hillary. But all it takes is one brave, true patriot in the Judiciary or FBI to out the truth and expose Hillary for who she really is. I wouldn't be surprised if it takes a middle level person to come out as a whistleblower, reporting the delay or coverup of the truth. Let's hope they show up. Yes, they. There should be a number who have the courage to come forward.