We keep hearing that white working-class, beer-drinking males are uncertain about whether Barack Obama is "one of us," and so may vote for John McCain.
Many people in this demographic voted in 2000 and 2004 on the basis of which presidential candidate seemed more like the kind of guy they would like to have a beer with.
A better basis for choosing might have been to look at what businesses George W. Bush and Dick Cheney were involved in and who their friends and business associates were. Three answers that would likely have come to mind from asking such a question would have predicted a great deal about what was to happen with them in office: oil, military contractors, and the superrich.
Bush turned out to be the kind of guy we could have a fear with.
Beer-loving Americans ought to think about what happened to the price of gasoline with oilmen Bush and Cheney in power before they decide to vote for McCain.
Cindy McCain, the current wife of presumptive Republican presidential nominee John McCain, owns one of the largest beer distributorships in the nation. Now she and her husband are making a huge profit from the sale of flagship American brewer Anheuser-Busch to a foreign company, the Belgian beverage giant InBev.
"If you like what happened to the price of gasoline with two oilmen running the government," Mrs. McCain said gleefully, "you'll love what will happen to the price of beer with a beerwoman as first lady!"
"If we can do for beer what Bush and Cheney did for oil," the wife of the GOP candidate calculates, "I would think a $30.00 six-pack could be within reach by our second year in office."
"This Bud's not for you!" Mrs. McCain shouted joyfully. "Unless, of course, you've got a lot of money."
Robert S. McElvaine is Elizabeth Chisholm Professor of Arts & Letters at Millsaps College. His latest book is Grand Theft Jesus: The Hijacking of Religion in America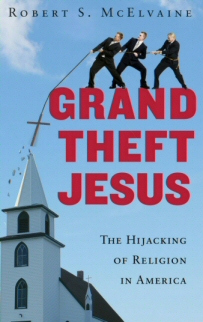 . He thanks his daughter Lauren Itzkowitz for the idea around which this piece is built.