Cross-posted from Mike Malloy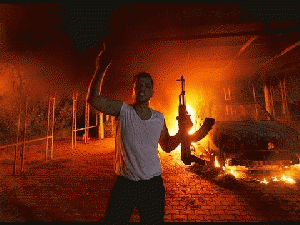 Republicans are in a frantic meltdown over the "new" Benghazi email. Will Darrell Issa convene yet another series of hearings? Politico reports...

"House Oversight Committee Chairman Darrell Issa (R-Calif.) accused President Barack Obama of misleading the public about the talking points used by then-U.N. Ambassador Susan Rice to discuss the attack.

"'It's disturbing, and perhaps criminal, that these documents were kept from the public. It comes in a week in which the American people have learned that you cannot believe what the White House says...and you cannot believe what the president says,' Issa said at an Oversight hearing.

"For nearly two years, Republicans have used this line of attack against the White House. The latest revelations are just a reminder that the GOP isn't going to let the issue fade away -- especially ahead of the 2014 midterm elections.

"During an interview, Issa raised the possibility of holding White House officials in contempt. He's upset that the administration provided his panel with redacted documents while releasing a more complete set of records to Judicial Watch, which filed a request for Benghazi-related information under the Freedom of Information Act."
Go, Issa, go! Representin' for the people of California! Way to spend taxpayer dollars on a pointless partisan witch-hunt that is almost as big a time- and money-waster as the endless attempts by your Neocon compatriots to repeal the Affordable Healthcare Act!


But it's not just Issa jumping on the Benghazi bandwagon. Other noted Neocons are shifting their sights from attacking "Obamacare" to the recently-released email, hoping to re-animate the story in time for the mid-term elections. The language is typically inflammatory and hyperbolic, as Politico continues to describe:
"'We have a major, major scandal,' said Rep. Jason Chaffetz (R-Utah) on Fox News on Thursday, who has often played point on the issue for Republicans. 'We have lies that are perpetuated by this White House.'

"Conservative commentator Charles Krauthammer called the Rhodes email a 'smoking document' and Sen. Lindsey Graham (R-S.C.) has called it a 'smoking gun.' Speaking on a radio show, Graham also called administration officials 'scumbags.' Sen. John McCain, meanwhile, said the White House response to the attack was a 'political exercise.'"
They'll never stop, Truthseekers, until they finally succeed in finding an impeachable offense against the President they think will "stick." Will the fact that Congressional approval polls slightly lower than syphilis give them pause to consider what action the public might want from Congress -- or will they continue to squander taxpayer dollars and their very last drops of political capital on these aimless vendettas?
Guess we'll have to wait for the November elections to find out.