By Dave Lindorff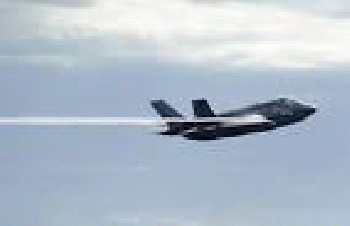 F-35 Lightning II has first operational air-to-air missile fire ...780 Ã-- 507 - 20k - jpg
(
Image
by
acc.af.mil
)
Details
DMCA
Why did the US military have a vertical-take-off F-35B launched from an aircraft carrier in the Indian Ocean make an attack on a Taliban position in Afghanistan?
Nobody's mentioning several things about this Pentagon-touted first-ever US military "combat use" of the most expensive and supposedly sophisticated fighter-bomber ever produced at a current price of over $115 million per plane for the B model.
The first point is why it happened at all. The plane is not actually meant to be a ground attack aircraft. Designed as a fighter to fly at Mach 1.6 speed (1199 mph)and to be invisible to enemy radar, which of course the Taliban fighters (whose top speed is a few miles per hour) in Afghanistan don't even have, it is meant to be a sixth-generation fighter intended to assure US forces of air superiority against an advanced enemy with similar planes. The Taliban of course have zero planes or even anti-aircraft weapons. They are about as primitive an enemy as the US has ever confronted since the days of Gen. Armstrong Custer (who as we know had some problems with winning even then). As Pentagon critic Chuck Spinney notes, "This attack on the Taliban could have been much better handled by an A-10 Warthog ground attack plane."
The particular model B version of the F-35 used in this particular attack was specifically designed to suit requirements of the US Marine Corps, which wanted a jet that could take off and land vertically, presumably to be able to support Marine forces by operating from a small clearing in the jungle, on a beach, or on a small section of road or parking lot. Doing that, as opposed to taking off from a runway, burns through an inordinate amount of jet fuel so unless the plane is refueled in the air, it cannot fly very far or carry much ordnance, or both, but loading up on fuel in flight makes both the plane and the lumbering aerial tanker vulnerable to attack, which makes a joke of the stealth aspect of the plane.
Worse yet, Spinney says that the exhaust from the F-35B's powerful jet engines, necessary to lift its entire weight off the ground, is so hot that it "explodes concrete." He says it cannot simply land or take off on a beach, a favorite traditional Marine location, or on the ground in a clearing.
Because of this ill-thought-out complication, he says the Pentagon and its contractor, Lockheed Martin, have developed a 100-foot-diameter ceramic pad that has to accompany the plant to be set down on such locations where it operates from, in order for the F-35B to safely make any vertical take-off or landing (VTOL) maneuver"
For the rest of this article by DAVE LINDORFF in ThisCantBeHappening!, the uncompromised, collectively run, six-time Project Censored Award-winning online alternative news site, please go to
www.thiscantbehappening.net
(Article changed on September 29, 2018 at 15:17)
(Article changed on September 29, 2018 at 22:21)