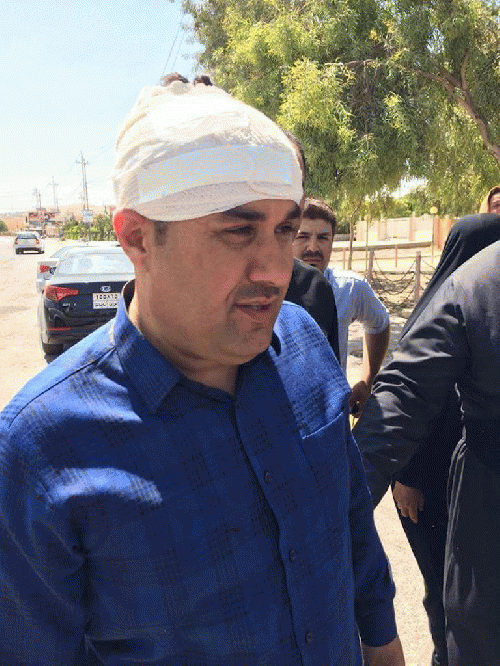 (
Image
by
Mullah Saman
)
Details
DMCA
By Hamma Mirwaisi
The city of Chamchamal is close to the city of Kirkuk-Iraq. Mullah (Preacher) Saman Chamchamali asked Mafia families of Kurdistan to stop abusing Kurdish people further. He told them in his speech that the people are calling to speak up on their behave. He said members of Peshmerga forces told me that they are fighting ISIS Islamic terrorist forces to protect Kurdish people but their monthly payment is not enough to pay the rent for their families.
The life is not bearable anymore for ordinary Kurds in 'Kurdistan Regional Government of Iraq (KRG)' region. The mafia families of Barzani and Talabani are ruling that part of Iraq with the help of the US forces. They are not giving monthly salaries of Government employees (Peshmerga forces (Mafia army), Police, janitor, teacher, Government officials, and almost 90 % of people are working for Government in Iraq system). The people get paid from Oil and Gas money.
Barzani and Talabani's family members are taking Oil and Gas money in last few years. They used to pay salaries in time. Since last few years, the people asked them to hold the free election to have democratic Governments. Barzani and Talabani Mafia Government adopted the policy to make them hungry by not paying them their regular salaries.
Every child of Massoud Barzani and Jalal Talabani are the billionaire now. According to the Belgium newspaper, Barzani family members own 600 billion dollars in the European Banks.
The US Government ex-officials and European, Israeli, Turkey, Iran and others are the partner in the Oil and Gas of Kurdistan. The current Government of the US can find out the truth if they want to investigate those Iraqi mafia criminals if they are not the partner yet.
President Trump's campaign rallies were defined by three slogans, "Build the wall," "Lock her up," and "Drain the swamp,"
Do you believe President Donald Trump will 'Drain the Washington swamp or Iraq, Kurdistan and Afghanistan swamps'?
References
...ەلاسا...ان جە... جە...اڵ
وتاری ئە...ڕۆ... باسی دزینی بەرپرسەکان
28:25 17,958 Views
https://www.facebook.com/malasaman.chamchamaly
Trump's Efforts To 'Drain The Swamp' Lagging Behind His Campaign Rhetoric
http://www.npr.org/2017/04/26/525551816/trumps-efforts-to-drain-the-swamp-lagging-behind-his-campaign-rhetoric
(Note: You can view every article as one long page if you sign up as an Advocate Member, or higher).