While Americans were remembering the fallen this Memorial Day weekend, another somber ceremony took place almost 10,000 miles away in a battered refugee camp in Rwanda. Congolese residents of the Gihembe camp honored family and friends who were massacred by Interahamwe militias during the genocide against Congolese Tutsi in the Democratic Republic of Congo (DRC) and Burundi. The ethnic cleansing continues to this day in DRC, with FDLR militias still at large, comprised of remnants of those who committed the 1994 Genocide against the Tutsi in Rwanda. DRC's President Joseph Kabila has refused to cooperate with the UN stabilization mission (MONUSCO) to finally eliminate the FDLR.
I was able to participate in this ceremony in a very unusual way. While informally meeting with Congolese refugees in Rwanda in March, I was asked to attend. It was impossible on such short notice, considering costs and logistics, to return to Rwanda. But social media opened a unique window of opportunity. The Facebook page GIHEMBE KWIBUKA 12 allowed me to get photos and commentary in real time delivered to my office in northern Minnesota.
International media did not broadcast this important and moving ceremony, but camp residents and leaders used the power of still photography and social media to communicate thousands of words that demanded to be heard.

The Gihembe chairman, Jean Nsanzimfura, offered testimony, pleading with the DRC government and the international community to apprehend and prosecute the Interahamwe militias that carried out the massacres in collaboration with other Congolese rebel militias.
"After being defeated by the Rwanda Patriotic Army (RPA) in 1994, the perpetrators of the 1994 genocide exported their horrendous acts against humanity into the DRC," Nsanzimfura said.
Massacres continued to take place in Congo in North Kivu, Rutshuru, Mukoto, Ngungu, the Masisi region, and the South Kivu town of Bukavu between 1996 and 2004.
The killers crossed over into Burundi in 2004 and devastated the Banyamulenge refugees at Gatumba--perhaps the most heinous and under-reported massacre in this century. Look to Gatumba for the root causes of what is happening in Burundi today.
But a huge problem remains. No matter how much effort camp leaders and advocates put into organizing the day of commemoration, readings, speeches and performances, the world audience was missing. International resolve to do something about Congolese refugees -- who are literally among the world's existential homeless -- is completely missing.
These people need a true advocate. America's Department of State export, Russ Feingold, abandoned them to run for the Senate in Wisconsin. He was supposed to be the State Department's idea of a special diplomatic savior, but only stayed long enough to pad his resume. Many of the people at the memorial service were carrying placards that called for justice and reconciliation.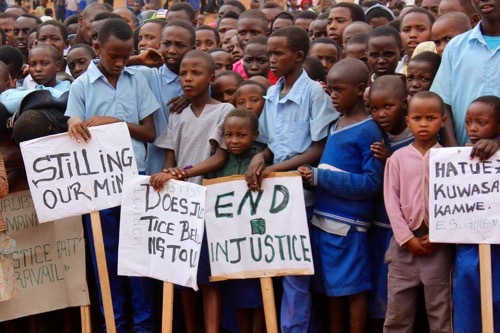 Hope springs eternal for these people, but what is justice and how can it be achieved when the Interahamwe is still operating in eastern DRC? Sometimes I feel that Alexander Pope's "Essay on Man" needs a rewrite, with Central Africa as its nexus in an effort to vindicate the ways of God to man. In the reverse side of this tragic dramatic mask, Congo's president is like the humorous "honey badger" of YouTube fame. Kabila just "don't (seem to) care."
As Reuters reports:
Western diplomats say a months-long Congolese army (FARDC) campaign against the Democratic Forces for the Liberation of Rwanda (FDLR) rebels has achieved little and revived doubts about the will and capacity of Congo to defeat a group at the heart of decades of conflict in Africa's Great Lakes region.
The government of Rwanda is doing what it can.
(Note: You can view every article as one long page if you sign up as an Advocate Member, or higher).