(Article changed on September 18, 2012 at 20:34)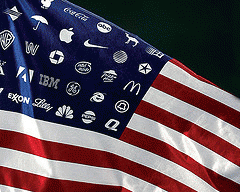 Corporate America
(
Image
by
Owner Unknown
)
Details
DMCA
(Written by Tim Gatto with Ben Shaw)
During my radio show last night I had problems with the audio that were very suspicious. Every time my guest, Ben Shaw (who works with the Rocky Anderson campaign) tried to mention specific problems that the campaign faced on getting Anderson on the ballot in various States, the audio would become garbled to the point where it was very difficult to understand his speech. He would stop talking about these instances and the audio would clear up. This is the link to the show so you can hear it for yourself.
According the current election laws in various States, these are the number of signatures that are needed to get on the ballot in the following States:
Based on the number of signatures required
1st Tier:
" California--173.000
" Texas- 49729
" North Carolina--85379
" Georgia--50334
" Oklahoma--43890
2nd Tier:
" Michigan--32261
" Indiana--34195
" Oregon--21804
(Note: You can view every article as one long page if you sign up as an Advocate Member, or higher).