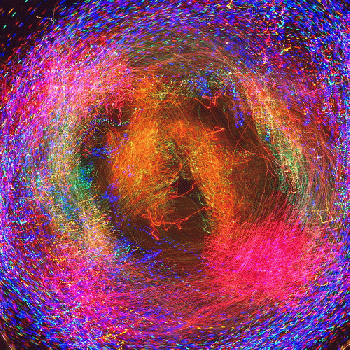 Big Bang

(

Image

by

kevin dooley

)

Details DMCA
"We cannot solve our problems with the same mindset that created them."
Albert Einstein
Introduction
I have been on a spiritual path since I was 18. As an adolescent I came to the conclusion that the most vital question regarding how I would live my life was whether or not "God" was a reality or an illusion.
If it is not already crystal clear, I want to begin by saying that I am far from being an enlightened soul who has transcended the separate ego. I would describe myself as a seeker (and to some degree a finder).
A note: it would be foolish to expect the current piece to do anything but scratch a tiny bit of the surface of such a huge topic. Beyond this, there are countless, varied experiences of Divinity and a multitude of ways these have been expressed. As human beings, it seems reasonable for us to use the term mystery to refer to something that is infinitely deep.
In a sense every religion is the product of the conceptual mind attempting to describe the mystery. While scriptures have attempted to guide us in aligning with God, they commonly become rigidified, and too often reflect the millennium-long dominator era during which they were founded.
I have had the experience of - but do not yet permanently reside in - a sense of the profound oneness of all things and beings; an intensely alive and expanded consciousness; an awareness of the spark of the Infinite at the center of every person; many astoundingly Grace-full synchronicities; and the presence of other dimensions of being.
In the course of my search, I have come to the following conclusions:
1) Each wisdom tradition (almost all of them thousands of years old) is, at its best, like one facet of the jewel of spiritual awakening;
2) Every path has both an esoteric and exoteric component. The folk religion practiced by the majority of human beings constitutes the exoteric way, while the esoteric dimension is the path practiced by mystics, those on the way to becoming authentic saints, and deep meditators;
3) Because human beings have come to a critical point in our evolution, we are living in a time when the previously esoteric (or secret) teachings are being shared with the world.
My journey began with the use of entheons (psychedelics), which in turn led me to practice meditation and study with spiritual teachers. My wish was to find teachers who came from wisdom traditions with a time-tested and ancient lineage. Due to my experience with entheons, I was drawn to "non-dual" paths of spiritual awakening.
I am sharing the following not to be ostentatious, but rather to be completely open about my background, and about the paths and teachings that have informed my perceptions and experiences.
Early on, my meditation teachers included Ram Dass, Jack Kornfield, Joseph Goldstein, Sharon Salzberg, Christopher Titmus and Larry Rosenberg - all teachers of Insight (mindfulness) meditation. I continue to value their teachings highly. I briefly practiced meditation with a Korean Zen master, Sung San, as well as with Thich Nhat Hanh, an activist Vietnamese Zen master who was nominated for the Nobel Peace Prize by Martin Luther King Jr.
I spent 8 years studying and practicing Kashmir Shaivism with Gurumayi Chidvilasananda, had a few contacts with her guru, Swami Muktananda, before he passed away, and made a deep spiritual/vibrational contact with his guru, Bhagawan Nityananda, which is alive to this day. I also took initiation with the Tibetan master Kalu Rimpoche, and studied directly with Isabell Hickey and Tom Yeomans. In younger years I practiced Tai Chi and other martial arts, while contemplating the Taoist way of liberation via the scripture known as the Tao Te Ching. I have deeply studied the writings of Gandhi and Martin Luther King Jr.
I have spent the last 20-some years learning from Mata Amritanandamayi (Ammachi) and have been blessed by Mother Meera on a number of occasions. I have studied the teachings of Ramakrishna, Ramana Maharshi, and Sri Nisargadatta Maharaj, Carlos Castaneda and the Dalai Lama.
I have some familiarity with the teachings of the Jewish Kabala and the contemporary Rabbi, Zalman Schachter-Shalomi; I've enjoyed and been deeply inspired by the Sufi poetry of Rumi and (Muslim/Hindu) Kabir, as well as being influenced by Christian mystics such as Meister Eckhart and St. John of the Cross.
In terms of recent teachings, my strongest influences have been Ram Dass, his guru, Neem Karoli Baba, and Ammachi - all of whom teach a path of service, devotion and meditation. The words and actions of the Christ and the Buddha have provided food for transformative contemplation and guidance for decades. Philosophically, I am most aligned with Buddhism, Hinduism, and Taoism.
In this piece I hope to share what I have harvested so far on my journey. I do not pretend to have definitive answers. Rather, this is the report of a "scout" who has traveled into foreign terrain and is sharing his own tentative observations and conclusions. There is no need for you to sign on or agree with anything. If you have a tradition that works for you, stay with it. If none, that's fine, too. Obviously for me, this has been a passionate search for truth and the nature of the universe in which we live.
The title of this piece refers to "the energy of God." This can tell you a few things:
1) I don't regard God as a person, although I honor people who do; and
2) I see God as a process - a dynamic Consciousness - rather than an entity. It is important to acknowledge that, for many, the word "God" tends to evoke the image of a remote, masculine, authority figure who is separate from this world. To be honest, I have mixed feelings about the word, "God," because it has been so distorted over the years. (On a lighter note, it is also the word "dog" spelled backwards!)
And, let's face it: "God" has been one of the most embattled ideas in the modern world. The lives of many people revolve around God; without God, they believe, life would be unbearable. Others regard the idea of God and religion as one of the worst, most destructive, ideas ever invented - and an historical source of enormous bloodshed. One group finds the evidence for God overwhelming; others find the same for atheism.
Increasingly in the West, many are tired of the hypocrisy, staleness and emptiness of the various contemporary forms of religion. This was true for me regarding Judaism, and only recently have I come to appreciate its finer points.
It is also helpful to remember that many of us in the West have been raised on an outmoded, but deeply entrenched (and often unconscious) version of a scientific materialist ideology - within which the concept or reality of God is basically irrelevant.
It would also be laughable to think we can capture the Eternal and wrap it up in a bow. My understanding is that there are beings throughout history who have apparently merged with the Infinite; however, I am also aware that it is not possible to experience "God energy" as an intellectual phenomenon. This is due to the fact that it can be (imperfectly) described as the "Eternal Subject" or "Ground of All Being." The existence of God cannot be proved objectively, because - as "the field which contains all fields" it contains everything, including us. We cannot step outside it, in the same way that a fish cannot prove that water is wet.
Regarding the Infinite - at times I have favored the image of a super-dynamic, omnipresent, ever-evolving Source, following Gebser's designation as "The Ever-Present Origin."
I also want to make clear from the start that I view religion and spirituality differently. As I see it, religion can and often does involve authentic spirituality, but just as often entails rigid adherence to doctrine, dogma, and legalisms from books written thousands of years ago.
Religion usually involves hierarchical institutions with centralized control and power. Too often religions thrive on domination - and lacking authentic love - ironically help to create lost souls who feel separate from others and from Divinity.
Too often, religion serves to acculturate us, such that profound, seemingly miraculous experiences, insights, and states of consciousness are often dismissed or kept hidden. These states and stages of growth are available to all humans; yet, many of us have been unconsciously trained to regard them as aberrant, abnormal, inaccessible - or even forbidden. Historically, many religions have done so, because these experiences would upset their power structure.
To my mind, spirituality - although it can be shared with others - is essentially a personal, individual, and intense, solitary pursuit involving the growth and deepening of consciousness, insight, and love.
Many of the most "spiritually evolved" people have never set foot in a house of worship, and many religious people use their faith to cover up dark, less-than-stellar (and at times, evil) qualities, which they act out in the world and do not admit to themselves. For the least mature, both spiritual and religious groups often function more like a pre-pubescent club or clique.
In the process, both spiritual and religious individuals and groups frequently fall into the trap of narcissism: the familiar claim that their path is the only - or best - way, often twisting the words of their founders to make this claim.
What is most important to emphasize is that, authentic spirituality - as opposed to religion per se - is not about belief, but rather focuses on experience and real-ization - a radical transformation of one's own being. While we know that physical bodies evolve (as per evolution), it turns out that consciousness can evolve as well.
Deepening and Expansion of Consciousness
According to teachers from around the world, the authentic expansion of consciousness - because it involves developmental stages - leads to outcomes that are both unique and predictable. The universe is increasingly experienced as a unified whole. As we transcend (without excluding) our ego, our sense of separateness begins to fade into the background. While lightly retaining our conventional identity, we tend to have the experience that there is only one of us: one consciousness manifesting into different forms.
We gradually grow into an experience of non-egocentric love for all beings, which in the Greek language is called "Agape." A desire arises within us to relieve suffering in whatever form it manifests.
The entire universe - All That Is - as experienced is nothing but the energy of God. This means transcending dualistic perceptions; (As the 3rd Chinese Patriarch comments: "When doubts arise, simply say, 'not-two'").
This cuts through the historically embedded thought-form of the monotheistic religions, which hold notions of "I," on the one hand, and "God the Father" (or "The Almighty"), on the other.
As we mature into a higher level of awareness and love, we find ourselves relinquishing notions that have given us (and our ancestors) a certain solace. Losing the image of a loving parent can create a certain sense of loss, which may need to be worked through. It is also true that, at this level of realization, we need to inhabit more than one plane of awareness simultaneously: both 1) the practical and individual, and 2) one that is transcendent and universal. As Ram Dass once said, "It doesn't matter how high you get, you still need to remember your zip code."
The Buddha (Siddhartha Gautama) has articulated a simple and straightforward path for achieving this kind of growth, which involves the cultivation of specific qualities of mind. I hope to speak more about these qualities in a future article.
For now, I would mention that the Buddha called these "The Factors of Enlightenment." An essential quality is "mindfulness" (present-moment awareness). Equally important are those qualities that are called "arousing" - including energy, investigation and interest, and those called "stabilizing." Among these are calm, concentration and equanimity. The key to cultivating these states of mind is practice.
At the Evolutionary Crossroads
Coming back to Earth, research published on 1/18/21 authored by 17 leading scientists, reviewed more than 150 studies to produce a stark summary of the state of the natural world and identified likely future trends in biodiversity decline, mass extinction, climate disruption and planetary toxification. It clarified the gravity of the human predicament and provided a snapshot of the crises that must be addressed now.
The problems, all tied to human consumption and population growth, are expected to worsen over coming decades. Schismogenesis, a term that is used in cybernetic systems theory (given our faulty basic assumptions), can be expected. This process will likely entail ever-increasing vicious circles, leading to collapse. It is probable that this damage will be felt for centuries and threatens the survival of all species, including our own. Humanity needs to understand the enormity of the challenges we face and the losses that can be expected in the future.
What to do?
We are already facing a time when humanity will be faced with a stark choice: to join and work together for the benefit of our own species and the Biosphere - or push apart - remaining divided, antagonistic and in conflict. Should we choose the later scenario the Earth may become a wasteland.
In short, we are in over our heads, and, although at this point, it is predictable that much denial will prevail - if we want to preserve our world, we have our work cut out for us. In reality, we need to work on many problems rapidly and simultaneously.
The fundamental issue is our failure to see through the illusion that, below our surface differences - and below all the politics and worldly power struggles - we are not separate, but rather are expressions of one consciousness. The bottom line is that we need to be willing to make the effort to allow our consciousness to be transformed. This will entail both loss and gain.
To begin, we need to cultivate our own awakening and active love on both practical and transcendent levels. We each have unique gifts, which can be shared with the world and help address our predicament. We need to wake up together.