See original here
By Mark Sumner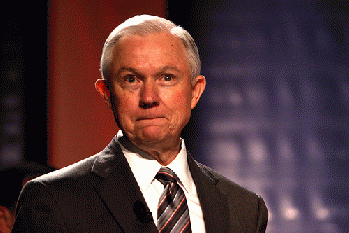 Jeff Sessions
(
Image
by
Gage Skidmore
)
Details
DMCA
The New York Timesis reporting that Attorney General Jefferson Sessions was the first member of Donald Trump's cabinet to be called in for an interview with Special Counsel Robert Mueller's investigation.
Attorney General Jeff Sessions was questioned for several hours last week by the special counsel's office as part of the investigation into Russia's meddling in the election and whether the president obstructed justice since taking office, according to a Justice Department spokeswoman.
The interview with Sessions comes after word that former Strategic Advisor Steve Bannon had been subpoenaed to appear before the grand jury, and subsequently agreed to an interview with Mueller's team. While the interviews with Bannon and Sessions are unlikely to indicate that the investigation is approaching an end, they do seem to signal that the information collected in interviews with lower-ranking officials and members of Trump's campaign team have generated questions that can only be addressed by those at the top of his staff. There have also been indications that Donald Trump's legal team has been attempting to negotiate with Mueller for terms under which Trump would appear for an interview.
The Justice Department spokesman indicated that the questioning concerned Trump's potential obstruction of justice. Sessions' role in generating a false memo to cover firing FBI Director James Comey gives him plenty of insight there. Sessions worked directly with the White House to fire Comey even though he had supposedly recused himself from involvement in the Russia investigation.
It would also seem likely that Mueller wanted to talk with Sessions about his multiple meetings with the Russian ambassador, including a lengthy private meeting in Sessions Senate office. Sessions blamed that meeting on his role in the Senate. However, no other senator -- including members of the same committees to which Sessions belonged -- held such a meeting.
It's also clear that Sessions discussed campaign issues with Russian officials, despite denials of any such exchange in his testimony to the Senate.