From Columbia Journalism Review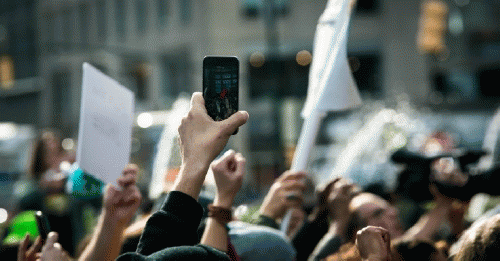 New York marches in solidarity with Standing Rock Sioux Nation.
(
Image
by
(Photo: Karla Ann Cote/cc/flickr)
)
Details
DMCA
AWARD-WINNING PHOTOJOURNALIST AND FILMMAKER Ed Ou, who has covered the Middle East for over a decade, has worked under threat as a journalist in almost too many countries to count. Authorities in Turkey, Egypt, Somalia, Djibouti, and Bahrain have arrested or detained him at some point in his career. But he always assumed working in the United States would be safe -- until last month.
The story that follows -- first reported in The Washington Posttoday-- is a stark reminder that the US government has eviscerated press freedom and privacy rights at the border. Journalists have been stopped or detained in the past, and thousands of travelers have their electronics confiscated each year.
Ou, a Canadian citizen who is living temporarily in Canada after a long stint in Egypt, travels to the US often. He has friends and family here, and he regularly vacations and attends work events and conferences here. On October 1, he scheduled a routine flight into the country again, he told me in an interview.
He was on assignment with the Canadian Broadcasting Corporation, working on a long-term project about the health care system for indigenous people in North America. As part of his reporting, he scheduled a trip to cover the protests in Standing Rock, North Dakota, where Native Americans have been protesting the building of an oil pipeline that threatens the water supply on their land.
As Ou attempted to go through security at the Vancouver International Airport for his flight to Bismarck, he was flagged for extra screening by US Customs and Border Patrol. Because he's traveled to various Middle Eastern countries over the years, he says he's often flagged when entering the US, but usually he simply explains he's a journalist and they let him go on his way.
This time was different. It all started, Ou said, when he put his Nexus card into the reader (Nexus is the Canadian equivalent of Global Entry, so he can go through security lines faster; it means he had already been vetted by customs officials.) "I got an immediate flag to go to secondary screening and I got the SSSS on my boarding pass," he told me. SSSS is the dreaded symbol that marks someone as being on some sort of list.