See original here
Melissa Cooper taking her children from an unidentified home
(
Image
by
Screenshot from video
)
Details
DMCA
>
Blaine and Melissa Cooper have been with Ammon Bundy from the start of his campaign to overthrow the federal government. Blaine Cooper was with the Bundy family during their standoff in Nevada and both Blaine and his wife, Melissa, followed Ammon Bundy to Oregon to manage the latest armed standoff with the government.


Blaine Cooper playing dress up
(
Image
by
Screenshot from video
)
Details
DMCA
Although Blaine Cooper never served in the military, he often posts photos of himself dressed to the max in military garb. During the standoff at the Bundy Ranch in Nevada, Cooper did a national news interview and repeatedly allowed the interviewer to refer to him as a Marine. This caught the attention of real, live, actual Marines who quickly called "stolen valor." Blaine Cooper (his real name is Stanley Hicks Cooper) was quick to apologize, saying he didn't want to correct and embarrass the television host on national television.
When Ammon Bundy called, Cooper and his wife jumped at the chance to play fake soldiers and "patriots." They dropped their two children off with a family friend or family member and headed off to Oregon. Apparently Blaine Cooper's parents became increasingly concerned about the long absence and the prospect that the children would soon be joining their increasing radical parents at an armed government standoff and they asked Child Protective Services to get in involved. They were seeking to have the girls move in with them or another family member so they could continue with school and have some normalcy. When Blaine and Melissa Cooper got wind of their parents' plan, they freaked out. The militants were able to get a private plane to send Melissa, with the help of at least one armed man and a videographer, to take the girls in the cover of darkness.
Oregon militant supporter and conspiracy-loving radio host Pete Santilli posted video of the children being removed from a home on his YouTube page last night, along with a string of nasty comments and Nazi comparisons about the grandparents, who were trying to keep their grandchildren from the refuge. Watch as the girls are taken by their mother, crying out that they don't want to be on television. A shadowy figure can be seen around the :12 second mark of the video and appears to be carrying a long rifle while he escorts them to a waiting car.
Although the accounts aren't verified, it appears grandparents Terry and Randy Cooper allegedly took to the comments section of the YouTube page to make their case. After a nasty back-and-forth exchange with Pete Santilli and other commenters, Randy and Terry Cooper's comments were deleted. But, not before we were able to get screen grabs of a few of them.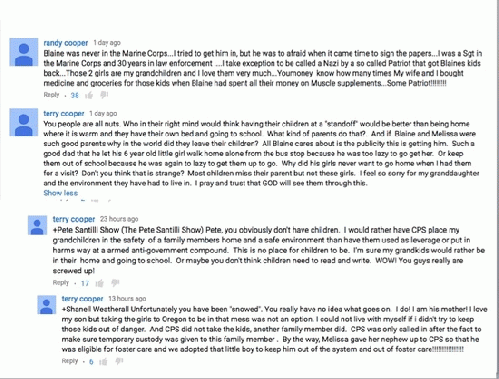 Terry and Randy Cooper commenting on the video of the girls being taken to an unknown location
(
Image
by
Screenshot from You Tube comments
)
Details
DMCA
This video leads to several troubling questions. Where are the girls now? The grandparents certainly made the case that they should be in school, not in the center of an armed standoff. Who were the armed men helping her? "Militia" group expert JJ MacNab, a fellow at the George Washington University Center for Cyber & Homeland Security, Program on Extremism, believes the man behind the camera is Gianluca "Luca" Zana, who was also a key participant at the Bundy Ranch standoff in Nevada.
Pete Santilli makes reference to a "private plane" being dispatched with Melissa to get the girls from the family member. Just days ago, militants LaVoy Finicum and Ryan Bundy were able to travel to Cedar City, Utah to rally support for their cause. The men were not gone from the refuge for very long, despite the minimum 10-hour each way drive from the refuge. Do the Oregon militants now have a plane at their disposal? Who owns it? Last week they released video of the militants cleaning out a large equipment building at the refuge. They giddily said they were "expecting a large delivery." Did the Malheur Wildlife occupiers get a new plane? Stay tuned.