Most doctors and patients assume the FDA would not approve an unsafe drug. But Vioxx, Bextra, Baycol, Trovan, Meridia, Seldane, Hismanal, Darvon, Mylotarg, Lotronex, Propulsid, Raxar, phenylpropanolamine (PPA), phenacetin and Redux were all "safe" until they were withdrawn. Others like Paxil, Avandia, Cylert, Ketek and Xarelto are under severe safety clouds.
There was a time when the FDA would not have approved drugs so irritating to the esophagus, you could end up in the ER if you lie down after taking one like the bisphosphonate bone drugs or drugs that suppress the whole immune system and invite cancers for less than serious conditions.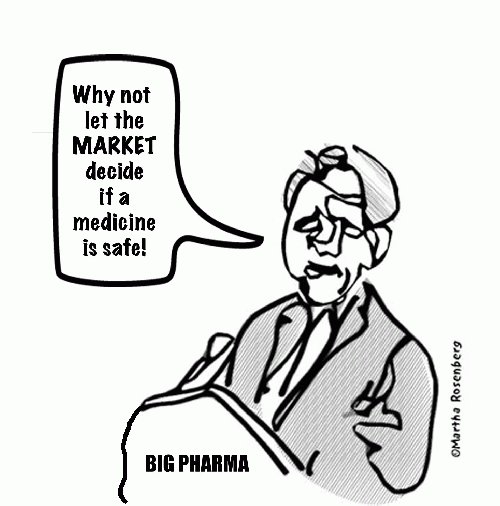 FDA due to become an industry arm
(
Image
by
Martha Rosenberg
)
Details
DMCA
But that was before the FDA began serving Wall Street and not the public. How else can you explain on the same day the FDA announced plans to tighten restrictions on hydrocodone combination products like Vicodin, it approved the long-acting drug Zohydro with five to 10 times the abuse potential of OxyContin--essentially reversing itself?
How else can you explain that despite the FDA's own warnings that long acting beta agonists (LABAs) for asthma "increase the risk of asthma-related death," and "increase the risk of asthma-related hospitalization in pediatric and adolescent patients," it approved a new LABA containing drug called Onbrez? Whatever happened to First Do No Harm?
Onbrez was approved for chronic obstructive pulmonary disease or COPD but Public Citizen warned it "will certainly be used off-label in asthmatics, who would be placed at increased risk of serious adverse events, including death."
Once upon a time, the FDA would always take the recommendations of its advisory committees. Why convene a panel of outside experts if you aren't going to take their advice? But last month, the FDA overrode an advisory committee's rejection of another respiratory drug, mepolizumab (Nucala) for use in asthma patients 12 and older with a history of severe exacerbations on conventional maintenance therapy. The FDA did this despite the panel's contention that there was inadequate evidence of safety in this age group.
Like Humira, Remicide and Xolair, Nucala is an injected humanized monoclonal antibody "biologic" drug, increasingly popular with Big Pharma because they make thousands of dollars per patient per year and are less threatened by generic competition than pills. Yet safety questions with the drug class, sometimes called MoAbs, abound. Last year, Xolair, marketed for asthma, was linked to a higher risk of heart attack, mini-stroke, chest pain and blood clots in the lungs and veins and 77 life-threatening reactions in just a year and a half.
(Note: You can view every article as one long page if you sign up as an Advocate Member, or higher).