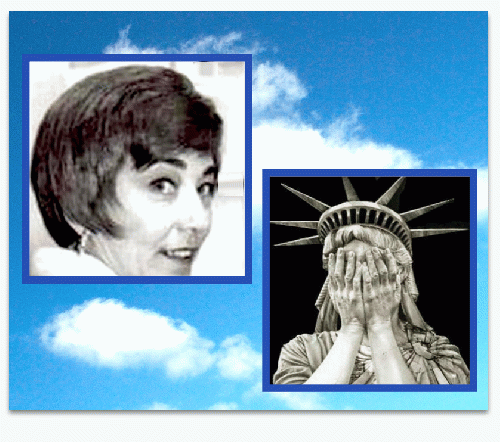 composite of Sheila Samples photo and icon used by Sheila for OpEdNews
(
Image
by Meryl Ann Butler)
Details
DMCA
It is with deep sadness that the Managing and Senior Editors of OpEdNews share with our readers that OEN Managing Editor Sheila Samples passed away on Friday, March 11, 2022.
Sheila volunteered for OEN for over 16 years. She made her final posting last December; her health issues prevented her from continuing. Managing and Senior Editors had been working on an article detailing our appreciation for her significant contributions when we learned of her passing.
Sheila was one of the earliest members of OpEdNews, with a member number of 11! She signed up in about May 2005 (exact dates are not available for these earliest members.)
Sheila was an extraordinarily valuable and dedicated volunteer. She built and maintained relationships with some incredible writers, actively securing permission from them to reprint on OEN. Our records show that she posted 21,434 articles written by these authors.
In addition, she also posted 28,885 Quicklinks and another 75 articles that she, herself, authored.
Her steadfast dedication and her volunteer contributions were pivotal in making OpEdNews what it is today, and the Managing Staff and Senior Editors are profoundly grateful.
Many times over the years, when Rob called her, he would discover that her family had gone away on vacation, but she stayed home to work on OpEdNews!
Sheila also contributed regularly to a number of Internet sites, as well as to her own blog, which is archived here: sheilastuff.blogspot.com
Sheila retired from a civilian position as Public Information Officer after working at Fort Sill for over 25 years. She had also held jobs as a disc jockey and as a speedway announcer.
Sheila was born Sept. 27, 1935 in Urich, Missouri to Rufus Rombold and Eddie Mae (Downer) Rombold. She married Royse, the love of her life, on Nov. 22, 1950; they were married for 71 years.
A graveside service was held on Thursday, March 17, 2022, at Cache Cemetery in Cache, OK.
Sheila is survived by her husband, Royse Samples; daughters: Marla White (and husband James) and Loretta Vanburen; sisters Donna Smith and Carole Wright; seven grandchildren; 14 great-grandchildren; two great great-grandchildren plus a host of other loving family and friends, including so many of us here at OpEdNews.
We on the OEN staff remain deeply grateful for Sheila's dedication to OpEdNews and to progressive values, and we invite our members and readers to contribute thoughts of remembrance and appreciation in the comments below.
Updates:
(Note: You can view every article as one long page if you sign up as an Advocate Member, or higher).