NOTE: This is Part 2 of a two-part series, "Successful Marketing for Political Revolutionaries." Part 1 was published as "The Progressive Resistance: 'Woke" on Politics, Comatose on Marketing."
Why Do Progressives Need an Umbrella?
In response, the wiseass side of me is irresistibly prone to say, "Because it's raining bullshit." And indeed, that's a pretty apt assessment of the nonstop propaganda spewing from the establishment politicians and media flaks for both major parties.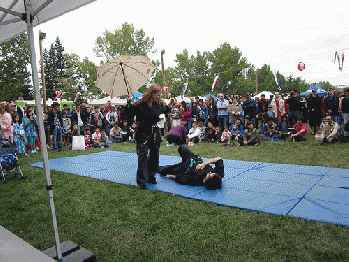 The umbrella as weapon--successful model for the Progressive Resistance
(
Image
by
Rukia13
)
Details
DMCA
But because my audience consists of principled progressives--the politically "woke" in the language of my Part 1 article--I'm not especially concerned with our own protection from the raging bullshit storm. Instead, the umbrella I invoke here is an offensive weapon, rather like the poison-tipped or bullet-firing umbrellas that are the cliche' fixture of so many spy thrillers. And that weapon, while certainly useful in offering cover from the bullshit storm, is designed far more to end the storm altogether, by mortally wounding the parties responsible for it. And when I say "parties," I of course mean individual and group actors, but I above all mean our two worthless political parties, Democrats and Republicans.
So in speaking of an umbrella narrative, I mean a compelling, unifying story under which the diverse groups of the Progressive Resistance can gather and win the minds and hearts of the latently radical public--the "partially woke" folks who, perhaps unbeknownst to themselves, are ripe for political revolution. And the umbrella party I sketch here--tentatively called the Peace and Prosperity Party--is both the primary vehicle for spreading that narrative and, best of all, the source of popular hope that folks who embrace the narrative have a forceful political voice capable of influencing policy.
Together, the umbrella narrative and party will form a potent political weapon, much like the deadliest poison-tipped or bullet-firing umbrella ever devised for a spy flick. And our weaponized umbrella is specially designed to exploit the fact that our Democrat and Republican enemies are already suffering grievously from self-inflicted wounds, both doing their utmost to commit political suicide.
That we of the Progressive Resistance should embrace the role of Dr. Kevorkians--though not necessarily merciful ones--assisting at the political suicides of both major parties is a point that deserves its own section. Just remember: we deliver the needed lethal drugs via our umbrella.
Our Unique Opportunity: Assisting the Suicide of Both Major Parties
Every comparison or analogy is limited, and in invoking the "political suicide" of Democrats and Republicans, I don't mean to imply our deeply unloved duopoly will disappear altogether from the national map any time soon. In ever-weakening form, they could easily haul their rotting carcasses across our political landscape for a decade or more. And it remains possible--and hardly undesirable--that an onrushing political firestorm will drive them to reform beyond recognition, as enough people within the parties awaken to realize that the only alternative is political death.
What I do mean here is that both major parties keep inflicting on themselves such grievous harm with the voting public that the previously unthinkable--a viable third party--now seems politically possible. And not just possible but necessary, for reasons I will soon state. But the needed party can't be a party of the deeply loathed recent past (sorry, Greens); it can't seem a fixture of a status quo voters now rightly detest. Rather, it must package itself as a special creation responding to political emergency; only such packaging will convince mainstream voters to take the deeply uncomfortable, unaccustomed step of voting for a third party. Fortunately, both major parties, by their corruption, have unwittingly conspired to create such an emergency, and the winning narrative for the progressive resistance--and the single third party associated with it--consists in villainizing Democrats and Republicans for creating that emergency. The required party must from the get-go be a predator, one that has astutely sized up the fatal weaknesses of its unwittingly suicidal prey.
A Predator Party--with a Positive Message
At this point, the sunnier-tempered members of the Progressive Resistance--as well as those with a keen sense of marketing--are apt to push back, saying, "People are so damn sick of negativity. Do you really expect to succeed with a party that's about nothing but attack--in your own words, 'villainizing' and being a 'predator'?" And both groups would have a point--except for forgetting that the proposed "umbrella" party is tentatively called the Peace and Prosperity Party.
Readers of Part 1 of this series will recall its discussion of cognitive scientist George Lakoff and his insistence on the importance of framing in political messaging. Well, as noted in the Salon article just cited, Lakoff had earlier authored a book titled Moral Politics. Lakoff's thesis is that political discourse is moral discourse through and through, and that liberals and conservatives have remarkably consistent systems of moral values underlying their political narratives. He notes, however, that conservatives often have an advantage, because they tend to be more conscious of the moral values backing their narrative and less hesitant than liberals to frame political discussions in flagrantly moral terms. The proposed Peace and Prosperity Party would consciously take a page from Lakoff's book and frame its political narrative by moral values reflected in the party name--values that automatically paint today's Democrats and Republicans as moral villains.
Or rather, the "painting" in question wouldn't be ours at all; the "peace and prosperity" framing would simply highlight how both major parties have suicidally painted themselves into an indefensible moral corner based on the donors they inflexibly serve. After all, it's simply a normal, sane expectation of modern democratic citizens that their governments should seek to provide peace and general prosperity; that neither of our only two electable parties no longer even tries to meet those sane, normal citizen expectations amounts to moral insanity-- the type of insanity that amounts to a civic emergency. Offering a policy agenda highlighting peace and prosperity should not be a political niche market, yet the corruption of our political system by global corporate and war lobby interests--let's stigmatize them as "Wall Street and War Street"--has made it one. A party name like Peace and Prosperity Party (based on such crucial values being political orphans) is itself a screaming argument that we face a civic emergency where the unaccustomed act of voting for a third party is now essential. A compelling argument to vote third party is built right into the name.
Will the Resistance Accept the "Killer Umbrella"?
What worries me frankly about current progressive resistance organizing, as I'm aware of it from social media, is that it's based on a coalition. In a sense, this is wonderful news, since it implies a willingness by diverse groups of principled progressives--not members of the Democratic Party "McResistance"--to work together for a common cause. But in another sense, it strongly suggests a democracy of groups that's simply a cacophony of voices, with each group shouting to promote its own favored issue, and nothing like a unified "umbrella" narrative, tailored for maximal appeal to "partially woke" voters, ever transmitted to the general public.
(Note: You can view every article as one long page if you sign up as an Advocate Member, or higher).