-------------------------------------------------------------------------------------------
"Either this nation shall kill racism, or racism shall kill this nation." (S. Jonas, August, 2018)
----------------------------------------------------------------------
"To announce that there must be no criticism of the President . . . is not only unpatriotic and servile, but is morally treasonable to the American public. Nothing but the truth should be spoken about him or anyone else. But it is even more important to tell the truth, pleasant or unpleasant, about him than about anyone else."
Theodore Roosevelt, Editorial in The Kansas City Star May 7, 1918
-------------------------------------------------------------------
Apparently the COVID-19 virus broke out publicly in epidemic form in China sometime in early January 2020. At least its existence became public at that time. Given the power of the US international intelligence services various authorities in the United States likely knew of it before then. And that knowledge ought to have made it to the desk of the Director of National Intelligence, and then to the desk of the President. However, nothing much happened in the U.S. in terms of a response until about a month later. At the same time, there was significant international spread, to countries such as South Korea, which, for example, undertook a swift and massive response to the threat.
However, while both China and South Korea were responding vigorously to the rapidly expanding epidemic, as is well-known the U.S. President was telling his people and the world that there was nothing much to worry about. This in the face of the fact that various infectious disease/epidemic experts outside the government were sounding the alarm very loudly, both about the possible extent of the epidemic and the likely major deficiencies in the U.S. response to it were it to occur here. For example, in a Jan. 28, 2020 article entitled "Act Now to Prevent an American Epidemic," from the American Enterprise Institute of all places, published in the Wall Street Journal (https://www.aei.org/op-eds/act-now-to-prevent-an-american-epidemic/) of all places, Luciana Borio and Scott Gottlieb said:
"The novel coronavirus now epidemic in China has features that may make it very difficult to control. If public-health authorities don't interrupt the spread soon, the virus could infect many thousands more around the globe, disrupt air travel, overwhelm health-care systems, and, worst of all, claim more lives. The good news: There's still an opening to prevent a grim outcome."
Nevertheless, as is well known the President continued to claim that, in the U.S. there was really nothing much to worry about. After all, in early February he had put into effect a travel ban on non-U.S. citizens who lived in or had visited China from entering the U.S. and that would definitely take care of the problem.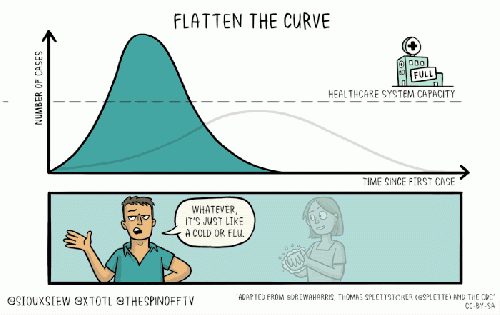 Covid-19-curves-graphic-social -v3. What an active, scientific, public health approach to an impending epidemic can accomplish.
(
Image
by
(From Wikimedia) Siouxsie Wiles and
, Author:
Siouxsie Wiles
and
Details
Source
DMCA
Somehow, Trump must have figured that U.S. who had visited China in the same time-frame and then returned to the U.S. would be naturally immune. At least that's the impression one gets from Hannity, who keeps hammering away at the President's critics by repeating that the President had moved forcefully and vigorously in instituting the ban, which of course would be all that was necessary to fend off the epidemic, and then slams the President's critics for, among other things, referring to his ban as xenophobic
Of course, Hannity routinely neglects to point out that that ban was only on Chinese people, not U.S., coming from China. And I did learn at the Yale School of Public Health, where I was a graduate student many years ago, that viruses do not discriminate by ethnicity. That, not the idea of a ban in general, Sean, is why many leading Dems. condemned Trump for xenophobia for that particular action. And in any case, that ban, whatever its nature, doesn't seem to have had very much effect in terms of what is now being predicted for the epidemic here, does it Sean?
Trump just loves travel bans, doesn't he? Just like the old saw, "if the only tool you have is a hammer, every object you need to deal with looks like a nail." Only in this case, it's not just a saying. Trump's total rigidity on the matter until very recently will be fatal for numbers of people who will die totally unnecessarily due to the President's state of denial (up until Jan. 16, 2020, when he did his notable 180). To say nothing of what is happening to the economy and the daily lives of virtually every U.S. resident as I write this and you read it.
The New York Times' David Leonhardt recently reviewed all Trump's lies/mis-statements/mis-understandings about COVID-19. As he said:
"President Trump made his first public comments about the coronavirus on Jan. 22, in a television interview from Davos with CNBC's Joe Kernen. The first American case had been announced the day before, and Kernen asked Trump, 'Are there worries about a pandemic at this point?'
"The president responded: 'No. Not at all. And we have it totally under control. It's one person coming in from China, and we have it under control. It's going to be just fine.'
"By this point, the seriousness of the virus was becoming clearer. It had spread from China to four other countries. China was starting to take drastic measures and was on the verge of closing off the city of Wuhan.
"In the weeks that followed, Trump faced a series of choices. He could have taken aggressive measures to slow the spread of the virus. He could have insisted that the United States ramp up efforts to produce test kits. He could have emphasized the risks that the virus presented and urged Americans to take precautions if they had reason to believe they were sick. He could have used the powers of the presidency to reduce the number of people who would ultimately get sick.
"He did none of those things."
As of last week (the date of this column being March 17, 2020), initially led by the indomitable Anthony Fauci, the director of the National Institute of Allergy and Infectious Diseases, the Federal government finally began to get its act in gear (and of course numbers of state governments, e.g., Washington and New York were way out in front of the Feds.) At a presser on March 16, in a not-particularly confidence-inspiring way Trump finally got on board with the major message (although he could not resist going after some of his major enemies, like The New York Times in after-tweets. "Always attack; never defend" is just built into this man's genes.)
But it may well be too late to avoid a major epidemic in the United States. Trump's first (and only) homeland security adviser on the National Security Council (not to be confused with Secretary of Homeland Security), Tom Bossert (gone and never replaced) predicted that there could be as many as 160,000,000 cases in the U.S. (click here. (Let's say that that's off by a factor of 10. If the death rate is 1%, that would be 400,000. If it's 0.1%, that's 40,000 [a not insignificant number].)
Yet everything that under Trump policy has not been done --- ramping up the testing capacity very quickly, getting the "public health message" out very quickly, preparing the U.S. hospital system for what could prove to be an absolutely impossible task --- Bossert described it as "getting creamed" --- instituting closing-the-barn-door after-the horse-has-gone (well, not the best metaphor in this case but I couldn't think of another one right off the bat) travel bans, and possibly massive requirements for quarantine, could have been done, if the programs had been started up right away. As in China and South Korea, both of which, with massive testing programs and then public health interventions, are now experiencing significant declines in infection rates.
In my column of last week I discussed the factors which led Trump to ignore the impending catastrophe: his ignorance; the history of Republican antipathy to "big government," in the Trump Administration focused around the Steve Bannon program for the "deconstruction of the administrative state;" Trump's closing, specifically, of the "pandemics preparedness office" in the National Security Council; his stripping of the budget of the Centers for Disease Control with the loss of many qualified upper-level people; his appointment of non-qualified persons to key public health positions (e.g., his Director of the CDC, Dr. Robert Redfield, in his one major involvement in dealing with community spread of an infectious disease,was well-known for his advocacy of victim-punitive measures in dealing with the AIDS epidemic in the 1980s). And so on and so forth.
Donald Trump official portrait. Why is this man smiling?
(
Image
by
(From Wikimedia) Shealah Craighead  (1976–)   / White House
, Author: See Source)
Details
Source
DMCA
But then there is Trump's Transactionalism, that is his constant focus on only what is in front of his face that is of specific concern to himself. In this case it was, as is well-known, the upcoming Presidential election and the stock market, into which he has put so much stock (figuratively; the man is not a good investor). He has only short-term vision, which led directly to his continual denials that there anything much wrong or that there was anything much that needed to be done (see the Leonhardt excerpt above). He didn't want wide-spread testing because that would necessarily mean that more cases were occuring, on his watch. It's only now that a full-fledged epidemic is staring us in the face, that his beloved Stock Market has crashed, and the economy is tanking rapidly and majorly, that he sees that there are real problems here.
But, just imagine what might well have happened if early on, even if primarily focused on his re-election chances, he had been able to see beyond the tip of his nose, not, for example, not wanting infected cruise ships passengers to disembark because it would make the case numbers go up. Supposing he had, rather, seen a real chance to have become a public health hero. Since he is entirely transactional, he couldn't do that, but if he had been able to. Oh my.
Since he had all the early warnings right there, he could have, for example: a) put a qualified public health team in charge of the whole program (including not having the first principal spokesman be a Christian Dominionist, that is Mike Pence, when science is the answer here); b) made sure that the Trumpublicans© in Congress were going to fall in line very quickly with whatever needed to be done including spending money, lots of it; c) recognized that testing was going to be key in controlling any potential outbreak and taken up the WHO offer of testing kits (instead of, as has been reported, rejecting them on account of a combination of xenophobia and the potential for profit-making by private companies, including one that Kushner is involved with); d) recognized that full manufacturing mobilization has to be organized around such mundane items as hand-sanitizer, protective gloves, handi-wipes, protective masks, haz-mat suits and other items for care-providers at all levels; e) started planning for the possible overwhelming of the U.S. hospital system that might occur, and so on and so forth; and e) started early planning for dealing with the various levels of "social distancing" that might be necessary to help stem the tide.
Based in the Chinese/South Korean experience, a combination of these measures, especially the early, known, very standard, public health/disease prevention ones, could have prevented the mass epidemic experience which now seems gathering force to overwhelm us. Trump was focused on the election --- short-term --- and the stock market, and thought that keeping the reported numbers down would do the trick for him in both realms. If he had been able to see long-term --- something he is just inherently incapable of doing --- and produced an experience here that would have stood in sharp contrast to what is going on in Europe (where many governments are coming very late to the table) he would have been able to project himself as a public health hero --- and he would have been on a glide path to re-election on the basis of the Trump Triumph over the Corona Virus.
Ah the irony of it. His Transactionalism, his short-sightedness, his total lack of any kind of education about what the real world and its history is like, his narcissism, and lack of any sense of responsibility, his complete mis-understanding of the role of the President of the United States (even Republican ones, to date anyway) will likely have greased the skids into a combination massive epidemic/great Depression that most ironically will forever be branded "Trump," you know, like the Trump Shuttle, Trump Steaks, Trump Water, and Trump Wines, forever. Hoist by his own petard (Hamlet,https://en.wikipedia.org/wiki/Hoist_with_his_own_petard). A saying never more truly applied.
----------------------------------------------------------------------------------------------------
Postscript. The ultimate, horrible, irony here is that the coming at least partially preventable Epidemic/Depression to which Trump majorly contributed because of his re-election fears may well lead to Trump's remaining in the Presidency indefinitely for one reason or another. A) the Presidential election might genuinely be disrupted for public health reasons. B) the opportunities for Trumpublican© cheating would likely be amplified. C) the ultra-loyal Trump voters would likely be more likely to turn out. D) Regardless of truth and reality Trump would be running a massive blame-game election campaign, on the: Chinese, the Democrats, the media, the Deep State, and so on and so forth. E) Trump could follow up his declaration of a national health emergency with a declaration of martial law and prevent people from voting on the grounds of "social distancing." F) A bunch of other things that are beyond my imagination right now that Miller/Kushner/Jr./Grenell/Nunes/Conway/Hannity-Carlson-Ingraham could surely think up.
Post-postscript: Just as I was finishing up this column, I came across the news item that the Republican governor of Ohio had cancelled the Democratic primary there. As I noted above, supposing, if Trump were behind in the polls he just canceled the Presidential election on the grounds of the public's health (the reason given in Ohio). Who would there be to stop him? The Supreme Court. Well maybe. And then, as I have said previously (https://www.opednews.com/articles/Katy-Barr-the-Door-by-Steven-Jonas-Congress_Evidence_Fraud_Fraud-190325-684.html) John Roberts would become one of the most significant figures in U.S. history.
(Article changed on March 17, 2020 at 14:28)
(Article changed on March 17, 2020 at 16:59)
(Article changed on March 18, 2020 at 12:39)
(Article changed on March 18, 2020 at 15:52)