-------------------------------------------------------------------------------------------
"Either this nation shall kill racism, or racism shall kill this nation." (S. Jonas, August, 2018)
----------------------------------------------------------------------
"To announce that there must be no criticism of the President . . . is not only unpatriotic and servile, but is morally treasonable to the American public. Nothing but the truth should be spoken about him or anyone else. But it is even more important to tell the truth, pleasant or unpleasant, about him than about anyone else."
Theodore Roosevelt, Editorial in The Kansas City Star May 7, 1918
-------------------------------------------------------------------
Apparently the COVID-19 virus broke out publicly in epidemic form in China sometime in early January 2020. At least its existence became public at that time. Given the power of the US international intelligence services various authorities in the United States likely knew of it before then. And that knowledge ought to have made it to the desk of the Director of National Intelligence, and then to the desk of the President. However, nothing much happened in the U.S. in terms of a response until about a month later. At the same time, there was significant international spread, to countries such as South Korea, which, for example, undertook a swift and massive response to the threat.
However, while both China and South Korea were responding vigorously to the rapidly expanding epidemic, as is well-known the U.S. President was telling his people and the world that there was nothing much to worry about. This in the face of the fact that various infectious disease/epidemic experts outside the government were sounding the alarm very loudly, both about the possible extent of the epidemic and the likely major deficiencies in the U.S. response to it were it to occur here. For example, in a Jan. 28, 2020 article entitled "Act Now to Prevent an American Epidemic," from the American Enterprise Institute of all places, published in the Wall Street Journal (https://www.aei.org/op-eds/act-now-to-prevent-an-american-epidemic/) of all places, Luciana Borio and Scott Gottlieb said:
"The novel coronavirus now epidemic in China has features that may make it very difficult to control. If public-health authorities don't interrupt the spread soon, the virus could infect many thousands more around the globe, disrupt air travel, overwhelm health-care systems, and, worst of all, claim more lives. The good news: There's still an opening to prevent a grim outcome."
Nevertheless, as is well known the President continued to claim that, in the U.S. there was really nothing much to worry about. After all, in early February he had put into effect a travel ban on non-U.S. citizens who lived in or had visited China from entering the U.S. and that would definitely take care of the problem.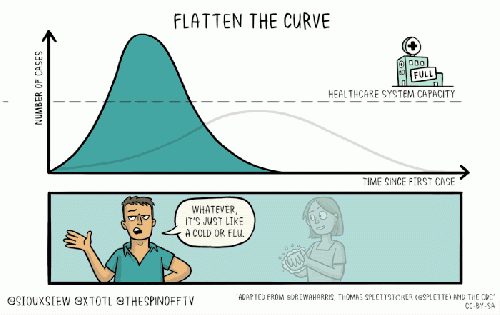 Covid-19-curves-graphic-social -v3. What an active, scientific, public health approach to an impending epidemic can accomplish.
(
Image
by
Wikipedia (commons.wikimedia.org)
)
Details
DMCA
Somehow, Trump must have figured that U.S. who had visited China in the same time-frame and then returned to the U.S. would be naturally immune. At least that's the impression one gets from Hannity, who keeps hammering away at the President's critics by repeating that the President had moved forcefully and vigorously in instituting the ban, which of course would be all that was necessary to fend off the epidemic, and then slams the President's critics for, among other things, referring to his ban as xenophobic
Of course, Hannity routinely neglects to point out that that ban was only on Chinese people, not U.S., coming from China. And I did learn at the Yale School of Public Health, where I was a graduate student many years ago, that viruses do not discriminate by ethnicity. That, not the idea of a ban in general, Sean, is why many leading Dems. condemned Trump for xenophobia for that particular action. And in any case, that ban, whatever its nature, doesn't seem to have had very much effect in terms of what is now being predicted for the epidemic here, does it Sean?
Trump just loves travel bans, doesn't he? Just like the old saw, "if the only tool you have is a hammer, every object you need to deal with looks like a nail." Only in this case, it's not just a saying. Trump's total rigidity on the matter until very recently will be fatal for numbers of people who will die totally unnecessarily due to the President's state of denial (up until Jan. 16, 2020, when he did his notable 180). To say nothing of what is happening to the economy and the daily lives of virtually every U.S. resident as I write this and you read it.
The New York Times' David Leonhardt recently reviewed all Trump's lies/mis-statements/mis-understandings about COVID-19. As he said:
"President Trump made his first public comments about the coronavirus on Jan. 22, in a television interview from Davos with CNBC's Joe Kernen. The first American case had been announced the day before, and Kernen asked Trump, 'Are there worries about a pandemic at this point?'