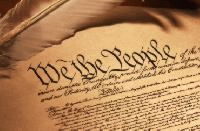 The U.S. Constitution

(

Image

by

U.S. Government

)

Details DMCA



Many good progressives have written many books and articles that have been helpful in pointing out America's problems. However, lately, perhaps because they have become desperate in the face of such powerful odds, some of them have come to some ill-advised conclusions.

We need to acknowledge that by now most savvy progressives understand the problems we face. We understand how and why most of our problems were created by the wealthy and deceptive forces of greed and self-interest. But some radical progressives have gone off on a "Socialist" tangent, and I believe their rhetoric and tactics have become misleading and counterproductive, and appeal only to the far left.

The rhetoric and tactics of some progressives are not helping us arrive at reasonable solutions, because the term "socialism" is not one we need to use. Instead, we need to focus on establishing real Democracy to replace the Plutocracy under which we now live.



Besides that, the issue is largely semantic, because part of real Democracy would be democratic socialism by literal definition. I think Bernie Sanders understands that, since his focus is on democratic solutions. And we don't need to even use the word "socialism" or demand change in that context because it is not necessary. In fact, we shouldn't. And I'll tell you why.


How and Why American Progressives Won, Lost, Won, and Lost Again

President Roosevelt's New Deal effectively established democratic socialism in America in the 1930s and 1940s. However, the word "socialism" wasn't used for very good reasons. The Soviet Socialists in Russia had given socialism a very bad name because their brand of socialism was not democratic but tyrannical. So it would have been very foolish to use the term here in America then, just as it is rather foolish to use it today.

The terms Democracy and democratic are sufficient. After all, the dictionary definition of Democracy is "government by the people; a form of government in which power is vested in the people and exercised directly by the people, or by their elected representatives." But the meaning is very clear, because Democracy is qualified as that which "creates equality of rights and privileges, social equality, and a democratic spirit in which the common people hold the political power."

Socialism is a system in which "the means of production and distribution of goods and services are owned collectively or by the government," which is actually compatible with a truly democratic system, and is in fact compatible as demonstrated by public services in America. President Roosevelt's New Deal programs were and are good examples of that. North Dakota's state-owned and operated bank is a very successful example, as are many other publicly owned providers of goods and services. But we don't call them "Socialist." We call them publicly owned. And in the private sector we call them cooperatives or non-profits. It's actually Democracy in action (and if everyone acted more democratically, America would have a real Democracy instead of the Plutocracy that's been imposed on us).


Now, Roosevelt's New Deal was a democratic New Deal, and with Social Security, proper regulation of banks and corporations, and wage and price controls, it produced a booming economy, booming industries, a successful organized labor movement, and widespread prosperity that ultimately built a large, prosperous and great middle class. Everyone benefited.

In the 1950s, however, greedy right-wing forces fought back, and they fought dirty. McCarthyism infected America and wealthy right-wing forces concocted the "Second Red Scare," accused New Deal Democrats of being "socialists and communists," and "black listed" many good progressives.

Unfortunately, scare tactics often work. Consequently, the tide of progressive social justice was turned and conservative right-wing views began to prevail again. And part of their success came because corporations began to start training and grooming Republican politicians. (For example, General Electric corporation executives groomed Ronald Reagan for his political career as a charming TV pitch man for American corporate power, and as a deceptive but effective hit man against FDR's New Deal.)

In the 1960s a New Left fought back against growing right-wing imposition and control. And even though evil right-wing forces wound up assassinating some great champions of the New Left to try to stop it, it prevailed anyway. The Civil Rights movement produced the Civil Rights Act. The New Left movement succeeded in producing many reforms, including adding Medicare to the Social Security program, and many other human rights and human services programs were added or enhanced. And with such reforms added to the already existing public services provided in America, democratic socialism was in place. (But again, in America we didn't use the word "socialism" because it was a dirty word due to the "Red Scare" mentality.)

Unfortunately, while the New Left rested on its laurels, the wealthy right-wing forces of greed and self-interest began to fight back in concerted, organized, effective ways, and they have been doing so ever since 1971.


The Right Organizes, Wins, and Produces Plutocracy

In 1971 the influential "Powell Memo" to American businesses and corporations asserted that the "American economic system is under broad attack." This "attack," Powell claimed, required mobilization for political combat. He wrote: "Business must learn the lesson . . . that political power is necessary; that such power must be assiduously cultivated; and that when necessary, it must be used aggressively and with determination."



(Note: You can view every article as one long page if you sign up as an Advocate Member, or higher).