Reprinted from Consortium News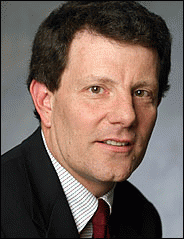 (
Image
by
New York Times
)
Details
DMCA
Early in the crisis, New York Times columnist Nicholas D. Kristof, who has cultivated a reputation as a caring humanitarian, was eager to send more weapons to the Kiev regime and to western Ukrainians (who include his father's relatives) so they could kill their ethnic Russian neighbors in the east -- or "go bear-hunting," as Kristof put it. By calling Russians "bears," Kristof was likening their slaughter to the killing of animals.
Yet, in a recent column, Kristof takes a very different posture regarding Syria, where he wants the U.S. military to invade and create so-called "safe zones" and "no-fly zones" to prevent the Syrian army and air force from operating against rebel positions.
Sovereignty means one thing in Ukraine, even following a coup that removed the elected president. There, national borders must be respected (at least after a pro-U.S. regime had been installed) and the regime has every right to kill dissenters to assert its authority. After all, it's just like hunting animals.
But sovereignty means something else in Syria where the U.S. government is called on to intervene on one side in a brutal civil war to prevent the government from regaining control of the country or to obviate the need for a negotiated settlement of the conflict. In Syria, "regime change" trumps all.
Selective Outrage
In the column, Kristof noted other conflicts where the United States supposedly should have done more, calling the failure to invade Syria "a stain on all of us, analogous ... to the eyes averted from Bosnia and Rwanda in the 1990s, to Darfur in the 2000s."
Note again the selectivity of Kristof's moral outrage. He doesn't call for a U.S. invasion of Israel/Palestine to protect the Palestinians from Israel's periodic "mowing the grass" operations. Nor does he suggest bombing the Saudi airfields to prevent the kingdom's continued bombing of Yemenis. And, he doesn't protest the U.S.-instigated slaughter in Iraq where hundreds of thousands of people perished, nor does he cite the seemingly endless U.S. war in Afghanistan.
Like many other mainstream pundits, Kristof tailors his humanitarianism to the cause of U.S. global dominance. After all, how long do you think Kristof would last as a well-paid columnist if he advocated a "no-fly zone" inside Israel or a military intervention against Saudi Arabia?
Put differently, how much professional courage does it take to pile on against "black-hatted" U.S. "enemies" after they've been demonized? Yet, it was just such a "group think" that cleared the way for the U.S. invasion of Iraq to remove Saddam Hussein, a decision embraced by "liberal hawks" as well as neoconservatives and touching off mass suffering across the Mideast and now into Europe. Some estimates put the Iraqi dead at over one million.
So, it's worth remembering how The New Yorker, The New York Times and other supposedly "liberal" publications hopped on George W. Bush's Iraq War bandwagon. They became what Kristof's former boss, Bill Keller, dubbed "the I-Can't-Believe-I'm-a-Hawk Club." (Keller, by the way, was named the Times executive editor after the Iraq WMD claims had been debunked. Like many of his fellow hawks, there was no accountability for their gullibility or careerism.)
- Advertisement -
Kristof did not join the club at that time but signed up later, urging a massive bombing campaign in Syria after the Obama administration made now largely discredited claims accusing Bashar al-Assad's government of launching a sarin gas attack outside Damascus on Aug. 21, 2013.
We now know that President Obama pulled back from those bombing plans, in part, because he was told by U.S. intelligence analysts that they doubted Assad was responsible. The preponderance of evidence now points to a provocation by Al Qaeda-connected rebels to trick the United States into intervening in the civil war on their side, but the mainstream U.S. media continues to report as "flat fact" that Obama failed to enforce his "red line" against Assad using chemical weapons.
Though the Kristof-endorsed bombing campaign in 2013 might well have played into Al Qaeda's hands (or those of the Islamic State) and thus unleashed even a worse tragedy on the Syrian people, the columnist is still advocating a U.S. invasion of Syria, albeit dressed up in pretty "humanitarian" language. But it should be clear that nice-sounding words like "safe zones" are just euphemisms for "regime change," as we saw in Libya in 2011.