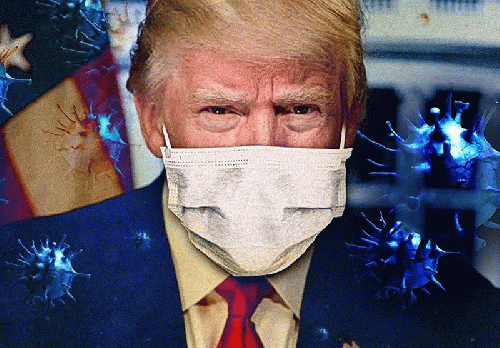 Trump in facemask
(
Image
by
Tasnim News Agency
)
Details
DMCA
The COVID-19 coronavirus is now a full-fledged pandemic.
A functional government would have begun putting the necessary precautions in place at the outbreak's first sign.
We had months to prepare.
Yet the Trump administration did nothing.
Despite all the ways the White House dropped the proverbial ball, one would assume, with the virus having infected more than 1,281 Americans (so far), our Congress would be able to put partisan differences aside for the good of all Americans.
Last week, the Democratically controlled House of Representatives passed an $8 billion emergency-funding bill.
But Republicans control the Senate, and they're aren't about to begin legislating in the public interest now.
Wednesday, hours after the World Health Organization declared the coronavirus outbreak a global pandemic, Sen. Lamar Alexander (R-Tenn.) blocked a vote on an emergency paid sick-leave bill that would have guaranteed American workers 14 days of paid sick leave in public health emergencies, claiming it would be an "expensive" and burdensome employer mandate.
Sen. Patty Murray (D-Wash.) expedited the bill through the legislative process so senators could vote on it swiftly, stating:
"For many of our workers--restaurant workers, truck drivers, service industry workers--they may not have an option to take a day off without losing their pay or losing their job. That's not a choice we should be asking anyone to make in the United States in the 21st century."
Sen. Alexander suggested the bill the GOP-controlled Health Committee must vote on it first.
This comes at a time public health experts urge workplaces to adopt flexible sick-leave policies.
The country does not have enough test kits for all the suspected coronavirus patients.
Centers for Disease Control and Prevention (CDC) director Robert Redfield confirmed at a hearing:
"The truth is, we're underinvested in the public health labs. There's not enough equipment. There's not enough people. There's not enough internal capacity. There's no surge capacity."
(Note: You can view every article as one long page if you sign up as an Advocate Member, or higher).