[UODATE 07.29.18 07:49 EASTERN: Al Jassera: Ahed is released from prison, and this headline has been edited to reflect that.]
This is an interview with the authors of the book, Ahed Tamimi: a Girl Who Fought Back by Manal Tamimi, Paul Morris and Paul Heron (Vaktel Forlag, April, 2018.) It is the first book about young Ahed Tamimi, but likely not the last. A young Palestinian freedom fighter, Ahed, 16, was arrested in the middle of the night and imprisoned by Israel last December for slapping a soldier who had hit her first, and who was trespassing on her family's property. That response seemed wildly out of proportion in itself, but then a well known Israeli journalist publicly called for her rape in prison, and an Israeli politician called for shooting her, in addition to graffiti death threats from other source s.
This was more than the response to a slap, this was the response of toxic patriarchy in fear of its survival. There are many good reasons for toxic patriarchs around the world to worry, and Ahed Tamimi is one of them.
The Authors: Manal Tamimi, Paul Heron, Paul Morris and Peter Lahti.
The book was published in April 2018 and presented at the London Book Fair. Ahed's aunt and guest author, Manal Tamimi, is a human rights defender from the village of Nabi Saleh, 20 km northwest of Ramallah on the Palestinian West Bank, presently occupied by Israel. Manal holds an international law master degree from al Quds University. Her two sons Osama, 22, and Muhammad,19, are in prison for participating the protests in their village.
Co-author, Paul Heron, is a public law and human rights lawyer based in London who established the Public Interest Law Centre which challenges unlawful activities of national and local governments. His focus areas include the rights of migrants and the defense of working class people and communities. He is a member of the Socialist Party and is also an executive committee member of the Haldane Society of Socialist Lawyers. Co-author Peter Lahti is a socialist journalist based in Stockholm, Sweden.
OpEdNews' guest today, co-author Paul Morris, is an English lecturer at Mälardalens University in Sweden. As a socialist originating from the UK, he has been involved with a number of campaigns since he was a teen, from the Anti-Margaret Thatcher's Poll Tax fight to building international solidarity with the struggle against Apartheid in South Africa. His interest in Israel-Palestine is long standing; he spoke at a UK Labour Party Young Socialists' summer camp on the issue during the first Intifada (uprising) of the early nineties.

Meryl Ann Butler: Thanks for visiting with us, Paul. Your book,"Ahed Tamimi: a Girl Who Fought Back" seems to be the first book about young Ahed. What inspired you (and the other authors) to write it?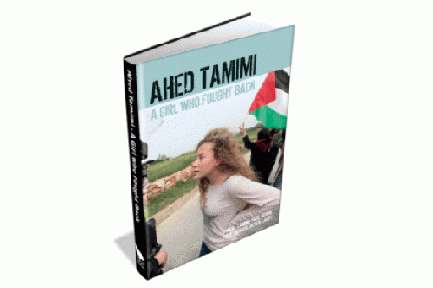 Ahed Tamimi - A Girl Who Fought Back
(
Image
by
Publisher: Vaktel Forlag
)
Details
DMCA
Paul Morris: Yes, this is the first book about Ahed Tamimi although she has gone viral on YouTube on several occasions before. For many years she has been known, by many who follow the Palestinian struggle, as a brave girl who resists the Israeli military occupation of her homeland. In particular, she has been filmed resisting the arrests of her family in peaceful protests.
When she was a very young girl, Ahed was described well in an earlier book about Palestine, The Way to the Spring by Ben Ehrenreich, which also shows the role of the Tamimi family and the village of Nabi Saleh. But this book which I have co-authored: Ahed Tamimi - A Girl Who Fought Back has Ahed at the center of focus because for much of 2018 she was, indeed, the focus of the Palestinian struggle.
I felt the book about Ahed was necessary when she was arrested in December of 2017 for slapping soldiers who came into her garden. At that point Ahed became known to literally millions on social media as a girl who fought back.
(Note: You can view every article as one long page if you sign up as an Advocate Member, or higher).