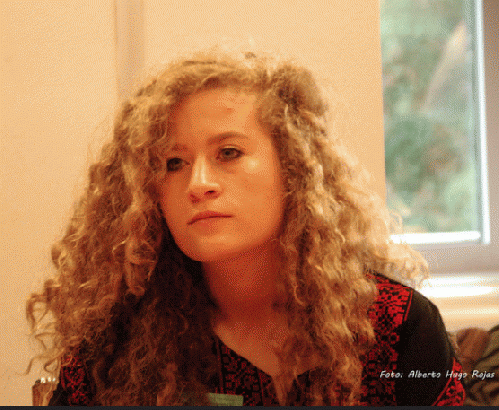 Ahed Tamimi
(
Image
by
Alberto Hugo Rojas
)
Details
DMCA
While American teen girls text their BFFs, shop, study, and do their nails, across the globe another teen has been hit with rubber bullets in the foot, neck and hand, and has been tear gassed so many times she has lost count. Ahed Tamimi yearns to live by the ocean, but she cannot, she lives under occupation.
Here a few sample incidents, chronological examples of the kind of daily life that Ahed Tamimi lives, and yet she emerges with a poise and strength beyond her years:
Dec. 10, 2011

Ahed's cousin Mustafa Tamimi of Nabi Saleh was fatally shot in the head at close range during the weekly demonstration in his village. The weapon: a high force, long range tear gas canister. According to a number of witnesses, backed up by photographs, the canister was fired point-blank, in total contravention of army regulations, from a distance of less than ten meters. It was captured in a striking photo which shows the shot an instant before the canister strikes him. He was shot from a Jeep by an Israeli soldier and died shortly after.

Nov. 2, 2012

Israeli soldiers arrested Ahed's brother, Waed Tamimi in Nabi Saleh. A viral video shows a diminuative Ahed ferociously shouting at them (Translation sources say she is asking them where her brother is.)

Nov. 19, 2012

Ahed's uncle Rushdi al-Tamimi, was shot and killed by Israeli soldiers. His death was captured on youtube video.

2012

Ahed's father, Bassem Tamimi was termed a "prisoner of conscience" by Amnesty International, during one of his several stints in Israeli prison. In 1993, he was beaten during an interrogation, and the resulting concussion left him in a coma for 10 days. He has been arrested and detained nine times--once he was gone from his family for over a year.

2012

Ahed, alongside her mother and aunt, desperately attempt to save her injured brother Mohammad from being arrested by Israeli forces. Video and a series of photos went viral.

November 2014

Ahed's mother was shot in the thigh, forcing her to use a crutches and cane for a long while after. She has also been arrested five times.

2014
(Note: You can view every article as one long page if you sign up as an Advocate Member, or higher).