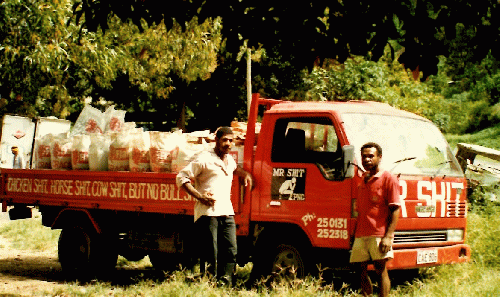 PNG entrepreneur Mr. Sh*t
(
Image
by
John Hawkins
)
Details
DMCA
By John Kendall Hawkins
Straining in the new-fangled Roman outhouse, Titus was sitting there with a sh*t-eating grin, drawing conclusions on the wall:
Nero was here.
Nietzsche is peachy.
For a good time call Viagara on DCI-MMI-CCCV.
Trombones featured in the third movement of his bowel symphony, a turgid presto, and he was complaining about the new toilet tax levied by his father, the emperor Vespasian. His dad, just back from slaying all the usurers, had quipped, index finger skyward like Socrates, "Pecunia non olet," which is to say Money Doesn't Stink. To which Titus, after taking a whiff of a bronze unto-him-rendered Caesar, had rechortled, "And yet it comes from poo." Thus, giving a taste of the world's very first toilet humor.
Or as Bobby Dylan might say, Money doesn't just talk it swears. Phew!
I was drawing my own conclusions about money the other day, sitting on the toilet, releasing a crocodile back into the wild, and thinking about my days spent, a quarter-century ago in Papua New Guinea (PNG), a place that Time forgot to forget, and where, in some quarters, the Mighty Whitey hadn't been seen until 1970s.
(Note: You can view every article as one long page if you sign up as an Advocate Member, or higher).