The last time that the Army had a plan to pacify the Great Sioux Nation, our men, women and children were slaughtered at Wounded Knee; the time before that, Custer died and Sitting Bull was chased to Canada by five armies so the General Sherman could steal our gold. Crazy Horse said, "One does not sell the Earth the people walk on," and he fought alongside Red Cloud to protect our homeland. At the close of Red Cloud's War, in the 1868 Sioux Nation Treaty, the United States promised: "From this day forward all war between the parties to this agreement shall forever cease. The government of the United States desires peace, and its honor is hereby pledged to keep it. ~~Excerpt from "Letter from The Great Sioux Nation to President Obama-November 30, 2016"

Chairman Harold Frazier, Cheyenne River Sioux Reservation
The participation of the Cheyenne River Sioux Tribe is an important and overlooked piece of the history of Standing Rock protests against the Dakota Access Pipeline. While major media satellite trucks were lining up at the Highway 1806 entrance to Oceti Sakowin in Morton County in anticipation of the arrival of thousands of veterans on December 4, something was happening just a two-hours drive to the south. Veterans began pouring into Eagle Butte, South Dakota as they made their way to the contested piece of treaty land that had become a powerful symbol and last stand of resistance against the Dakota Access Pipeline. No one knew that history was about to be made in a few days, and that the permit to drill under the Missouri River at Lake Oahe would be denied within 48 hours. Uncertainty had settled over the frozen Dakota landscapes. A blizzard had just passed and another was on the way, but they kept coming. They came in caravans, by bus, by train and by air.
Geoffrey Badgley, an organizer for the veterans was worried. "I was concerned as we moved in that we might have serious issues moving this many people but the (Cheyenne River) Tribe has been incredible, and I know that we will be safe because of them. They have provided food and housing for over 2,000 people and will provide cultural education briefings for the thousands of veterans before they head to the camp," he said in a press statement.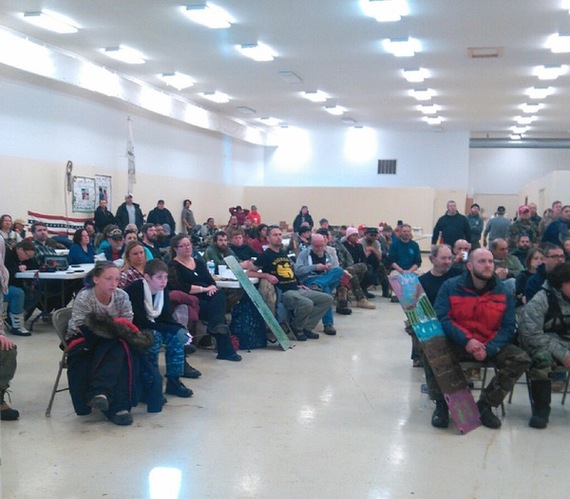 Vets in Orientation at Cheyenne River Sioux Reservation
A tribal member described the arrival of the first veterans in an email. "Everyone automatically stood straight up, heads high, shoulders back, and a moment of total silence went through the office. All we could think was Oh my gosh they are really here. The Protectors are here. We rushed to them to shake their hands and say thank you. Wopila tanka iciciyapi."
Next Page 1 | 2 | 3 | 4 | 5 | 6 | 7 | 8
(Note: You can view every article as one long page if you sign up as an Advocate Member, or higher).