Cross-posted from Wallwritings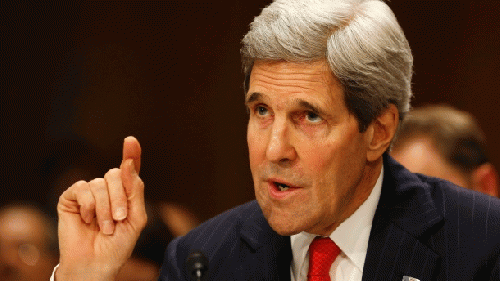 Two tapes have surfaced in recent days. Thereby hangs a modern tale of the "best of times and the worst of times."

It is a bit of a stretch to use Charles Dickens to link the best of times represented by John Kerry, and the worst of times, embodied in the owner of an American professional basketball team.
But stretch is required in a world gone awry with both power and money much more than usual in the wrong hands. Hence, we have a tale of two tapes.
Tape number one is getting considerable media play because it involves the racist ravings of the owner of the Los Angeles Clippers, one of the better teams in the National Basketball Association.
Tape number two draws less attention, of course, but it happens to be of far greater significance, because it reveals U.S. Secretary of State John Kerry telling a group that Israel is in danger of heading toward international isolation as an apartheid state.
Charles Dickens begins A Tale of Two Cities: A Story of the French Revolution, in this manner:
"It was the best of times, it was the worst of times, it was the age of wisdom, it was the age of foolishness, it was the epoch of belief, it was the epoch of incredulity, it was the season of Light, it was the season of Darkness, it was the spring of hope, it was the winter of despair."
Al Jazeera reported Kerry's reference to the threat of apartheid looming in Israel's future.
"US Secretary of State John Kerry has said that Israel risks becoming 'an apartheid state' if there is no two-state solution to the Israeli-Palestinian conflict.

"Kerry's comments were published on Sunday by The Daily Beast news website, which obtained a recording of his remarks on Friday to the Trilateral Commission, a non-governmental organisation which includes senior officials and experts from the US, Western Europe, Russia and Japan."
Israel supporters who are deeply embedded in the U.S. government and its Israel Lobby satellites, reacted immediately to Kerry's use of the word "apartheid". The attack on Kerry was predictable, lamentable, and further proof that Zionism rules our land in this the worst of our times.
Kerry, alas, was forced to walk the plank for his team, telling the Daily Beast he wishes he could rewind the tape and use a different word.
But use it he did, to the delight of folks like Aaron David Miller, a loyal Zionist in and out of government, who had his response ready when the New York Times called:
"Aaron David Miller, a former American peace negotiator now at the Woodrow Wilson International Center for Scholars, said that Mr. Kerry's comment had drawn him into an 'unproductive fight with a close ally.'

"'Baker and Kissinger used tough language when they thought they would not only be able to make a point, but would be able to make a difference,' Mr. Miller said of James A. Baker III and Henry A. Kissinger, both former secretaries of state. 'But Kerry's closed-door comment was ill timed, ill advised and unwise.'"
Tape number two captures the ugly face of racism in a different arena. It is drawing considerable media attention this week during the first round of the NBA playoffs.
(Note: You can view every article as one long page if you sign up as an Advocate Member, or higher).