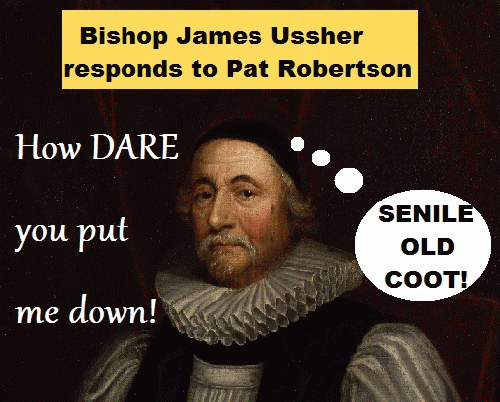 But Bishop! Pat Talks To God!!!

(

Image

by

Google Images w/caption by Rev Dan

)

Details DMCA

p;

"Let's be real, let's not make a joke of ourselves."

Yes, that quote was from Pat Robertson, but this time, he was lucid when he said it.

The irony was not lost on very many, to be sure.

"Let's face it, there was a bishop [Ussher] who added up the dates listed in Genesis and he came up with the world had been around for 6,000 years," Robertson said. "There ain't no way that's possible. To say that it all came about in 6,000 years is just nonsense and I think it's time we come off of that stuff and say this isn't possible."


Critics of Ken Ham during the Great Creationist Debate (between him and "Science Guy" Nye) were quick to point out Robertson's reaction: "Even Pat Robertson..." "When you've lost Pat Robertson..." "Even Pat Robertson is piling on..." It seemed at first that Robertson was cutting off his nose to spite his face, since most of his 700 Club viewers have leanings towards the belief that Adam and Eve romped with Pebbles and Bam Bam*, but Robertson's contradictory statements have, in the past, simply confused viewers reluctant to point them out. Isn't questioning Pat Robertson like questioning God Himself?


After all, Robertson talks to God. Regularly.

"Oh, that God would convict and open the eyes of Christian leaders and Christian college and seminary professors, so many of whom are as uninformed and deceived as Pat Robertson. God have mercy."

But if God would convict Ken Ham and open the eyes of his followers (and donors), they might see that Ham's projects (Noah's Ark theme park is due next year) depend upon people like Robertson and his bevy of televangelists. They also might see other things, like the awkward/strange credentials of his "scientists", some of whom have a hard time spelling "biology."

Ham's hubris had to be curtailed early on before his Creation Museum got off the ground: the entrance used to have a banner saying: "Don't Think - Believe."

"Rev. Mark Creech of the Christian Action League -- the North Carolina affiliate of the American Family Association -- is furious at Pat Robertson for his criticism of Creationism, arguing in a column yesterday that believing in evolution amounts to "blasphemy."

Creech's reasoning, however, is almost as warped as Robertson's is on a more normal day:

"Modern science asserts that the geological ages are predicated on the fossil record, and these fossils speak to us of suffering and death millions of years before Adam and Eve -- before the creation of man. That's a direction contradiction of the Bible's teaching that pain, anguish; travail, death and the dysfunctions of nature are a direct result of divine judgment because of man's sin. ... The very notion a God of love and order would work arbitrarily and brutally as suggested in evolution's old earth hypothesis -- a way so contrary to his own nature -- carries with it an implication blasphemy."

The Old Testament God is anything but a God of love and order: He's a God of vengeance, pure and simple, a God who tests people like Abraham and Job on a whim. Creech depends on the age-old guilt trip, laying everything on Adam/man for pain, suffering, etc.

The Great Debate Will Go On

Whether or not grand old, old men like Pat Robertson plunge into the creationist debate, one thing is for sure: it will continue to go on as long as there are people willing to plunk down money to see their child astride a saddle perched atop a triceratops and believe that Tyrannosaurus Rex munched on coconuts instead of dinosaur flesh.

(Note: You can view every article as one long page if you sign up as an Advocate Member, or higher).