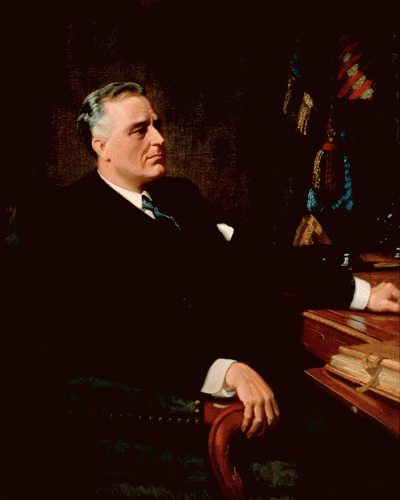 Franklin Delano Roosevelt - Presidential portrait. 32nd President of the United States (1933-1945) Frank O. Salisbury Public Domain

(

Image

by

Public Domain

)

Details DMCA


Franklin Delano Roosevelt - Presidential portrait. 32nd President of the United States (1933-1945) Frank O. Salisbury Public Domain by Public Domain


Franklin Delano Roosevelt - Presidential portrait. 32nd President of the United States (1933-1945). Frank O. Salisbury Public Domain.

One of our society's greatest flaws is its inability to learn even from its immediate past, let alone from other times and places.

Evidence for this failure can be found in an article published on the Truthout website last October. Written by Richard D. Wolff, Professor Emeritus of Economics at the University of Massachusetts, the article is entitled "Ghost of the New Deal Haunts Democrats' Agenda, but It's Time to Summon FDR." In it, Professor Woolf suggests that George W. Bush was excluded from the 2012 Republican National Convention because his presence would have been an embarrassing reminder of the greed and avarice of the unfettered capitalist system that nearly destroyed America's and the world's economy in 2008.


He also suggests, however, that the 2012 Democratic National Convention engaged in a similar strategy by hiding away the spirit of the greatest Democratic president of the 20th century. It did so to prevent any unease among its corporate donors, who, as in Franklin Roosevelt's time, desired nothing more than to return to the low levels of government regulation that existed when they nearly pulled the world over the economic precipice in 2008.

As Professor Wolff points out, "What FDR accomplished needs rescue from banishment by Obama and Democratic leaders. In the deep 1930s Depression, FDR massively assisted average Americans. He created the Social Security and unemployment compensation systems that directly helped tens of millions. His federal jobs programs provided jobs and incomes for additional tens of millions from 1934 to 1941. These 'stimulus plans' helped average citizens with financial supports, jobs and paychecks. Those citizens then spent on goods and services that [trickled up as] profits for businesses. FDR's trickle-up economics worked: far from perfectly, but better for most Americans than Bush's or Obama's policies."

Trickle-Down Just Doesn't Work.


One of the great faults of America since its beginnings has been its habit of blaming victims for whatever happens to them, especially when the real culprits are members of more powerful and dominant political, economic, or social classes. Americans tend to blame the employee for losing his job during an economic downturn, or when his corporation sends his job to another country with cheaper labor or lower underlying costs. In many of these places, pollution controls and workplace safety regulations have yet to be put in place, or are not enforced by an often corrupt government. Yet, as Professor Wolff points out, "Despite five years of failed trickle-down economics, Democrats today still fear to consider FDR's alternatives, acting as if they never happened."

Is Barack Obama afraid that if he tried FDR's solutions, which worked so well not only for the United States, but also for Great Britain and Sweden in the 1930s, he might somehow be removed from office? I can think of no alternative answer.

In whatever country it has been adopted, trickle-down economics has never worked to the benefit of the majority of the people. In its current incarnation in the United States, it has increased poverty and indebtedness, and widened the gap between the median and the mean or average income, one of the surest signs of the destruction of a middle class.

In 1975 (the earliest year for which this author can supply numbers), the median income in the United States--i.e. the point at which one-half of households made more than that amount, and one-half made less--was $11,800 per year. This is equivalent to $42,773 in 2009 dollars. The average, or mean, income was $13,779 per year, or $49,947 in 2009 dollars. [All numbers are from Table H-6 of the 2009 Census Bureau Report, "Current Population Survey; Annual Social and Economic Supplements."] The figures indicate a difference of 14.4% between the median and the mean income. It is less than $2000 in 1975 dollars, or , $7,174 in 2009 dollars.

When you look at the figures for 2009, the median income in the United States is $49,777 per year, while the average or mean income is $67,976. This is a difference of $18,199, or 26.8%. So, after a little more than thirty years of trickle-down economics, the difference between median and average incomes in this country has shifted upwards by 12.4%, a two-and-one-half fold increase. This indicates a major loss of economic power by our country's middle class, defined generally as those between the 15th and 90th percentile of income earners.

We're Not Getting the Truth about Building a Fairer Economy.


The Republicans have spent the last seventy years downplaying or denying at every opportunity the effectiveness of FDR's New Deal and any related programs, such as LBJ's Great Society. But, in what is hugely telling about the state of our society, the Democrats have spent the last forty-five years apologizing for the New Deal and related programs, wishing that no one would remember how it saved the capitalist system in America. The capitalist itself had done all it could to undermine the New Deal and, since then, all related programs, starting with the Taft-Hartley Act in 1947.

Misinformation about Europe's social democracies is also being spoon-fed to the American public, in the hope that it will become frightened enough to give up on programs that are either based on earned benefits, such as Social Security, Medicare, and Unemployment Insurance, or available as social entitlements, such as Food Stamps, the Veterans Administration, and Medicaid. One of the most conspicuous strains of misinformation can be found in any mainstream-media news program, where Social Security, which is not funded out of the general fund but the FICA tax, is blamed as a major contributor to our deficit problem.

In fact, on St. Patrick's Day this year, Speaker of the House John Boehner admitted on ABC's "This Week," that "We do not have an immediate debt crisis." The same day, on CBS Television's "Face the Nation," House Budget Committee Chairman (and unsuccessful Vice-Presidential candidate) Paul Ryan made a nearly identical admission, simply restating what we in the Progressive community have been pointing out for months.

(Note: You can view every article as one long page if you sign up as an Advocate Member, or higher).