From Truthdig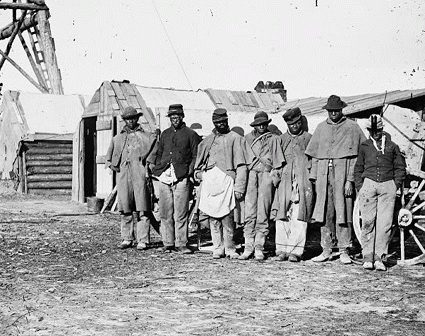 African-Americans, freed from plantation slaveholders, in Bermuda Hundred, Va., in 1864. These men worked as teamsters to help the U.S. forces that freed them fight the Confederacy in the Civil War.
(
Image
by (Hirst D. Milhollen and Donald H. Mugridge / Library of Congress))
Details
DMCA
Look at the following series of tweets from the president of the United States, reflecting Thursday on the tearing down of Confederate statues in the U.S. South:
"Sad to see the history and culture of our great country being ripped apart with the removal of our beautiful statues and monuments. You can't change history, but you can learn from it. Robert E Lee, Stonewall Jackson -- who's next, Washington, Jefferson? So foolish! Also ... the beauty that is being taken out of our cities, towns and parks will be greatly missed and never able to be comparably replaced!"
These 69 words are noxious historical nonsense. Of course, we can change history -- in the present and the future. The more we know and understand the past, the better we will be situated to alter history in decent and desirable ways.
Which brings us to the Confederacy, whose symbols and statues are now under unprecedented anti-racist scrutiny and have become major white-supremacist rallying points.
The Confederacy: "Fighting to Defend the Largest and Most Powerful System of Slavery in the Modern World"
What does it really mean to uphold statues of Confederate military commanders Stonewall Jackson and Robert E. Lee as "beautiful" symbols of the "history and culture of our great country"?
Let there be no mistake. Here is an unchanging fact of history: The Southern Confederacy was formed to preserve, by any means necessary, the vicious, arch-racist, torture and exploitation regime that was black chattel slavery. The Confederacy was a secession government formed by Southern states whose ruling elites had determined that the election of Abraham Lincoln spelled the demise of their beloved slave system. These states openly collaborated to commit treason, taking up arms against "our great country" in order to save slavery.
Roughly 750,000 soldiers died in the Civil War -- more than the total killed in all other U.S. wars combined -- because of the Southern slave-owning, ruling-class determination to keep four million black Americans in chains.
As retired University of Virginia historian Edward Ayers said on "PBS NewsHour" last week, "even if ... individual [Confederate] soldiers were not slaveholders, they were fighting to defend a nation that was based on slavery. ... The fact is, had they won, you would have had an independent nation overseeing the largest and most powerful system of slavery in the modern world."
Why on earth couldn't statues of slave-power warlords be more than "comparably replaced" with statues dedicated, say, to the millions of Africans and black Americans killed by the slave system or to the tens of thousands of former slaves who took up arms to join the Union Army in the grand struggle against the slave owners' criminal Confederacy?
Here, Donald Trump gets an "F" in U.S. history.
The First Secession to Defend Slavery: The American "Revolution"
But let us turn to a tougher historical nut -- Trump's claim that going after Jackson and Lee suggests a further turn on statues of the U.S. Founding Fathers George Washington and Thomas Jefferson. This one's not so simple, I'm afraid. As Trump noted in an impromptu, off-the-rails discussion with reporters last week:
"George Washington was a slave owner [sounds of disapproval in the press corps]. Was George Washington a slave owner [a reporter says 'yes,' and more outrage can be heard]. So, will George Washington now lose his statue? Are we going to take down statues to George Washington? [reporters in a hubbub]. What about Thomas Jefferson? Do you like him? [reporters say 'yes,' of course]. OK, good. ... He was a major slave owner. Now, are we going to take down his statue?" [more clamor can be heard among the journalists]
Here, Trump gets at least a "B" for historical accuracy -- and for the suggestion of moral hypocrisy in the historical sensibilities of his liberal critics. The liberal commentators I've seen responding to the president's Washington and Jefferson comments have all been aghast at Trump's "slippery slope" suggestion.
They need to take a closer and longer look in the American historical mirror.
(Note: You can view every article as one long page if you sign up as an Advocate Member, or higher).